The soaring popularity of pickleball has led to a rash of injuries associated with the sport, leaving many of its older fans in a pretty pickle.
"We've seen quite a few pickleballers come in with knee issues, shoulder and wrist problems, and tennis elbow," says Shaun Garff, DO, sports medicine specialist on the medical staff at Methodist Mansfield Medical Center. "Maybe we should start calling it pickleball elbow."
A new report suggests pickleball injuries, especially among seniors, are skyrocketing as a result, with one estimate suggesting those sprains, strains, and fractures could cost Americans as much as $400 million a year.
Another study estimates that 86% of the 34,000 ER visits for pickleball or tennis-related injuries between 2010 and 2019 involved patients over 60. And that was before the sport's popularity grew exponentially in the waning months of the pandemic.
So for anyone thinking about picking up a paddle, Dr. Garff has some advice to avoid injury and tells us what to do when a pickleball injury becomes a big … dill.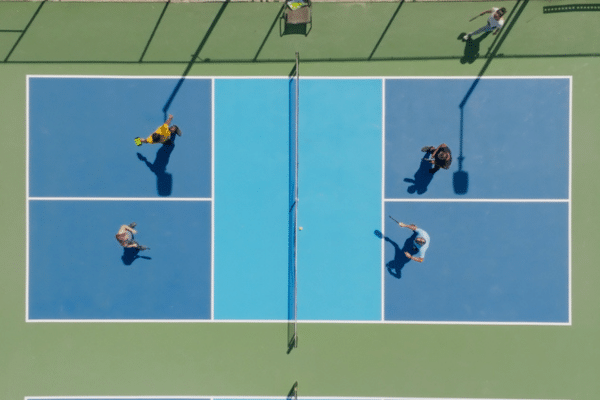 MOST COMMON INJURIES
Invented in 1965, possibly as the namesake of a dog named Pickles, this cross between tennis, badminton, and ping pong began as a backyard game for children. Now it's the fastest-growing recreational sport in the U.S. thanks to a fan base that skews older.
"It's a very social sport and more accessible than tennis because there's less ground to cover," Dr. Garff says, "so it's attracting players of all ages."
For many older adults, getting more active is a great idea, but they should expect new aches and pains as a result, especially if they already suffer from arthritis.
"Some people with arthritis may not have a lot of pain normally," Dr. Garff says. "Then they get into a sport like pickleball, and all of a sudden it's flaring up."
Other common injuries include lower back issues and other muscle strains, as well as ankle sprains and fractures and rotator cuff injuries. As with any racquet sport, wear and tear can cause elbow and shoulder tendinitis, an inflammation of the fibrous cords that connect muscles to bones.
New players who may not be used to strenuous activities would be wise not to underestimate how much energy and agility pickleball requires. Dr. Garff suggests taking it slow at first to avoid acute injuries like a broken wrist or ankle or a torn knee ligament.
"Going into it, you may think it will be like table tennis," he says, "and then you're going after a ball and get yourself in a situation where you're backpedaling or bending down, and you tweak something."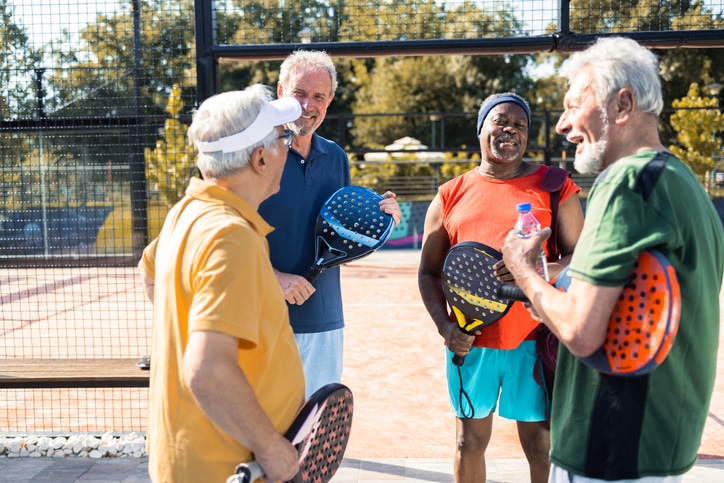 HOW TO AVOID INJURY
Pickleballers shouldn't let the risk of injury scare them aware from getting active. As with any sport, there are proven precautions to take. The best advice is to give your muscles a proper warm-up before putting them to the test on the court.
"We encourage warming up and stretching prior to the activity," Dr. Garff says. "Braces or sleeves on the knee or the elbow can also help."
Choosing the right equipment and footwear is also a must, he says. Running or walking shoes may not be the best bet because pickleball requires movement in all directions, not just straight ahead. Pick a shoe with good grip, support, and durability.
Picking a paddle that is the right weight will also help avoid wear and tear to your shoulder and elbow. The grip size is also important, especially for players who struggle with arthritis.
Finally, be sure to drink plenty of water and take breaks, especially if you're playing outdoors in the Texas heat. Better yet, find an indoor court and stay cool as a cucumber.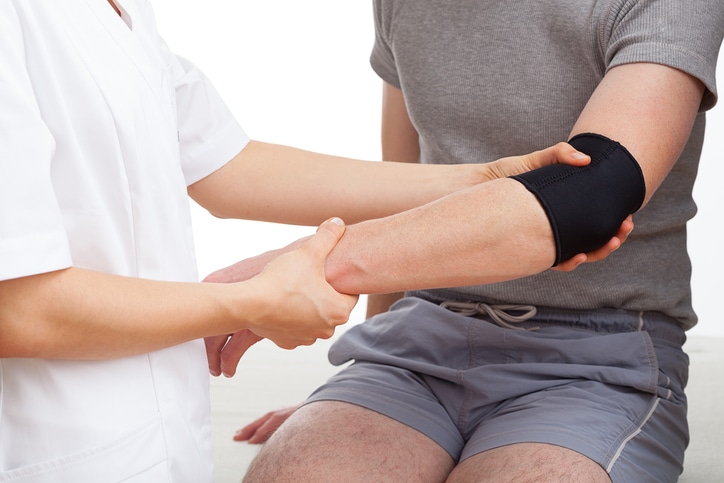 WHEN TO SEE A DOCTOR
Even the most cautious pickleballer can't avoid every injury, so don't shrug off the pain after a spill on the court.
"The old adage 'no pain, no gain,' that's kind of gone by the wayside," Dr. Garff says. "If your pain is greater than a 3 on a 10-point scale, I would recommend seeing a physician."
Mild aches and pains can be remedied with the usual RICE treatment: rest, ice, compression with a brace or elastic bandage, and elevate the injury to keep the swelling down.
But when the pain doesn't go away, get help or your pickleball playing days may be over before they really begin.
"You just want to make sure you're taking care of yourself so it doesn't turn into more chronic issues," Dr. Garff says.