Judge Cindy Ermatinger is used to juggling it all, but the first woman to serve on Ellis County's district bench says even she can drop a ball — like when she put off having a mammogram for a few years in her early 60s.
"I got the surprise of my life," Cindy says of the small tumor that turned up last November during a breast cancer screening at Methodist Midlothian Medical Center. "But I am very lucky that we caught it early because it could have been a disaster."
"Once I knew what I had and they got the plan of action, I felt at peace. I know they're doing exactly what needs to be done to help me best."
Cindy got her screening exam at Methodist Midlothian because the hospital was close to her home and work – but also because she saw firsthand how the nurses and physicians on the medical staff treated patients.
"I took my mother there when she got COVID," she says. "They were wonderful with her. They did things that other hospitals weren't doing, and I think that's how my mother survived."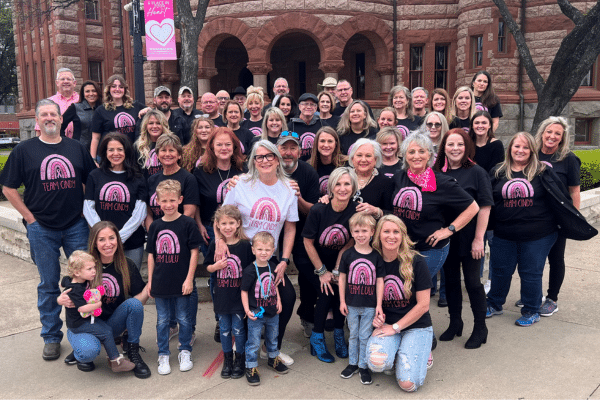 "My family made me 'Team Cindy' T-shirts," Cindy says, "and my friends and family wear them to support everyone that is supporting a loved one with cancer."
DON'T DELAY PREVENTIVE CARE
Normally a stickler for schedules and medical appointments, Cindy says she regrets delaying her screening, especially given some of her family members have been diagnosed with breast cancer or have a greater risk.
"I got busy at work, and I thought I'll do it next year. Then the pandemic came, and I just got busy," she says.
Cindy is hardly alone: A recent study shows that the number of women getting mammograms plummeted at the beginning of the pandemic, and it was months before that figure began rising again.
"Waiting for answers was the scariest part," says Cindy, who found support in her oncology team. She was referred to Katrina Birdwell, MD, breast surgeon on the medical staff at Methodist Midlothian, who worked with Cindy to come up with a treatment plan.
Cindy's case just goes to show how important preventive care is, Dr. Birdwell says. Although breast cancer can happen to anyone, the median age of diagnosis is 62, according to the American Cancer Society. That's why health experts recommend for women with an average risk of breast cancer get a mammogram every one or two years, depending on their age.
"Screenings work," Dr. Birdwell says. "If not for her mammogram, Cindy might not have noticed anything for a long time and gotten the treatment that she did."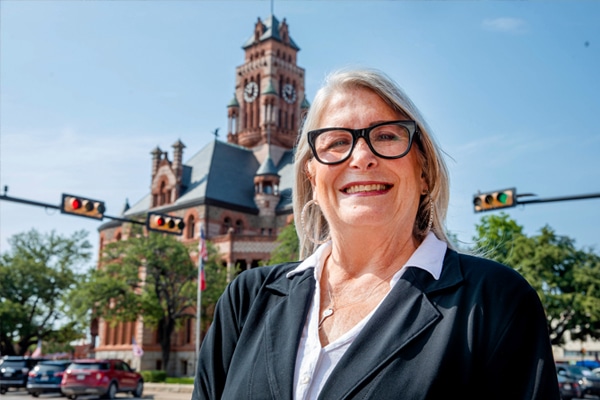 TREATING BREAST CANCER
The early detection of Cindy's cancer, its non-aggressive nature, and advancements in medical science all played a role in her treatment. Dr. Birdwell performed a lumpectomy in February 2023 to remove the tumor from Cindy's left breast and prescribed her radiation treatments and an estrogen-reducing pill that she will have to take for the next five years.
"More than 80% of breast cancers are sensitive to the hormones estrogen and progesterone," Dr. Birdwell explains. "So if your cancer fits that category, this pill can reduce the amount of estrogen or progesterone in the woman's body to shrink any tumors or, if the tumor has already been removed, reduce the chance of it coming back."
Cindy's prior good health and lifestyle also work in her favor, Dr. Birdwell added. Obesity, smoking, and heavy drinking can increase your risk.
The judge took the same focused approach in her battle with cancer as she's known for in the courtroom. Not a week after her surgery, she was already back to work and is now making plans for the future.
"I love presiding over my court and working together with the other judges," Cindy says. "I have the support from the other judges, my friends, and my most wonderful family. They are all so amazing, and I am going to beat this cancer."
Cindy says this experience taught her a lesson she won't soon forget, a message that she hopes other women will hear.
"Get a mammogram," she says. "It will save your life. It really will."