Since she was a little girl, Jadi Spangler has wanted to be a mom, and thanks to her mother's support and help from the team at Methodist Midlothian Medical Center, now she's living that dream — before ever meeting her dream man.
After all, she has two Mr. Rights of her own to raise now: twin brothers Jack and Ty, born on February 17, 2023.
"I'd always told myself by age 35 I would visit a fertility doctor if I wasn't married by then," the 33-year-old graphic designer says. "I've accomplished my career and traveling goals. Now it's time for my next big one."
And although there have been some bumps along the way — from carpal tunnel syndrome during her pregnancy to postpartum depression afterward — Jadi knows her baby boys are the best decision she's ever made.
"There were a lot of tears, and I found myself asking, 'What did I get myself into?'" Jadi says. "But then I look at Jack and Ty, and it's all worthwhile."
CHOOSING IUI
Jadi knew becoming a single mother wasn't going to be easy, but she also knew she wouldn't be alone. She lives with her mother, Donna Spangler, who promised to be with Jadi every step of the way.
"She's my only daughter," Donna says. "As much as Jadi wanted to become a mother, I also didn't want her to miss out on motherhood just because she doesn't have a partner yet. Even when the right guy comes, I'll be there for her."
That bond is extraordinary and truly a blessing considering the challenges ahead, says Jadi's doctor, Jason Brown, MD, OB-GYN on the medical staff at Methodist Midlothian.
"I have not seen a mom and daughter duo as close as these two before in all the time that I've practiced," Dr. Brown says. "It was heartwarming to see how much her mother supported her."
Dr. Brown connected Jadi with a reproductive endocrinologist to discuss her options, from in vitro fertilization (IVF), where the mother's egg is collected from her ovaries and fertilized by sperm in a lab, to intracervical insemination (ICI), where sperm is inserted into the cervix by way of a needless syringe.
In the end, Jadi went with intrauterine insemination (IUI), another form of artificial insemination where the donor sperm is specially prepared and inserted directly into the uterus using a speculum and a tiny catheter. But first, the patient is given medication to reach the point of ovulation.
"IUI fertility treatment is less expensive, less invasive, and usually tried first before any other fertility options," Dr. Brown says, "especially if the patient doesn't have any known fertility problems."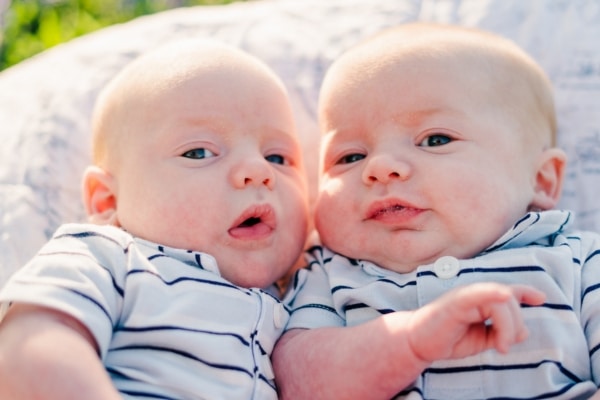 BIG SURPRISE
While Jadi's first round of IUI wasn't successful, she remained hopeful because she had multiple ovarian follicles, raising her chances of conception. Her second round was successful, but she and her mother were in for a surprise at her six-week follow-up: She was having twins.
"When we heard twins, we couldn't stop laughing," Jadi says. "When the doctor left the room, I looked over at my mom and told her, 'Sorry, this means you're going to have to be more involved than I planned now that there are two babies and only one me.'"
Ever supportive, Donna had only words of encouragement for her daughter: "I told her that we'll figure it out together."
Jadi also joined a social media community group where she's able to watch and learn from other mothers-to-be.
"Having a virtual support group made me feel like I wasn't the only person in the world going through my journey," she says. "We encouraged each other, and it has been fascinating to see other women doing the same thing as me."
CARPAL TUNNEL
Ten weeks into her pregnancy, the Spanglers saw Dr. Brown every three weeks. But during her last two months, her visits became more frequent.
"I started seeing him every two weeks," Jadi says. "He kept me calm the entire time and helped relieve my worries by always answering all my questions."
Jadi worked all the way until it was time to deliver, but around 30 weeks into her pregnancy, she developed carpal tunnel syndrome, a relatively common complication during pregnancy because the body's blood volume doubles.
"Some patients see an increased volume of swelling," Dr. Brown says. "Unfortunately, there isn't a medication safe to use in pregnancy to help, so I tell my patients who develop carpal tunnel during pregnancy to wear a brace at all times, especially when they're sleeping."
"My hands were hurting pretty bad," Jadi says, "and that was annoying."
Jadi's next challenge would come after the twins were born.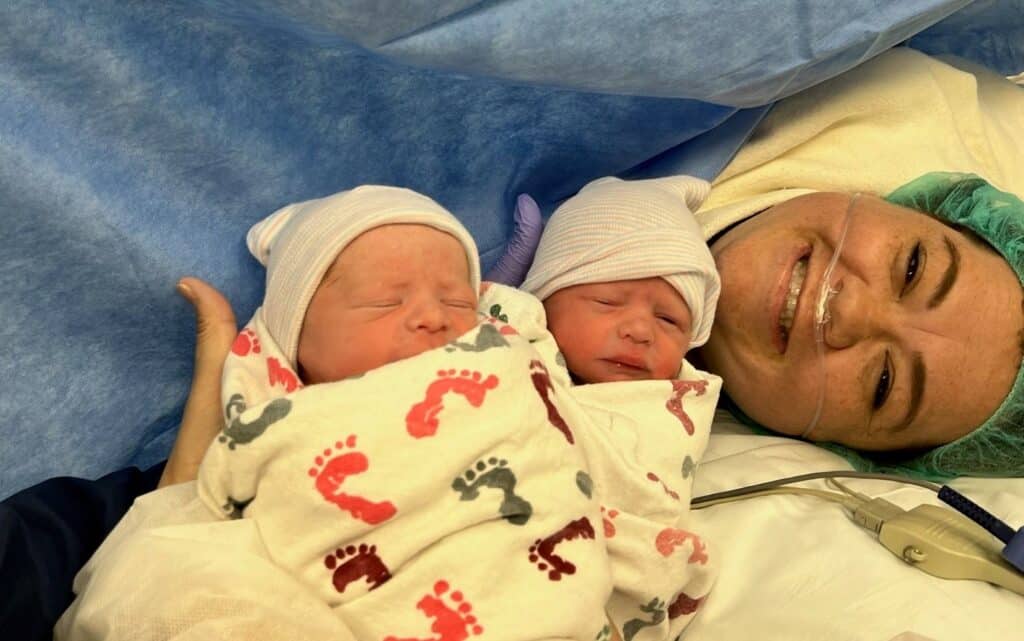 BEATING THE BLUES
In February 2023, exactly 38 weeks and three days into her pregnancy, Jadi gave birth to her boys. Baby Jack came out first, followed by his brother Ty.
While it was a joyful occasion, Jadi confesses there were moments she second-guessed her decision.
"Postpartum was hard," Jadi says. "But my sister-in-law told me to just give it two weeks."
Dr. Brown also provided the encouragement Jadi needed, assuring her that her depression was common among new mothers and that it would pass.
"It's called baby blues," he says. "It's due to the change in hormonal balance, sleep deprivation, being stressed and overwhelmed to adjusting to this new way of life."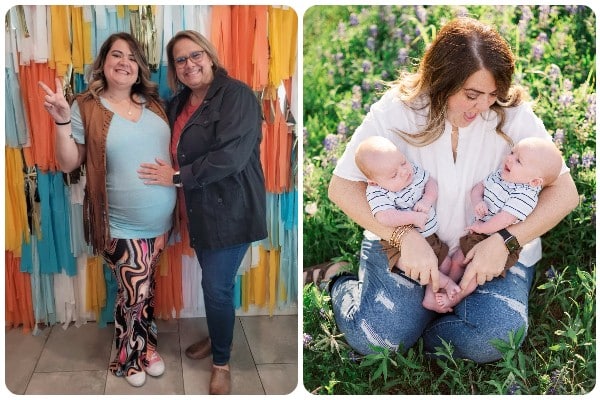 SECOND NATURE
Since those initial emotional bumps, Jadi has found motherhood comes second nature to her, and Donna says her daughter has truly taken to the role.
"It has been beautiful to see Jadi change right before my eyes into a wonderful mother," she says. "A first-time mother never really knows what she's getting into before the babies arrive, but since Jack and Ty got here, Jadi hasn't missed a beat."
Jadi now considers her boys to be her biggest blessing. The only thing that makes her sad these days is missing the doctors and nurses who cared for her at Methodist Midlothian. But maybe they will meet again before long.
"The staff at Methodist Midlothian are special to me and my boys," Spangler says. "Instead of goodbye, it's a see you later for now."