College graduate Rachel Richie has made a remarkable recovery after a car crash that left her comatose for weeks and unable to speak, walk, or even swallow when she woke up.
A freshman at the time of the crash, the 23-year-old Midlothian native proudly graduated from the University of Texas at Tyler on a picture-perfect day this spring. Rachel and her parents credit the care she received at Methodist Dallas Medical Center for helping her get there.
"They became our friends, and they were emotionally invested in her recovery," recalls Rachel's mother, Stacie. "It meant everything to us."
Rachel does not remember much about that New Year's night in 2020, but she knows how far she has come and says what she went through in recovery has changed her outlook on life.
"To break 14 bones and not have any issues to this day is pretty remarkable," Rachel says. "And then with my traumatic brain injury, not having any struggles there either is definitely a blessing. So I just hold on to that and hold on to my faith.
"The future's bright, and I'm here for a reason."
THE NIGHT OF THE CRASH
Rachel and her sister, Olivia, were headed to dinner with a friend on January 1, 2020, when a truck barreled into their vehicle at the intersection of U.S. Highway 287 and Walnut Grove Road in Midlothian.
Police later told local reporters how the pickup blew through a red light and hit the girls' Jeep at 53 mph, trapping them and leaving Rachel unconscious. First responders got them out, and someone on the scene called 911 before informing their parents. An ambulance took Olivia to Methodist Dallas, but Rachel's injuries were so severe that a helicopter had to airlift her there.
"I got the call that no parent ever wants to get — that both of your children have been in a car accident," Stacie says. "The whole world stood still."
While her family rushed to the hospital and waited for news, doctors worked to stabilize and assess Rachel who was in critical condition. Among them was Bartley D. Mitchell, MD, PhD, FAANS, neurosurgeon on the medical staff.
"She was bleeding in her brain, and she had a bad fracture at the base of her skull," Dr. Mitchell says. "That's some of the densest bone in the body, and it fractured right through that. She also had a bad injury right in the middle of her spine."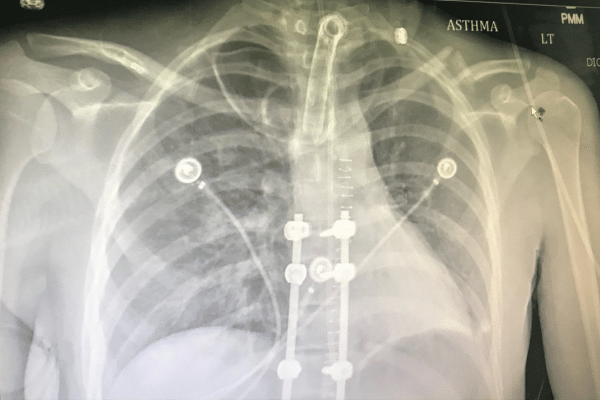 Titanium rods and screws were used to stabilize Rachel's spine.
CRITICAL MOMENTS IN OR
Internal bleeding was putting pressure on her spinal cord, and Dr. Mitchell and his team had to act fast to control the damage.
"With a spinal cord injury like that, if you don't act quickly and decompress the spinal cord, she might not have ever walked again," he explains.
In the operating room, Dr. Mitchell controlled the bleeding, removed damaged bone fragments, and placed titanium screws and rods to stabilize Rachel's spine and allow it to heal. Meanwhile, Rachel's family and friends gathered at the hospital where they waited until they were able to see her. Post-operation, her parents hardly left her side.
"I just remember praying that God would give me insight and comfort. I remember feeling this peace come over me, that whatever this is, she's alive," her father, Terry, says. "The hospital was amazing at making us feel at home, making sure we were taken care of."
Rachel's mother agreed, saying the family never wanted for anything, even in the most challenging moments.
"The staff in the hospital in every department was just so helpful and just there to make sure that we were where we needed to be," Stacie says. "That hospital was such a family setting."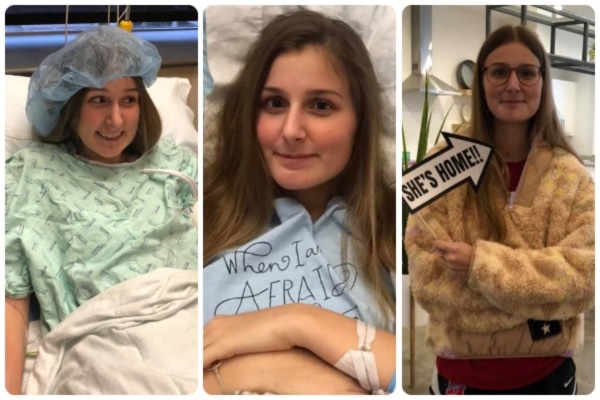 After weeks in the hospital and rehab, Rachel returned home to Midlothian in March.
THE PATH TO RECOVERY
Undergoing surgery was only the first step in the long road ahead for Rachel, who remained sedated for weeks after the procedure. Dr. Mitchell says she was minimally responsive because of the contusions, or bruises, in her brain, and the hospital's eagle-eyed medical staff kept her under careful observation.
"I felt that there was ultimately going to be a very good chance she was going to do well. It was just going to take time," Dr. Mitchell says.
At first, Rachel couldn't lift her head or speak. She was hospitalized for a month and had to work with a speech and a physical therapist. Gradually, she began making progress.
"It was like she was a newborn baby," Stacie says. "The staff took such good care of us, I cannot express that enough. For me to not once ever get upset with the service and the care that they provided, I think speaks volumes to the level of care that you receive at Methodist Dallas."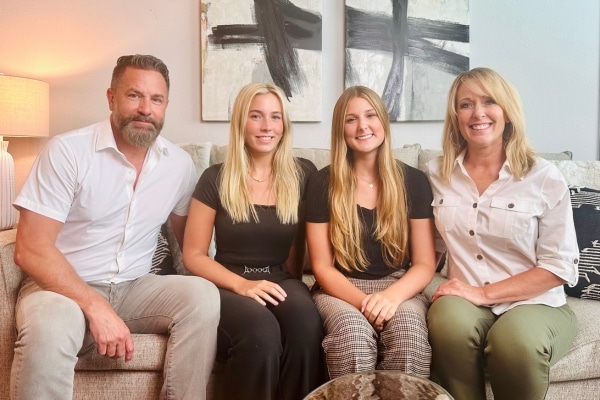 By her side throughout her recovery were Rachel's father, Terry, sister, Olivia, and mother, Stacie.
GOING BACK TO SCHOOL
Rachel eventually moved to another facility to continue her recovery, and when the COVID-19 pandemic hit North Texas, she began at-home rehabilitation. Months later, she was already preparing for her return to college.
Rachel has since earned her bachelor's degree in psychology, and Dr. Mitchell says seeing her graduation announcement in the spring was especially gratifying.
"I'm so pleased for her. Everybody was talking about it," he says. "From a surgeon's perspective, I don't think it gets any better than that."
Now, Rachel is heading to graduate school to continue her education. She says she's excited about all of the possibilities that await her.
"I just wake up every day feeling blessed that I'm still here," she says.