When an Ellis County sheriff's deputy needs an auto mechanic, Roger Huseman is the man for the job, so a hernia for him was a problem for the county's fleet of law enforcement vehicles.
Fortunately for Roger and the Ellis County Sheriff's Office, robotic surgery at Methodist Midlothian Medical Center offered a quicker recovery.
"I had no doubt that I was in the right hands," he says of a team led by Ivan Cruz, MD, general surgeon at Methodist Midlothian.
DON'T IGNORE THE PAIN
For five years, Roger has served as the shop foreman/mechanic for the Sheriff's Office, with much of that time being a one-man operation. Most days, that requires heavy lifting and under-the-hood acrobatics.
One day in April 2023, a hernia that he had been disregarding for a while became too painful to bear any longer.
"While doing a major engine repair, I felt excruciating pain in that area," Roger says of the bulge near his belly button. "In that moment, I knew I needed to get help."
A friend and colleague of Roger's had recently had hernia surgery with Dr. Cruz, and he didn't think twice about recommending the team at Methodist Midlothian.
"He spoke highly of them and gave me the details about a robotic surgery that repaired his hernia," Roger says. "I knew if they could help my friend, they could help me, too."
The next day Roger booked an appointment.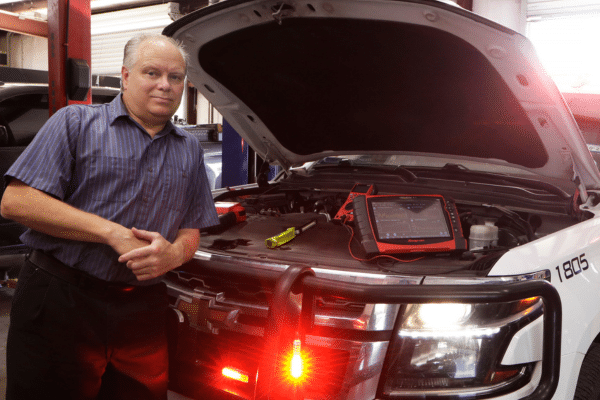 Roger's work in the sheriff's auto shop requires plenty of physical exertion, made painful by his hernia.
WHEN SURGERY CAN'T WAIT
Dr. Cruz quickly determined that Roger's hernia needed expedient attention because it was larger than usual.
"Roger came in with a 3-centimeter hernia," he says. "When hernias get large enough, they become urgent matters especially if something gets stuck in them."
An umbilical hernia occurs when fat or part of the intestines protrudes through a weak spot in the abdominal wall, creating a bulge. Adults are more likely to suffer an intestinal blockage as a result. And if the intestine becomes trapped and cut off from its blood supply, the tissue could die and cause an infection.
"We always want to repair a hernia before it grows even bigger," Dr. Cruz says.
Roger was eligible for robotic repair surgery using the da Vinci Surgical System, and Dr. Cruz quickly got it on the schedule.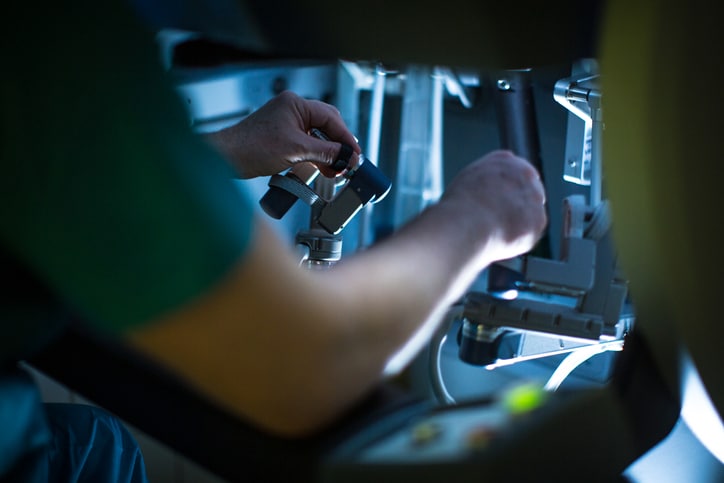 With robotic surgery, a doctor is in control at all times, with the da Vinci's every move at his fingertips.
ROBOT-ASSISTED PROCEDURE
On May 15, 2023, Roger went in for surgery at Methodist Midlothian, with his wife by his side and a team of healthcare professionals in his corner.
"The receptionist, nurses, and anesthesiologists were all kind and professional," he says.
The robotic-assisted surgery to repair the hernia and reinforce the abdominal wall with mesh lasted about an hour and was complication-free, Dr. Cruz says.
"We made three small incisions and filled his abdominal cavity with carbon dioxide," he says. We opened the inner lining of his abdominal wall and put the mesh inside, creating a flap, then sutured the hole in his abdominal wall closed.  We then put the mesh inside, to reinforce the repair."
Next, Dr. Cruz stitched up the flap, covering the mesh completely.
"This made sure the mesh won't touch any of his insides or cause any future issues," he says.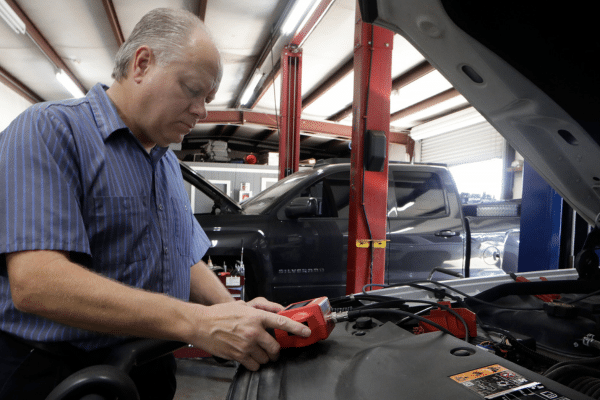 Within two months of his surgery, Roger got back to work keeping Ellis County deputies on the road.
GETTING BACK TO WORK
After the surgery, Dr. Cruz ordered Roger to avoid lifting anything heavier than 10 pounds for six weeks. That meant Roger had to stay away from repairing vehicles.
"I've been repairing vehicles and farm equipment since I was a young kid," Roger said. "But when Dr. Cruz told me to take it easy, I had to follow his directions and allow my wife to help take care of me."
That didn't come easy for Roger, who says he doesn't like to accept help.
"It was hard," he says, "but this time I had no choice but to accept it."
Today, Roger is back to repairing the vehicle fleet for the Ellis County Sheriff's Department, a job that requires him to be in shipshape himself.
"I have zero room for error in my job," Roger says. "The lives of the officers rely on me to ensure their equipment is operating safely each day."