Last year, Tom Barrett felt an all-too-familiar burning pain in his lower abdomen, and the tell-tale bump above his thigh only confirmed his fears: his hernia had returned.
Inguinal hernias occur when weakened abdominal muscles break and allow soft tissue, such as the intestine, to break through, says Ivan Cruz Jr., MD, general surgeon on the medical staff at Methodist Midlothian Medical Center. This protrusion can be very painful.
This wasn't the first time Tom had experienced a hernia. Two decades ago, the U.S. Army Reserves veteran lived with a hernia for years, toughing it out before finally having surgery to repair it. This time, the 76-year-old wasn't waiting.
When Tom saw Dr. Cruz in December, he listened to the surgeon explain how the problem could be corrected with three small incisions in Tom's upper abdomen by using the da Vinci Robotic Surgical System.
"I had more than a little apprehension about that," the Midlothian resident says of his misgivings about robotic surgery.
But his worries vanished after talking to a pre-op nurse and visiting a friend who had undergone his own procedure with the robotic surgical system. And by the time Tom returned home after surgery, those fears were a distant memory.
"From the beginning to the end, it was absolutely great."
— Tom Barrett, on his robotic-assisted hernia repair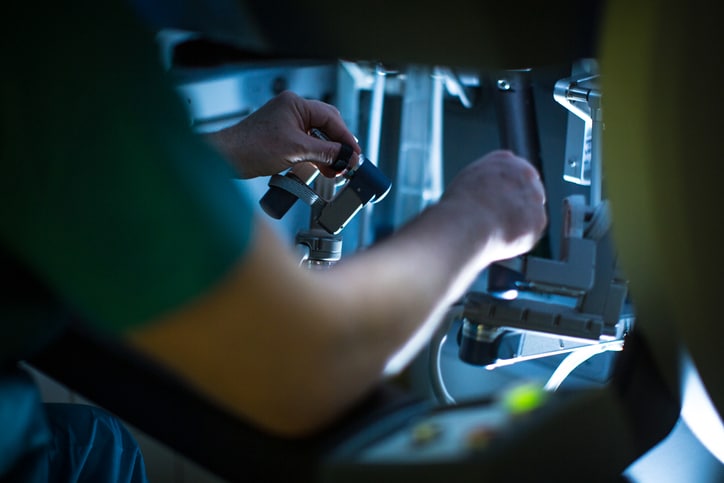 At every step of the procedure, the surgeon had the robot's precision controls at his fingertips.
A HIGH-TECH SOLUTION
The surgical robot gave Dr. Cruz several advantages when repairing Tom's hernia. Its enhanced 3D imaging and micro-precision instruments allow for better visualization and a greater range of motion during the operation.
It's also more minimally invasive, which translates to reduced pain and shorter recovery times for the patient, Dr. Cruz adds.
On the day of Tom's surgery, Dr. Cruz made a surprising discovery. It wasn't that Tom had developed a new hernia. Rather, the mesh covering used to treat his decades-old injury had slipped, once again exposing the opening in his abdominal muscles.
Usually, this would present a major challenge because sections of the mesh material were attached to blood vessels, and the patch would have to be removed without damaging the delicate vascular system.
But the da Vinci robot allowed Dr. Cruz to work with great precision, helping him pull the tissues back into place and cover the hole with a gauze of lightweight synthetic polymer that's made to last.
"I was very thankful I had the robot because it was safer for me to get that mesh out, which I had to do to get the new mesh in," Dr. Cruz says.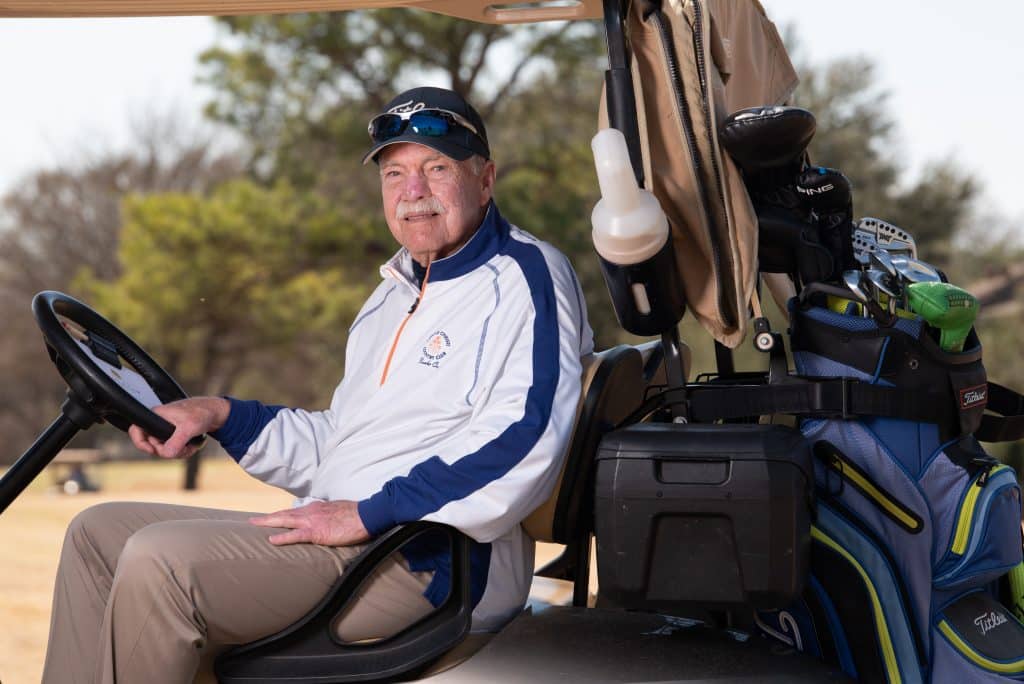 Within weeks of his surgery, Tom was back at Walnut Creek Country Club enjoying a round of golf. 
NEW TO HOSPITAL, NOT TO TEAM
The da Vinci system made its debut last fall at Methodist Midlothian, but Dr. Cruz and his team are well-versed in its capabilities, having performed many robotic surgeries at Methodist Mansfield.
Tom agrees that the process, including the recovery, couldn't have gone more smoothly.
Now back home, the self-professed golf addict is spending his days at the Walnut Creek Country Club in Mansfield, hitting the greens with friends and fellow athletes. He credits the care he received at Methodist Midlothian for getting him back on his feet.
"Everybody was very professional," Tom says. "The staff was very concerned with the utmost detail in patient care. Everything was explained to me, and they made themselves available for questions. It's just a great group."
Gallbladder patient finds relief in robotic-assisted surgery