Thandi Montgomery was a 38-year-old mother of two when she felt the pea-sized lump that would begin her battle with stage 1B breast cancer.
Over the next year, she would undergo four surgeries (including a double mastectomy) at Methodist Mansfield Medical Center, followed by 16 rounds of chemotherapy and 30 days of radiation. But it's another number that shocks Thandi to this day.
"The stats are unbelievable," she says. "In the U.S., one in eight women will be diagnosed with breast cancer in her lifetime, and never in a million years did I think I would be that one."
The diagnosis was a harsh wake-up call for the Grand Prairie mother, who, even before getting sick, administered monthly self-exams, saw her doctor each year, and took proactive measures to lower her risk.
"I thought I had checked every box to stay cancer-free," says Thandi, who has no family history of the disease but is conscientious about her health. "Life is a series of controllable and uncontrollable events. When I initially received the diagnosis, I felt that I had lost control."
Thandi credits her family, faith, friends, and the team at Methodist Mansfield for helping her "tackle this head-on and gain control back."
"My care at Methodist Mansfield was phenomenal," says Thandi, who also delivered her daughter there seven years ago. "The team of nurses and the team of doctors—they were so attentive. I wouldn't be where I am right now without them."
The key to preventing breast cancer is managing your risk factors. Take our health risk assessment.
Visit MethodistHealthSystem.org
EARLY DETECTION
Thandi was doing one of her self-administered breast exams in August 2021 when she noticed a lump. She immediately made an appointment with her primary care provider, who confirmed her worst fear: Thandi had invasive ductal carcinoma.
"It felt as though someone literally knocked the wind out of me," Thandi recalls. "When you hear those words, 'You have cancer,' it makes you put things into perspective. Nothing else mattered in that moment."
Her doctor referred her to the breast center at Methodist Mansfield, which offered her an opening to see Arianne Gallaty, MD, breast surgeon on the hospital's medical staff, the very next day. Although data from the American Cancer Society estimates that the median age of a breast cancer diagnosis is 62, Dr. Gallaty and other experts are noticing a rising trend among younger patients like Thandi.
"Invasive ductal carcinoma is the most common type of breast cancer that there is," Dr. Gallaty adds. "While a lump can be a presenting symptom, many times there are no clinical signs of breast cancer. This is why we advocate for getting mammograms annually as this is the best screening tool we have today to detect breast cancer at an early stage."
But what's considered "early" depends on more than just age, she continues. While most health organizations recommend getting screened annually beginning at age 40, some may need more vigilant testing due to factors such as family history and genetic mutations.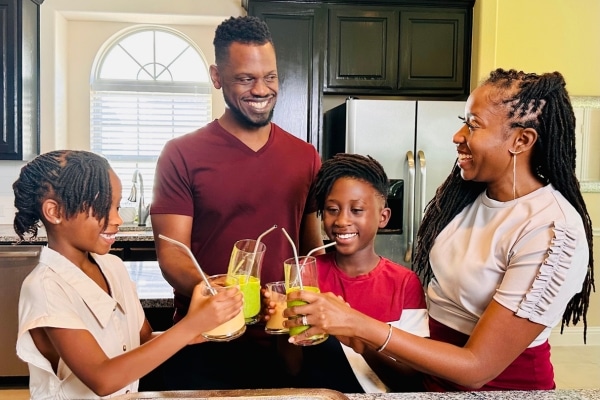 FIGHTING CANCER
Dr. Gallaty performed a bilateral mastectomy for Thandi on Dec. 3, 2021, but a couple of weeks later, she received more devastating news. The cancer was multifocal and had spread to her lymph nodes. Another surgery was needed, so a week before Christmas, Thandi was back in the operating room.
Thandi's husband, Josh, their two children, other relatives, and friends rallied around her. On top of offering love and encouragement, they talked on the phone each week to pray together. In January 2022, Thandi had a third procedure during which she received a PORT so she could have chemotherapy drugs administered.
"Due to the side effects, I was very apprehensive about taking chemo," Thandi says, "but I did extensive research and quickly realized that every drop of chemo would give me the opportunity to live. Your situation changes when your mindset changes."
Instead of strategizing about advertising, the high-achieving marketing executive directed all of her energy to devise plans that would optimize her health. She sought help from a therapist, improved her diet and exercise, took health supplements, and even created a spreadsheet itemizing the steps she would need to take to alleviate the side effects of chemotherapy.
"Cancer is not just a physical component. It's emotional. It's mental," Thandi says. "Even my kids would say, 'Mommy, let's go work out. Let's go exercise. Drink your water.' They were championing me the entire time."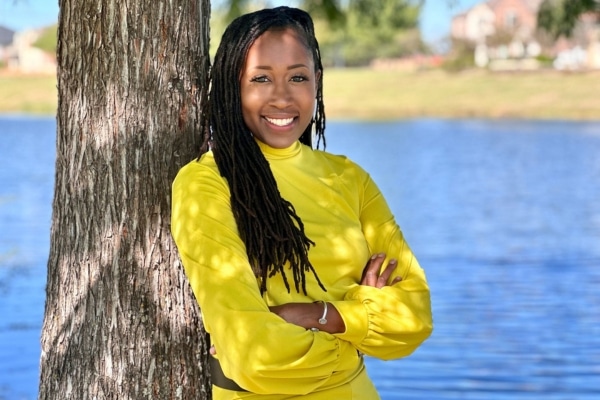 HELPING OTHERS
A month of radiation treatments followed 16 rounds of chemotherapy before Thandi was well enough to undergo reconstructive surgery, which was performed by Ameen Habash, MD, plastic surgeon on the medical staff at Methodist Mansfield.
About a year after her diagnosis, doctors told Thandi that her cancer was in remission.
"It was a breath of fresh air," Thandi says of her feelings upon hearing the good news. "Now it's time to live and help others live as well."
After making it through her experience with breast cancer, Thandi says she feels a sense of responsibility to "reach back" to other women and uplift them. She now speaks, develops courses to empower those who have gone through traumatic experiences, and collaborates with cancer organizations to advocate for others.
"It's my duty to go back and help my pink sisters, those 'one in eight women' who are coming behind me to let them know, 'You're going to be okay,'" she says. "During my journey, I learned a lot about who I am at the core and now I am on a mission to help women all around the world shift from existing to living."