Her job brings her into contact with some of the most seriously ill patients at Methodist Mansfield Medical Center.
As a nurse and former case manager, Michelle Ferrell, BSN, RN, CHPN, frequently helped cancer patients and their families navigate through a difficult diagnosis.
Last year, Michelle was the one who needed help.
"I'd like to think my life was pretty normal before my breast cancer diagnosis," she says. "I did everyday things — like spend time with my family and friends, work as a palliative care nurse at Methodist Mansfield, and play with my two big dogs."
During a self-exam in the summer of 2019, she felt a lump in her left breast.
"It felt completely different from my breast tissue," she says. "It was so different that I paid attention to it.'"
What's more, Michelle says her left breast looked off when she placed her hands on her hips.
That's a red flag, says Michelle's doctor, Sarju Waghela, DO, an oncologist on the medical staff at Methodist Mansfield.
"The best time to do a self-exam is in the shower, arm above your head and moving either in a circular motion or from the outside in," Dr. Waghela explains. "Once you get out of the shower, take a look at the skin to look for any thickening or skin changes. Place your hands on your hips and look in the mirror to look for any dimpling."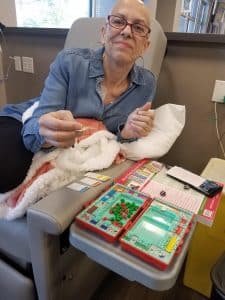 Michelle passes the time during a chemotherapy session.
Difficult road ahead
Michelle was diagnosed with stage 2 triple-negative breast cancer, and she was well acquainted with what came next.
She was treated with eight rounds of IV chemotherapy and asked her husband, Charles, to shave her head. She made the decision to have a bilateral mastectomy with DIEP flap reconstruction, which is when a surgeon uses fatty tissue to reconstruct the breasts.
After her surgery, Michelle got some good news: Her cancer had not spread to her lymph nodes. She also got some discouraging news: The chemotherapy hadn't gotten all of the cancer.
"Surgery is the cornerstone of treatment for breast cancer," Dr. Waghela says. "Some women will need only surgery, and other women will need surgery, chemotherapy, and radiation treatment."
Michelle needed it all, including eight more cycles of oral chemo after surgery.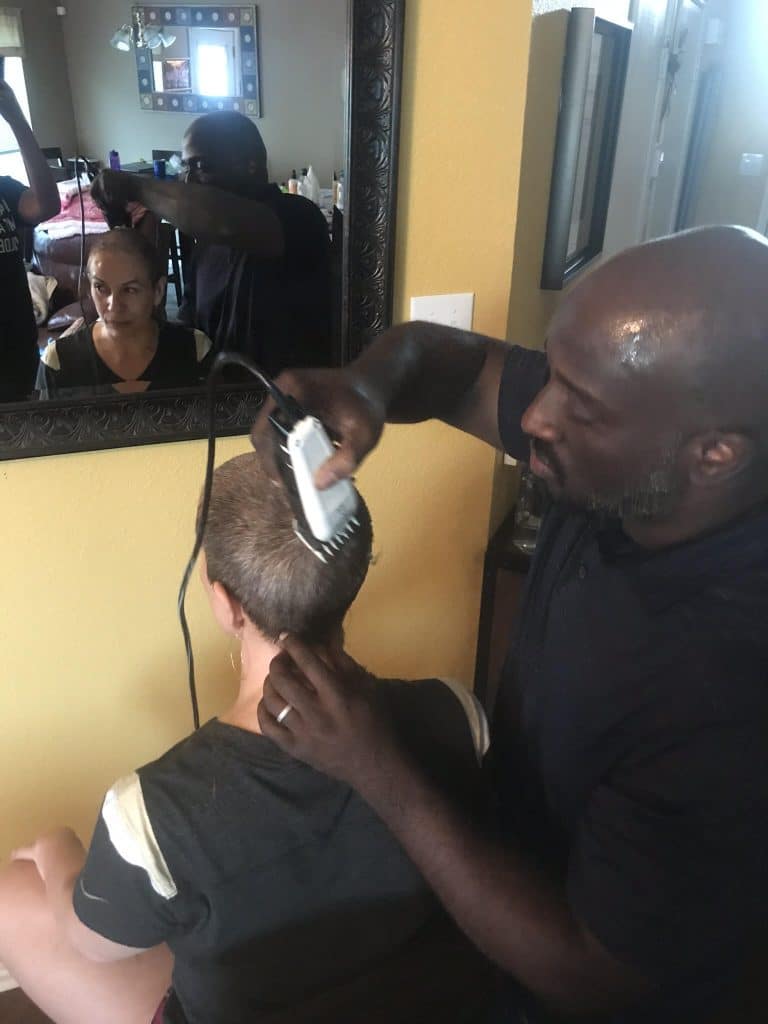 Michelle asked her husband, Charles, to shave her head after chemotherapy.
Dr. Waghela says it's just one example of how Michelle showed her determination to beat cancer.
"Michelle had a great attitude through her journey and came out shining at the end of it," Dr. Waghela says. "She taught me a few things about resilience, and I am honored to be part of her treatment team."
'Your life is worth it'
Michelle hopes that by sharing her story, she can inspire women to take action.
"I reflect back and wish I would have set a reminder on my phone to do a self-exam on a monthly basis in addition to an annual mammogram," she says. "Your life is worth it."
Now three months post-treatment, Michelle is on a plan for the next several years to help reduce the risk of having her cancer return.
"I'm trying to learn not to freak out every time I feel a different twinge, have a headache, a backache, or anything that comes with aging — otherwise, cancer wins," Michelle says. "It's a struggle, but I'm determined to live my new normal."