When a week in bed failed to shake JD Reitinger's flu-like symptoms, the Oak Cliff resident got help at Methodist Dallas Medical Center, where the staff took extreme measures to help him overcome a rarely diagnosed tropical fever.
The civil engineer and Dallas-Fort Worth native would ultimately need three different breathing machines to help his body fight off a typhus infection and another rare and potentially fatal condition that caused his body's immune system to attack itself and damage his organs.
"At the time, I didn't realize how close I was to dying," JD says. "I am forever grateful to all of the nurses and doctors who worked tirelessly to get me well enough to come home."
Making JD's recovery last December even more significant, he and his wife, Nell, learned they were expecting their first child during his stay at Methodist Dallas.
"We will always feel connected to the nurses and doctors there," he says.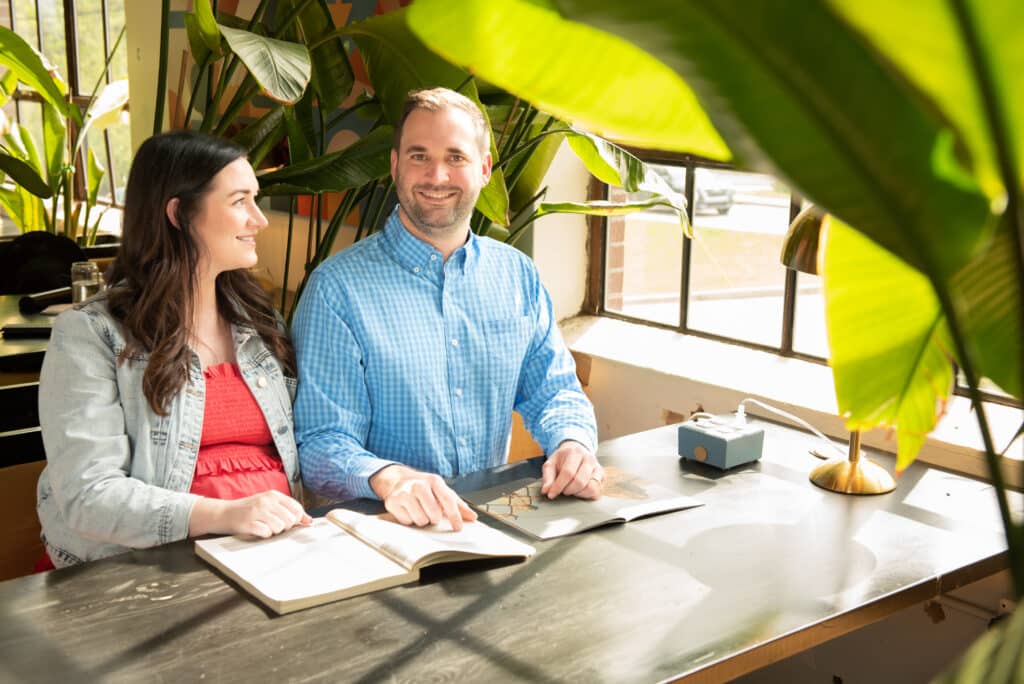 While JD was fighting in the ICU, his wife, Nell, learned they had a baby on the way.
NOT JUST THE FLU
While visiting Santa Fe for Thanksgiving, JD started feeling unwell but figured the higher altitude was to blame.
"I'm 33 years old and in good health, so when I continued feeling sick I started to wonder if maybe I'd come down with the flu," JD says. "I hadn't had my flu shot yet."
Days later, when JD and Nell arrived home in Dallas, his fever was 103 and he spent the next week in bed. By then, just getting up from his bed and walking across the room caused him to pant heavily, as if he'd just finished a vigorous run.
"It became clear he couldn't breathe, so we rushed to the nearest emergency room," Nell says.
When they arrived, JD was bordering on respiratory failure and needed to be treated urgently, says Brad Sellers, DO, vice chair of emergency medicine at Methodist Dallas.
"Visualization is more than half of how we arrive at a diagnosis, especially for acute patients like JD," says Dr. Sellers, who was on duty when JD arrived. "That's why our emergency department now has a physician as part of the triage protocols."
When an EKG confirmed that his condition was not heart-related, Dr. Sellers suspected an infection in his lungs so he initiated the emergency department's sepsis protocol, a bundle of tests and treatments to help identify and treat the infection.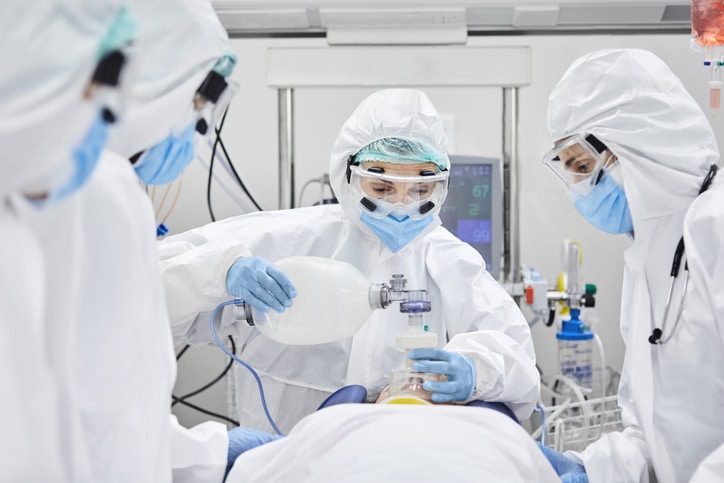 When a BiPAP machine and ventilator were not enough, Methodist Dallas had another tool: ECMO.
TEAM APPROACH
As soon as JD was admitted into critical care, dozens of medical professionals were called in to stabilize him and run tests. A chest X-ray showed he was suffering from severe pneumonia and he was put on a BiPAP machine to push pressurized air into his lungs and help him breathe. But it wasn't enough.
"Even with the machine I was still struggling to breathe," JD says. "The last thing I remember is agreeing to be sedated so they could put me on a ventilator."
Over the next several hours, his medical team worked diligently to pinpoint the severe infection that was causing his body to shut down.
"One of the ICU doctors treating him suspected JD had hemophagocytic lymphohistiocytosis (HLH) which we had never heard of," Nell says.
Dr. Sellers explained that HLH is a rare and potentially fatal condition where the body's immune system doesn't work properly. It causes certain white blood cells to attack healthy blood cells, causing these abnormal cells to build up and damage the organs.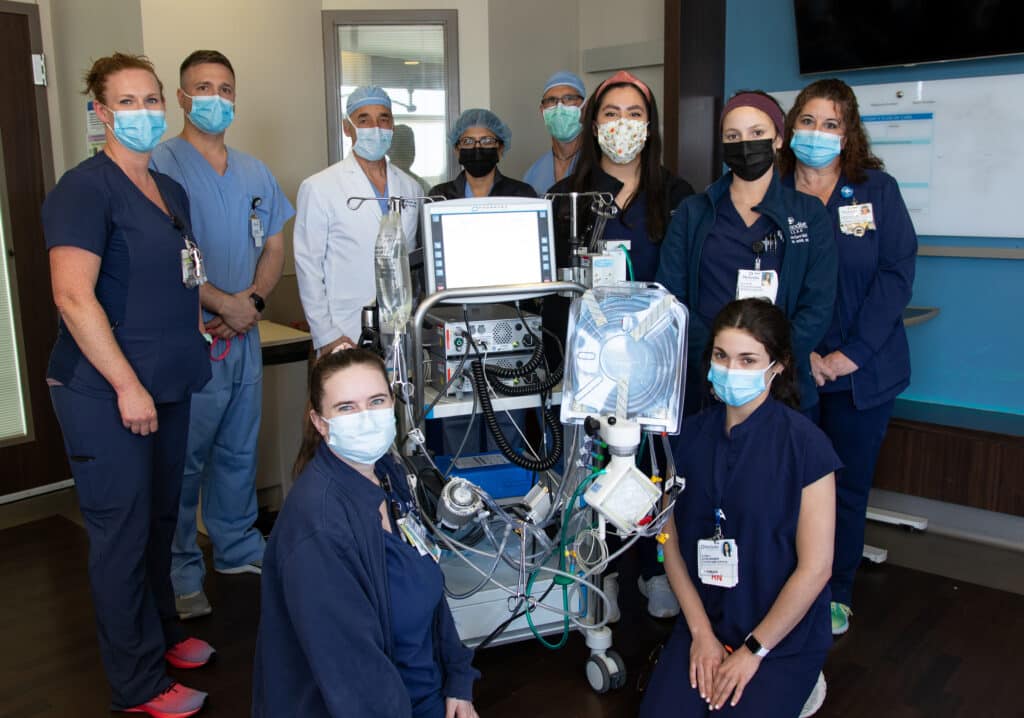 ECMO requires the coordinated efforts of a team of doctors, nurses, and technicians.
TURNING TO ECMO
When the ventilator didn't improve JD's condition quickly enough, his critical care team proposed a lung bypass machine known as ECMO, short for extracorporeal membrane oxygenation, says David Mason, MD, cardiothoracic surgeon on the medical staff at Methodist Dallas.
A tool first used at Methodist Dallas a year ago, the machine scrubbed carbon dioxide from JD's blood, then passed it through a membrane to oxygenate it again, and returned it to his body.
"This allows the lungs to rest and recover," Dr. Mason says. "It's a powerful lifesaving tool for patients like JD."
Subsequent testing revealed that JD had contracted typhus, a bacterial infection that is typically spread to humans through bites from fleas, lice, and chiggers. Now rare after peaking in the 1940s, cases are still reported in Texas, New Mexico, and other parts of the Southwest.
Doctors suspect that JD's typhus infection triggered the HLH and the cascade of severe symptoms that followed.
Now recovered from a series of rare diseases most people have never heard of before, JD and Nell feel fortunate for all the treatment options and a Methodist Dallas staff and doctors with the know-how to use them.
"I will always remember how my life was saved because we came to the right hospital at the right time," JD says.