Kathryn Altman had never experienced pain like she did this summer when she fell off her horse and hurt her back during Midlothian's Independence Day parade.
Fearing the worst, the 21-year-old sought help at Methodist Midlothian Medical Center's emergency department, just three miles from home. X-rays revealed a small fracture in one of her lower vertebrae, and doctors quickly determined the damage was not life-threatening.
The hospital's close proximity turned out to be a comfort during a scary situation, the college senior says.
"It's like five minutes away. Everyone at Methodist was just so nice," she says. "It wasn't stressful."
'GOING TO PASS OUT'
Living on a property filled with animals, Kathryn is no stranger to horses. She's even ridden along parade routes for other Midlothian holiday events in the past. But during the city's Independence Day celebration this July, she was on her family's newest horse, Swagger, when a marching band startled the animal.
"They started playing, and I could just feel his energy go up," she recalls. "I just did not have control of him at that moment."
Swagger bolted through the parting crowd, and as he approached a road, Kathryn made the snap decision to tumble off the horse. While she remembered to tuck and protect her head and limbs, her hip and back bore the brunt of the impact when she hit the ground.
Swagger quickly calmed down, Kathryn shrugged off her scrapes and bruises, and the festivities resumed as normal.
"We walked the whole rest of the parade and then home," Kathryn explains. "I gave my horse to my mom, and I came into the house and immediately just went and lay down."
But the pain in her lower back got worse and eventually became intolerable. It wasn't long before she realized she needed to get to the emergency room.
"Every time I moved, I felt like I was going to pass out," Kathryn says.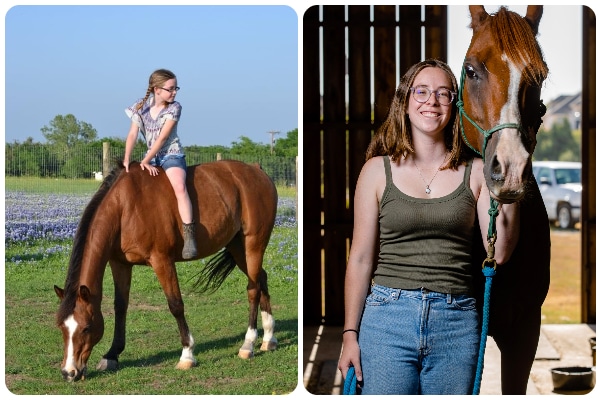 Kathryn has been riding since she was a little girl and doesn't plan to stop anytime soon.
THE ER IS HERE FOR YOU
Once Kathryn checked into Methodist Midlothian, Zulay Zambrano, DO, emergency physician on the hospital's medical staff, ordered X-rays of her spine. Dr. Zambrano found a small fracture in a lower vertebra but it was not severe enough to require surgery.
"Kathryn's neurological exam was very good," she says. "She was walking and had good sensation in her legs, so it was very reassuring."
The best course of treatment was to let the fracture heal on its own, so Dr. Zambrano provided Kathryn with instructions and medications to help manage the pain. She also gave her a referral to visit a colleague at Methodist Dallas Medical Center.
So a few days later, Kathryn confirmed with Richard Meyrat, MD, FAANS, neurosurgeon on the medical staff at Methodist Dallas, that she had nothing more to worry about.
"I was just so relieved. We went there, and they were super nice," Kathryn says. Dr. Meyrat advised her to take it easy, avoid horseback riding for a couple of months, and listen to her body if she noticed any changes.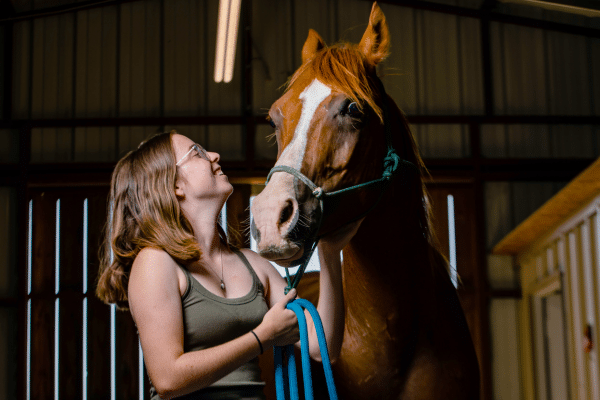 After two months away, Kathryn is ready to get back on her horse again.
Less than two months later, Kathryn reports that she and Swagger are back to normal.
"I can't believe I fractured my spine because I feel fine right now," she says.
Kathryn still has a couple of weeks to go before she can ride again, but she won't let this experience deter her. And Dr. Zambrano praised her for getting help when she did.
"When we think about emergency medicine, we think about heart attacks, strokes, and traumas," Dr. Zambrano says. "But the other thing I tell patients is: 'If there's a concern that you have about your health, just come to the ER and we can rule out life-threatening emergencies.'"