As a Dallas County correctional officer, Wanda Grigsby is used to taking charge in tough situations and keeping a level head. But when she was diagnosed with endometrial cancer last year, she had to place her trust in others to guide her through a hysterectomy and follow-up treatment.
On top of her belief in God, the 61-year-old Duncanville woman credits the team at Methodist Charlton Medical Center with saving her life.
"That's where all of my doctors are," says Wanda, who lives five minutes away from the hospital. "My faith is in God. But He sets people in place to help us when we need it, and I would like to thank the doctors, the nurses, and everyone else who had a hand in taking care of me. Without Methodist, I'm not sure where I would have ended up."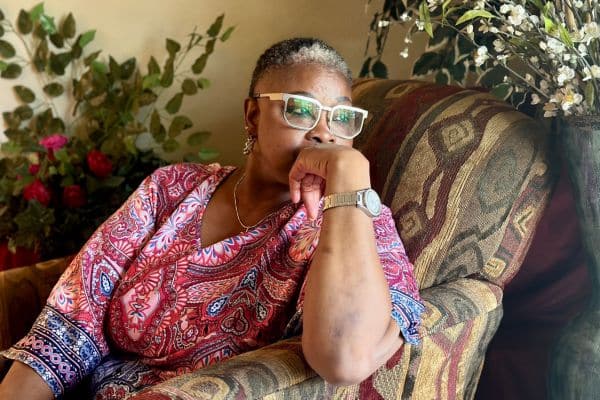 The cancer diagnosis was a shock for Wanda, who thought she might have uterine fibroids.
'I'VE ALWAYS BEEN A FIGHTER'
It was in July 2022 when Wanda first noticed something was wrong. Although she hadn't had a full menstrual cycle for almost 10 years, she bled for seven days, she says. This prompted her to make an appointment with DeShawndranique Gray, MD, OB-GYN on the medical staff at Methodist Charlton.
Dr. Gray examined Wanda and performed a sonogram that revealed stage I endometrial cancer.
"I thought it was fibroids or a hormonal issue," Wanda recalls her surprise at the diagnosis. "But after they confirmed it, I said, 'I'm just going to have to trust God and do what I have to do to beat this.' I've always been a fighter."
Dr. Gray referred Wanda to Brandon Roane, MD, gynecological oncologist on the hospital's medical staff.
"Endometrial cancer is by far and away the most common type of cancer I treat," he says. "There are about 100,000 gynecological cancer cases a year, and two-thirds of them are endometrial cancer cases."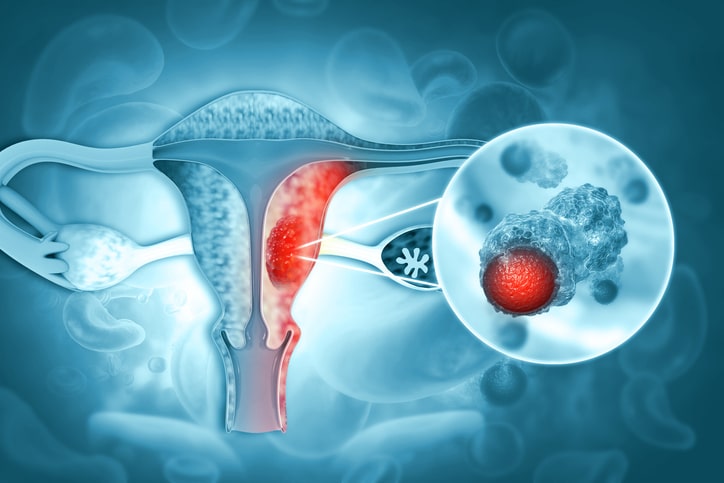 Most gynecological cancer cases involve the endometrium, the inner lining of the uterus. 
WHAT IS ENDOMETRIAL CANCER?
Endometrial cancer is generally grouped with uterine cancer, but the endometrium — the lining that covers the inner surface of the uterus — is its own separate structure.
"It most commonly presents in menopausal women because that endometrium, or that lining, shouldn't be there," he says, referring to the fact that the average age of diagnosis is 60. "These are women who shouldn't have any bleeding, and the lining shouldn't be particularly thick on a sonogram, so that's what we look for."
He adds that Wanda wasn't far off the mark when she guessed her symptoms were hormone-related.
"The mechanism of endometrial cancer is an imbalance of hormones. It's when you have an excessive amount of estrogen, which is a hormone that the ovaries produce, and not enough progesterone to temper it," he explains.
It's also why obesity is a risk factor: fat tissue can produce estrogen, he says. A patient is also at higher risk if she has experienced more years of menstruation, has never gotten pregnant, inherited certain genetic disorders, or takes a specific type of hormone replacement therapy.
Doctors are also seeing a rise in this type of cancer among younger women who are premenopausal and as young as in their 30s.
"If you have irregular periods, if you skip months, or if there's bleeding in between periods, you should get evaluated as well," Dr. Roane advises.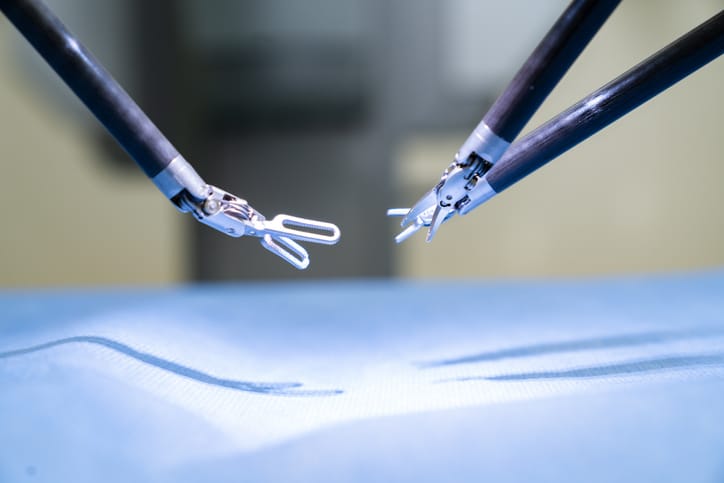 Robotic surgery can improve a doctor's precision and help decrease recovery times.
ROBOTICS-ASSISTED SURGERY
Wanda opted for a total hysterectomy, and on Oct. 13, 2022, she checked into Methodist Charlton for a minimally invasive, robotics-assisted procedure.
Using the da Vinci Surgical System, Dr. Roane made a few incisions, less than a centimeter each, on Wanda's abdomen. He guided the robot's instruments through the cuts and carefully excised the uterus vaginally.
"The robot has really transformed the way we operate," Dr. Roane says. "It offers more surgical precision, shortens recovery times for patients, and decreases the risk of blood loss and other complications."
The recovery time for surgery's like Wanda's hysterectomy can be counted in hours rather than days, says Dr. Roane, who credits the advanced technology as well as the "excellent team at Methodist Charlton."
"I'll operate in the morning and then see them around dinnertime and they're sitting up in the bed like nothing even happened," he says. "Then they can focus on recovery."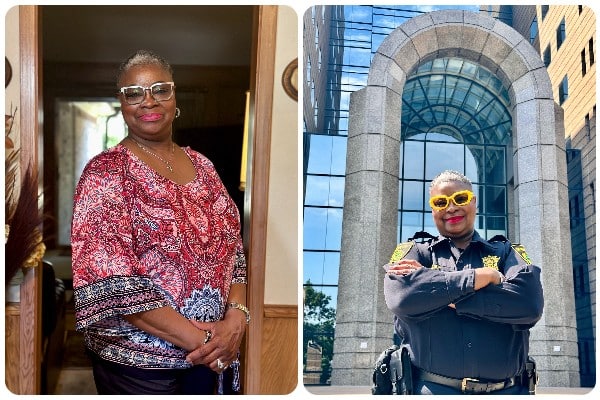 Wanda returned to work at the Dallas County Jail within a month of her final treatment.
CANCER IN REMISSION
After her surgery, Wanda began radiation treatments with Kesha Harris-Henderson, MD, radiation oncologist on Methodist Charlton's medical staff. Wanda says she drew strength from her support system, which was vital in helping her beat cancer.
"My husband, Danny, was my biggest cheerleader," she says. "I was blessed with the support of my family and church family. They really lifted me up during this time, and I am so grateful for them."
Wanda's last radiation session was in December, and by mid-January, she was already back to work. This experience has taught her an important lesson about taking care of her health and cherishing her time with loved ones. In fact, she and her husband, Danny, are planning to take their first cruise together for their 20th anniversary on Valentine's Day.
"If you notice any changes with your body, don't wait. Check with your doctor immediately," she says. "Tomorrow is never promised, and now I'm going to live my life to the absolute fullest."