There's something about colder weather that makes us want to seek out comfort, especially when it comes to food. But there's no need to sacrifice those health and fitness goals when you want to indulge in comfort foods.
Hearty meals like meatloaf and chicken pot pie warm our bodies and souls — and often leave us swapping jeans for sweatpants when our waistlines need a bit more breathing room.
"The holidays don't have to derail your good eating habits every year," says Abby Read, MS, RDN, LD, registered and licensed dietitian and program coordinator at Methodist Dallas and Methodist Charlton Medical Centers. "Making the simplest changes while cooking will make significant differences in the calorie and carb content in your meals, without affecting the flavor."
Here are a few changes you can make to some of those traditional cold-weather meals to keep your health goals on track.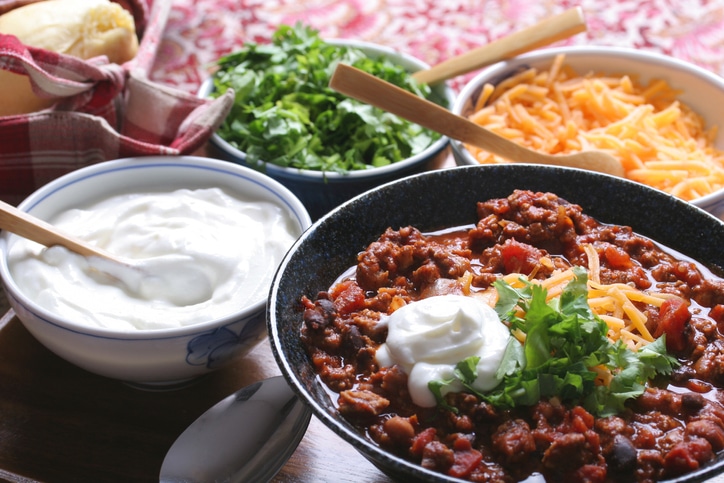 CHILI
A hot cup of chili is a cozy way to warm up a cold night. Whether the protein is ground beef, chicken, or kidney beans will determine how calorie-dense the bowl will be.
Reduce the fat in beef chili by using lean ground beef. Shoot for 93% lean meat, which still contains enough fat to be flavorful.
But fat isn't the only ingredient to watch out for: Chili is often high in salt, so consider alternatives to spice things up.
"Use a low-sodium broth and tomato sauce to steer clear of excess salt in your meal," Read says. "Don't shy away from adding extra paprika, cumin, and red chili flakes to spice up your chili."
Any native Texan can tell you beans don't belong in true chili con carne, but they are a good way to add fiber and pack in the protein without too many calories, Read says.
"Loading your chili with vegetables and low-sodium beans for extra fiber is a way to add beneficial nutrients to this dish," she says.
Read also recommends adding sweet potatoes to the mix for extra texture and flavor.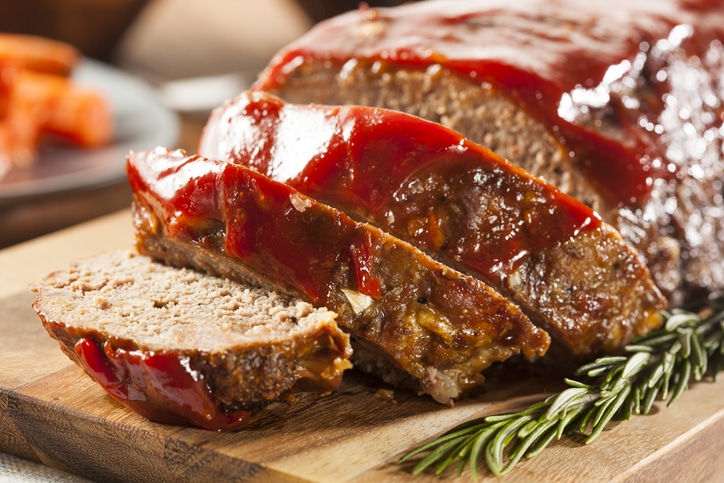 MEATLOAF
Nothing says comfort like a tender meatloaf to end the day. Because ground beef is usually the main ingredient, this favorite often contains unhealthy amounts of fat and calories.
To dodge the saturated fat — which can raise the risk of heart disease and stroke — Read suggests replacing the beef with leaner meat.
"Ground turkey has less saturated fats than ground beef, which is helpful to maintain your heart's health," she says. "It's also a good source of selenium, an essential element for thyroid health."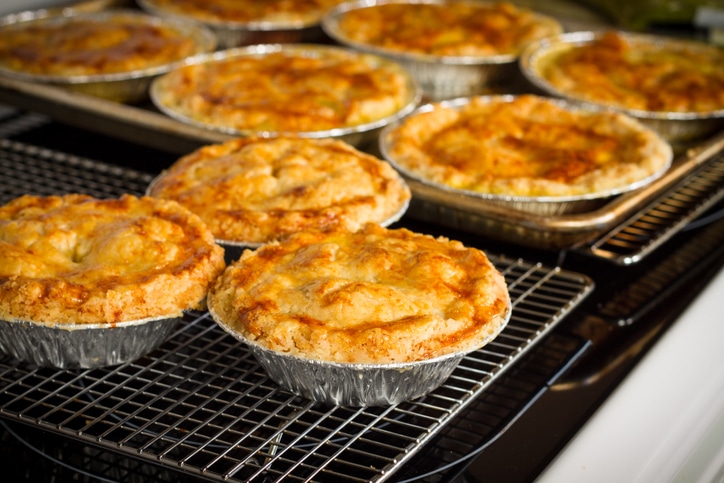 CHICKEN POT PIE
A creamy chicken pot pie is a classic comfort food that's packed with flavor.
Adding spinach to the traditional ingredients can boost its health benefits. Another way to make this dish more nutritious is to avoid using store-bought crusts.
"Try making your own crust instead," Read says. "This way, you'd have more control over how much fat goes into the pie. For example, you can opt-out of using butter or shortening in your crust batter and instead use olive oil. Olive oil is a monosaturated fat and can help lower your risk of heart disease."
Consider substituting a pre-made phyllo crust for a traditional pie crust. Its layered and flaky dough contains fewer calories and carbohydrates. To retain the flavor without the fat, coat the dough with a butter-flavored cooking spray right before you add the filling.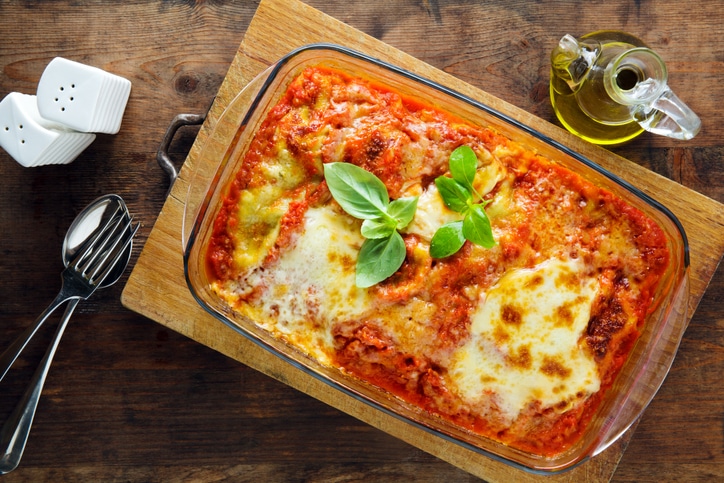 LASAGNA
Layers of pasta noodles topped with oozing cheese and meat may be delicious, but it's not exactly healthy. To make skinny lasagna, swap out some of the main ingredients for more wholesome alternatives.
Consider whole wheat pasta instead of white pasta. Traditional flat and white lasagna noodles contain 1 gram of fiber and very little iron. Compare that to whole wheat noodles that typically have at least 6 grams of fiber and around 10% of the daily amount of iron needed for your diet.
This may sound familiar, but you can also try switching out the full-fat beef in your sauce for lean ground beef, turkey, or turkey sausage.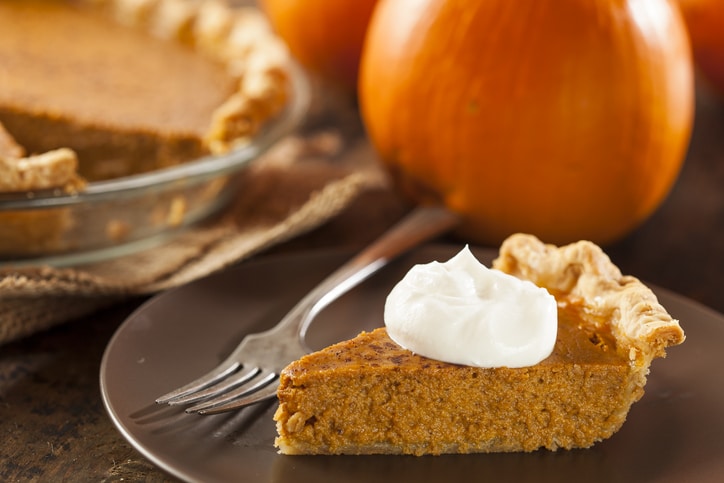 PUMPKIN PIE
It doesn't feel like fall without pumpkin pie. Unfortunately, a single slice of pie from a restaurant or bought at the store can come with over 300 calories.
Make it from scratch starting with a whole pumpkin, and you can slash the calories. Just know that most pumpkin pie filling is made from oblong, tan Dickinson pumpkins, not the round, orange Autumn Gold variety that decorates many porches in October and November.
A canned filling is OK, too, because it's not the pumpkin that's the problem — so long as you check the label, Read says.
"Choose the 100% pure pumpkin over the canned pumpkin pie filling to avoid the excess added sugar and other ingredients," she says. "One cup of plain, pureed canned pumpkin contains about 8 grams of fiber and plenty of vitamin A, vitamin C, and potassium."
Changing up other ingredients can help, too. Instead of traditional sugar to sweeten your pie, try maple syrup, which is rich in anti-oxidants and contains zinc and potassium. Consider using a crust with an alternative flour.
"Almond flour contains vitamin E, an antioxidant that can help lower cholesterol and protects our cells from certain conditions such as cancer and heart disease," Read says.
Or really go off-script and try a crustless pie. After all, it's the pumpkin (and maybe the whipped cream on top) that's the real star here.
These tips aren't limited to what's listed above. You can comfort your friends and family with healthier choices this fall and winter without sacrificing flavor.