Giving up meat for a plant-based diet can be easier than you think, whether you're going vegan to save the animals or you're all about clean living.
In fact, many plant-based meals are just as tasty and relatively foolproof when compared with cooking meat, says Abby Read, MS, RDN, LD, registered and licensed dietitian and program coordinator at Methodist Dallas and Methodist Charlton Medical Centers.
"It's nearly impossible to spoil veggies or tofu by cooking it," she says, "compared to the harm it would cause in undercooking a turkey or chicken."
Veganism — or vegetarianism if you'd rather keep dairy and eggs in your diet — doesn't have to be overly expensive or boring, either, so long as you expand beyond salads, raw veggies, and fruits and steer clear of pricey prepackaged meals stamped "vegan" at the grocery store.
Like any dietary change, the key lies in meal planning and having a few go-to recipes certainly helps. As always, consult your doctor first, and then seek out plant-based alternatives to your favorite meaty meals.
Here are five foods that will have you looking forward to your next vegan meal: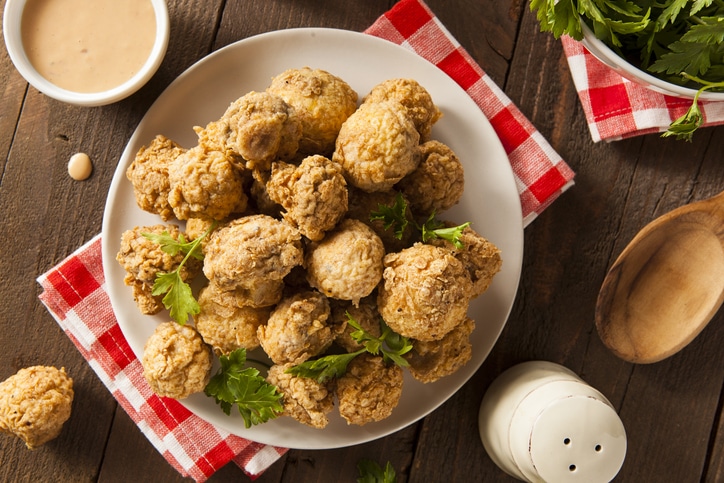 FRIED MUSHROOMS
Mushrooms are a great substitute for meat. Low in calories and carbohydrates, mushrooms are also rich in nutrients, vitamins, and antioxidants.
"Mushrooms are great foods to include in your diet to help lose weight, reduce cholesterol, hypertension, and other metabolic disorders," Read says. "They're also rich in zinc, potassium, and vitamin D, which is a very difficult nutrient to get enough into our diets."
Oyster mushrooms have an especially tender, meaty texture, and they can serve as a perfect substitute for fried chicken. But to keep it vegan, you will have to create a plant-based batter to coat the mushrooms. Spelt flour is a healthier alternative because it contains more fiber than traditional all-purpose flour.
The blog Vegan with Curves shows how to make a flavorful fried oyster mushroom. Pair your entrée with a kale salad and tater tots.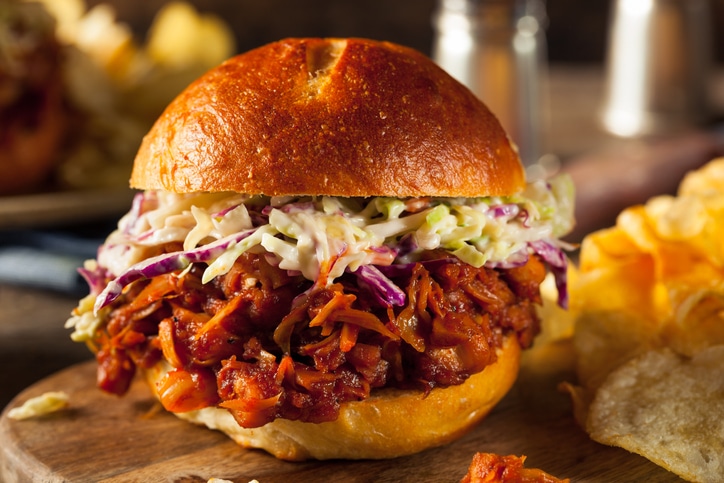 BARBECUE JACKFRUIT
Jackfruit can look a bit scary at first, but underneath that spikey exterior is a fruit that's waiting to be transformed into a fabulous meat replacement.
Whether you buy it raw or canned, you'll need a food processor to shred it into a pulled pork-like consistency. Be careful not to overdo the blending because you don't want to liquefy your jackfruit.
Next, throw it in a slow cooker with all your seasonings and barbecue sauce. Once it's done cooking, you can pour the mixture onto buns or wrap it in a soft taco. If you're in a hurry Minimalist Baker shows how to create jackfruit barbecue in under an hour.
Like most fruits, the calories in jackfruit are mostly carbohydrates, Read notes.
"They don't contain that much protein so it would be good to pair your jackfruit entrée with a protein-filled side dish," she says.
Try a bowl of white beans and kale soup or baked barbecue beans, hold the bacon.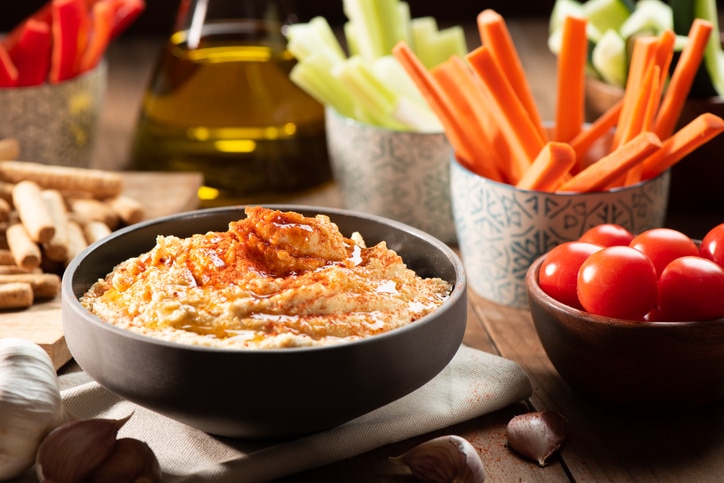 RED PEPPER HUMMUS
Chickpeas, a legume also known as garbanzo beans, can create a variety of plant-based meals that are high in protein, up to 15 grams per serving.
Impress your dinner guests with some homemade chickpea hummus that's packed with all the nutritious fats your body needs.
"The healthy fats inside of hummus are polyunsaturated and monounsaturated fats," Read says. "Eating these kinds of fat can help improve blood cholesterol levels, decrease the risk of heart disease, and help control blood sugar."
Making your own hummus gives you the chance to make it tastier than the often bland store-bought variety. Pair it with carrots, celery, Brussels sprouts, pita chips, or crackers. Or add it to a salad, sandwich, or pasta sauce.
First, you'll need a blender or food processor to break down the beans into a smooth and creamy texture. Add a couple of roasted red bell peppers, a good source of vitamin C and iron. Sprinkle them with paprika to boost their smokiness.
The Vegan 8 blog shows how to create the perfect red pepper hummus.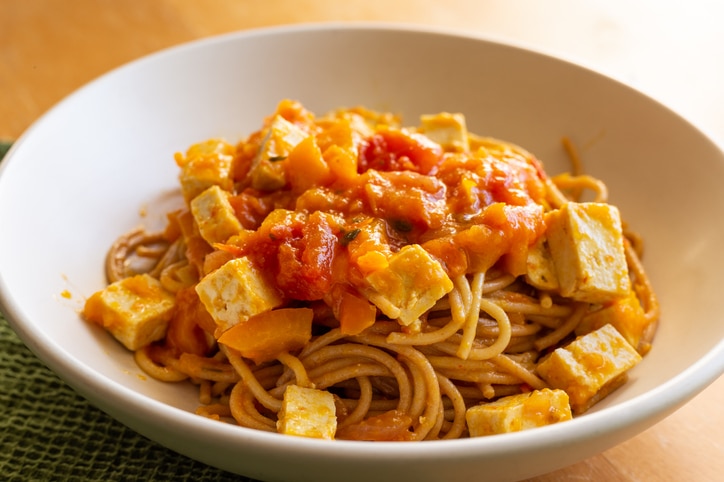 TOFU SPAGHETTI 
Tofu, also known as bean curd, gets a bad rap because it's flavorless and made from condensed soy milk, coagulated and pressed into solid white blocks. But it's also packed with protein and makes a solid meat substitute.
"The nutrition in tofu is equivalent to chicken, pork, or beef," Read says. "It's very versatile in cooking and you can easily hide it in any dish just to increase its nutritional profile."
Tofu, spaghetti, and marinara make a quick and easy dinner. Just treat your tofu the same as meat in a typical pasta dish. Start by frying chopped onions and minced garlic in olive oil, then add your silken tofu with any seasonings you like and stir as you cook.
Once you mix in some sauce, your tofu will start to resemble feta cheese. To give your meal a boost in appearance, garnish with vegan parmesan and top with parsley. If you're sensitive to gluten, try using a chickpea-based pasta for even more protein.
Honest Cooking offers a recipe for tofu and marinara spaghetti that will make your vegan diet more enjoyable.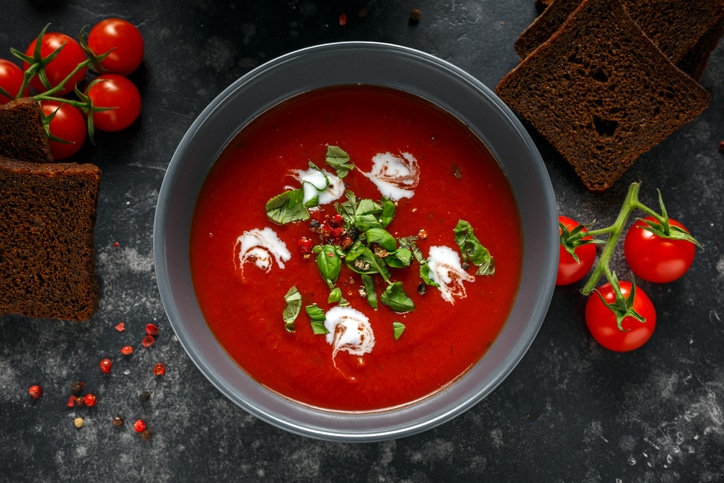 TOMATO SOUP
Simulating stew and chili can be done with a vegan diet, but sometimes a simple tomato soup is all you need to warm up on a chilly night.
If you want to make a fresh and satisfying tomato basil soup, start with fresh whole-food ingredients. And while it's easier to make this dish in an instant pot, you can also cook it on a stovetop.
Tomato basil soup is filled with antioxidants and promotes healthy skin and vision. Eat this creamy dish alone with an herb and cashew cream, or pair it with your favorite sandwich or salad.
The Recipe Critic offers an easy step-by-step guide to creating the perfect tomato basil soup for any vegan.