Spending the holidays in the hospital is no one's idea of fun, but Colleyville resident John Jackson had little choice when a bad case of pneumonia escalated on Christmas Eve.
A fever and intense pain in his lungs brought him to a local emergency clinic, but his infection required advanced care at Methodist Southlake Medical Center. The hospital had recently begun to offer a minimally invasive procedure to treat chest and lung conditions, and John became the first patient to reap the benefits.
"I've never been this sick before," says John, 61, who admits he was apprehensive before his arrival at Methodist Southlake.
Looking back now, he says he's grateful to have an expert team so close to home.
"The staff was just phenomenal. Considering my circumstances, I don't think that experience could have been much better."
— John Jackson

FROM BAD TO WORSE
John first got sick in November. The construction consultant brushed it off as a cold because his symptoms were mild, but it left him with a lingering cough.
"Then about two weeks before Christmas, I got sick again. But this time it was pretty bad," he says. "I started experiencing shortness of breath and a lot of pain."
It appears that fluid had been building in John's lungs for a while, says James Anderson, MD, cardiothoracic surgeon on the medical staff at Methodist Southlake. John had been prescribed antibiotics and other medications, but they were inadequate to treat pneumonia.
"What can happen with pneumonia that's not treated is the lung will make fluid in response to the infection, and that fluid can spread outside the lungs but inside the chest cavity," Dr. Anderson explains. "Bacteria can accumulate in the fluid and cause an infection."
He advises patients to seek medical attention if they begin experiencing fever, chills, body aches, shortness of breath, and a productive cough — common signs of pneumonia.
"A lot of people confuse pneumonia with a bad cold, but colds are caused by viruses and typically run their course and go away on their own, even if you don't do anything," he says. "Pneumonia, on the other hand, is typically caused by bacteria and only gets worse as it moves to the lungs."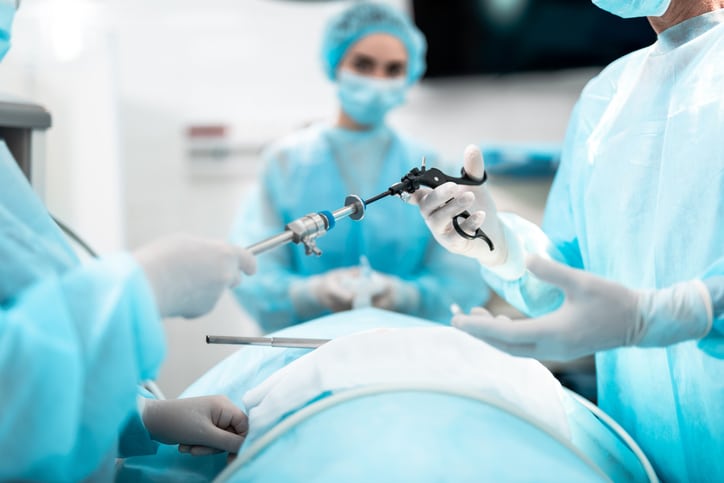 VIDEO-ASSISTED SURGERY
It was Christmas Eve when a fever, coupled with pain and shortness of breath, compelled John to seek help at a local clinic. But imaging scans of John's lungs showed that he needed more help than they could provide, so John was directed to Methodist Southlake instead.
After more tests at the hospital, doctors confirmed John had a severe case of pneumonia.
"It can typically be treated with antibiotics," Dr. Anderson says. "Your bloodstream will circulate the medicine inside the lungs. But when the infection spreads outside the lungs, there's no blood supply to deliver the antibiotics there. Once you develop what John had, there's no way to fix it except by doing surgery."
Dr. Anderson performed the first video-assisted thoracoscopic surgery (VATS) at Methodist Southlake on John.
Unlike traditional thoracic surgery, which requires a big incision along the chest and spreading the ribcage, VATS is a minimally invasive procedure that only requires two to three half-inch incisions. Using a scope and monitor, surgeons are able to guide their instruments between the ribs to drain the fluid and remove the infection.
"With this kind of approach, there is a lot less discomfort, a shorter hospital stay, and a faster return to work," Dr. Anderson explains. "John left the hospital after two days, which is about the fastest anyone could go home."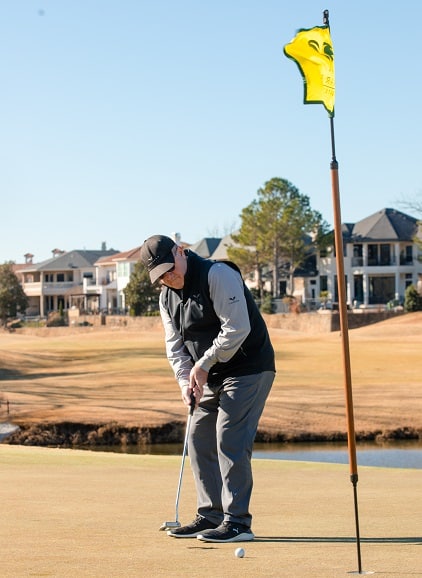 SHORTER RECOVERY TIME
John, who had enjoyed good health for most of his life, says the care he received exceeded his expectations.
"Everybody — from the respiratory therapists to the nurses — was so nice and very experienced," he says.
What's more, the procedure shortened John's recovery time by more than half. Normal surgery takes six to eight weeks of recovery, but John was cleared to return to his normal activities within three weeks.
"I came home the Friday after Christmas and was pretty much back working from home on Monday," he says. "I've already made some work trips, so I'm pretty much back to normal. Now I'm getting back on the golf course."