This Mother's Day won't be Regina Evans' first as a mom, but this year was extra special because her newborn Laila came home after nearly six weeks in the NICU at Methodist Dallas Medical Center.
"This will be the first Mother's Day with Laila," Regina says, "and we'll be creating some new memories as a family."
But the Evans family won't soon forget the day Laila arrived two months early and the around-the-clock care she received at Methodist Dallas.
"Everyone was so personable and caring, and I really appreciated that," the Glenn Heights mom says. "They called me every day to give me detailed updates on how she was doing and gave me time to ask questions and share any concerns that I had."
A HIGHER RISK OF CONCERN
Regina was only 30 weeks pregnant when her water suddenly broke in March. She and her husband, Devin, knew there was a possibility that Laila would be born prematurely. Their oldest child, daughter Addison, was born at 26 weeks and endured a 63-day stay at another NICU.
"Everything about my pregnancy was normal up until the time that I started going into labor. There was no early warning or anything," Regina explains. "So I had to see a high-risk specialist for my son — who was not born early — and for Laila."
That day in March, Regina had just dropped her two children off at school when she felt something out of the ordinary. She consulted with her doctor before making her way to Methodist Dallas, which boasts a Level III NICU capable of caring for babies of all gestational ages with mild to critical illnesses.
At 30 weeks, there was no doubt that Laila would need the extra support.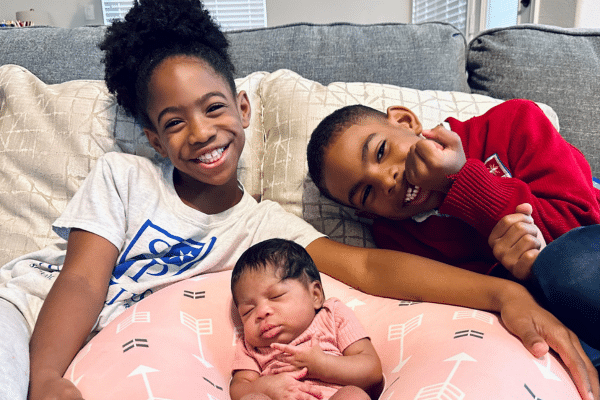 Addison and her brother Devin Jr. dote on their newborn sister, Laila.
"Generally, the organ systems at this stage of gestation are developed, but they are immature," says Vivek Anand, MD, neonatologist on the medical staff at Methodist Dallas. "For example, the blood vessels in the brain are more fragile, so there's a higher risk of bleeding. Each organ system has to be supported and monitored for optimal outcome."
Laila's heart rate was dropping with every contraction, and since she was breech, meaning she was likely to be born bottom or feet first, the decision was made to deliver her by cesarean section.
"There were a lot of moving parts happening at one time," Regina says. All of the doctors and nurses, everyone helped me calm down a lot."
SIX WEEKS IN THE NICU
Laila was born on March 22, 2023, weighing about 3 3/4 pounds. She needed some breathing support and an IV for nutrition before moving on to breast milk.
Regina says the NICU team made her feel comfortable during her two-day hospital stay after the delivery. Even when she was discharged and Laila had to stay in the NICU, their constant updates were a huge help.
"Methodist Dallas has an awesome NICU with all of the services needed to care for preterm babies," says neonatal nurse practitioner Sherie Collins, MSN, APRN. "There's a very strong focus on teamwork by everyone."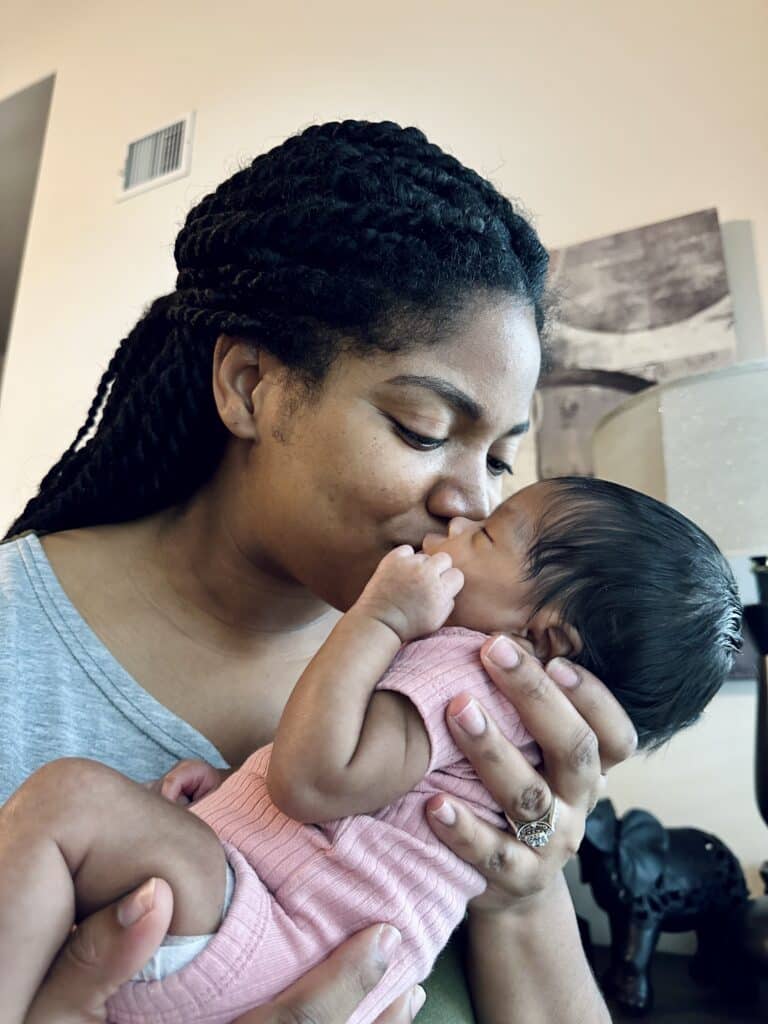 Regina could not have asked for a better Mother's Day gift.
HOMECOMING
On May 2, just before Mother's Day, Regina and Devin took their daughter home where she was excitedly welcomed by her older siblings.
"Her brother and sister are mooning over her," Regina says. "They rush to see her every morning before school and immediately after they get home."
Even today, the staff at Methodist Dallas hold a special place for the family, who plan to return to the hospital next year for its annual preemie party — a celebration where former NICU patients and their families reunite with medical staff for a day of fun.
"Seeing the babies come back with their families is what keeps us going, to be honest," Collins says. "Families have come back with their children — some even years later — and said, 'Look how you've helped us.' They're so proud and thankful, and it just builds us up inside."