Antonio Perkins is used to sitting ringside for a mixed martial arts bout or boxing match, but the fight of his life turned out to be a motorcycle accident in January 2023. 
The 45-year-old sports announcer from Arlington credits the team at Methodist Dallas Medical Center for pulling him back from the brink, especially when he was unconscious for six days in the intensive care unit, he says.
"I didn't have a voice to say, 'Help me.' I didn't have a voice to say, 'I want to live,'" Antonio says. "To all the nurses and doctors, thank you for being that voice for me. Thank you for speaking up and saving my life and getting me back home."
MYSTERY GOOD SAMARITAN
On a January evening around 9 p.m., Antonio was riding along State Highway 67 when he collided with a car that was merging into his lane. The crash fractured his ribs and pelvis, lacerated his liver and lungs, and nearly severed his right leg.
Other commuters got out of their cars to help, while someone called 911 and a good Samaritan tended to his leg. 
"I believe that God had his arms wrapped around me and saved me," he says. "Some people believe in angels, and I got to tell you, there was an angel there that day."
An unidentified witness applied a tourniquet to his right leg, which ultimately saved Antonio's life.  
"His injuries were life threatening," says Joseph Amos, MD, executive medical director of trauma services at Methodist Health System. "If not for that tourniquet, Antonio would have bled out."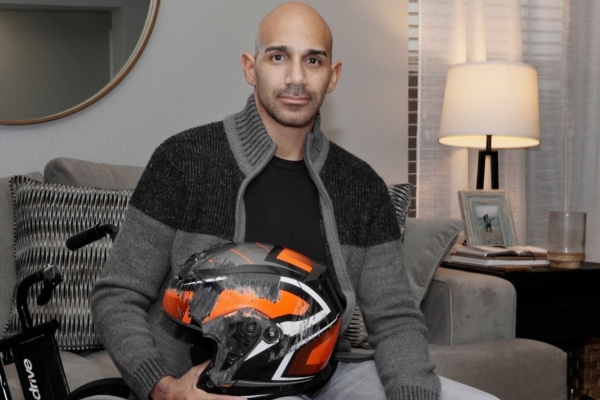 Antonio credits a mystery bystander and the team at Methodist Dallas for saving his life.
TRAUMA TEAM IS ALWAYS READY
When paramedics brought Antonio to Methodist Dallas, everyone at the Level I trauma center jumped into action.  
"Every minute counts in trauma. Any delay is the difference between life and death," says Dr. Amos, who called Danny Holland, DO, orthopedic trauma surgeon on the hospital's medical staff, to assist him in the operating room.
Their first priority was to control Antonio's bleeding, Dr. Holland says. He was bleeding in his abdomen and suffered significant blood loss by the time he got to surgery. The trauma team worked in concert, with Dr. Amos taking care of the damage in Antonio's abdomen while Dr. Holland assessed his right leg.  
The severity of the injury and the damage to the leg's nerves, blood supply, and bone were too great to repair, so Dr. Holland amputated Antonio's leg below the knee.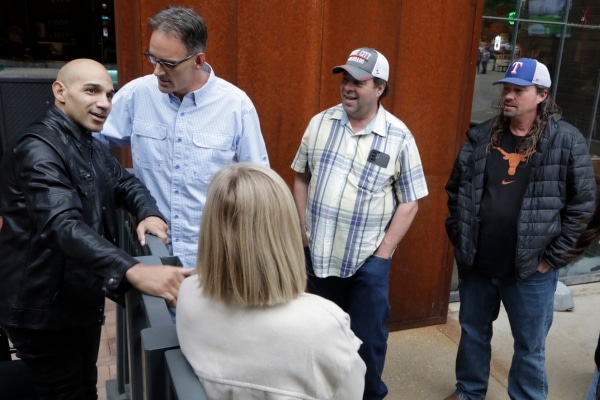 Dr. Holland (second from left) supported Antonio during an MMA event in April.
'HE WAS DETERMINED TO FIGHT'
Antonio also had to be placed on a ventilator because of his chest injuries. In the following days, he remained in critical condition and had trouble easing off of the mechanical respiratory device. He also developed a hematoma, or an internal bleed, in his right thigh, explains Jennifer Burris, MD, trauma surgeon on the medical staff at Methodist Dallas.  
"But he was determined to fight," Dr. Holland says. "And we were all working together to help him. Just like how fighters have a team of coaches, nutritionists, and trainers standing behind them, Methodist has a team of nurses, scrub techs, respiratory therapists, and other staff members that stands behind our patients."
And under their watchful eye, Antonio gradually began to improve.  
"We got to see him go from an intubated ICU patient to a patient who could talk and eat on his own," Dr. Burris says. "It's a great feeling, but it's also just part of the job. It's a standard we expect and set for ourselves."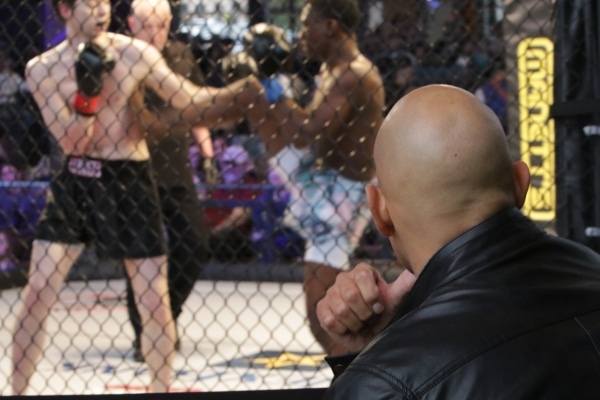 Antonio is determined to return to the ring once his recovery is complete.
PHYSICAL AND EMOTIONAL SUPPORT
Not only did Antonio have his medical team, but he also received an outpouring of love and support from his family, friends, and the MMA and boxing community. His wife, Shalee, hardly ever left his side. 
"It seems like the longest time in my life," Shalee says of the weeks following the accident. "But I'm so grateful because he's still here. You realize how precious life is, and I never want to take another moment with him for granted. I will take a million bad days in a row as long as he's still here with me."
Well-wishers visited Antonio around the clock and reached out to check on him. His doctors say Antonio's strong support system and unflappable positive attitude proved key in helping him overcome the most difficult hurdles.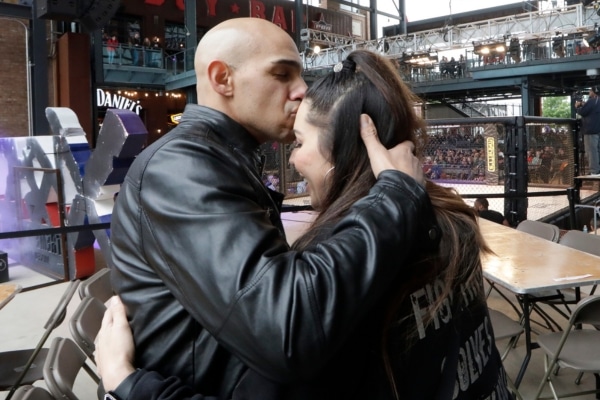 Shalee says she will never take another moment with Antonio for granted.
PREPARING FOR A COMEBACK
Antonio now has to regain his strength and learn how to adjust to life without his right foot. Dr. Holland introduced him to another amputee to help ease any fears. 
"This is a Methodist employee who has a very physically demanding job. I have him sometimes come in and talk to the patients when they've had a traumatic amputation," Dr. Holland explains. "He's just another big part of the treatment team." 
Antonio is now working on his physical rehabilitation and says he hopes to get a prosthetic soon and return to sports announcing. 
"I have never missed an event in over 20 years before this. I missed two this year so far," he adds. "The comeback for me is ultimately being able to walk on both legs, to step back in the cage without any assistance."
Antonio also has a new outlook on life and a message: He hopes his story will inspire others to overcome their own hardships — something Dr. Holland agrees would be valuable to others.  
"He's always had a voice," Dr. Holland says. "Now, he has a story."