As a licensed vocational nurse, Megan Lynch is more in tune with her health than most people. So when her heart rate spiked and she suddenly got dizzy last July, she knew it was an emergency. What she didn't know was that it was vertigo.
Megan, a health teacher at Midlothian High School, had just returned home from a back-to-school event when her intense vertigo symptoms came out of nowhere.
"The room was spinning, and my heart was racing," Megan says. "I had an impending feeling of doom."
While Megan's mother called 911, she began throwing up and collapsed. The paramedics took her to Methodist Midlothian Medical Center, where she was seen by an expert medical team — including two of her former students.
"They wanted to do everything for me," Megan says. "They were able to take care of my needs, take care of my IV and help me eat. They were really good with my daughter Sophie, who is 11 and witnessed all of this when I first had symptoms."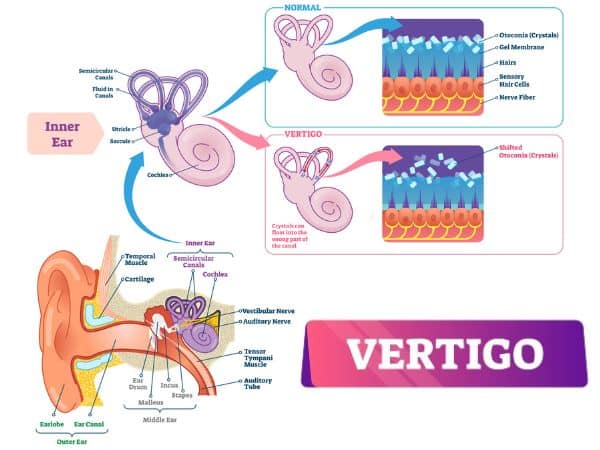 CAUSES OF VERTIGO
Vertigo is a common diagnosis, says Shelley Lenamond, DO, internal medicine specialist on the medical staff at Methodist Midlothian.
"It's one of the top 20 complaints we get," she says.
"I received the most amazing care. These nurses and everyone else were top-notch."

— Megan Lynch
Vertigo can be the result of a virus, infection, allergies, or even changes in the atmosphere. It happens when calcium crystals in the inner ear detach from the utricle, the part of our ear that helps us maintain balance.
"That causes us to be dizzy and lose our orientation in space," Dr. Lenamond says. "It can be very debilitating if you can't walk because you're so dizzy."
Megan was also having trouble seeing. It was a scary time, she says, but the Methodist Midlothian staff eased her fears.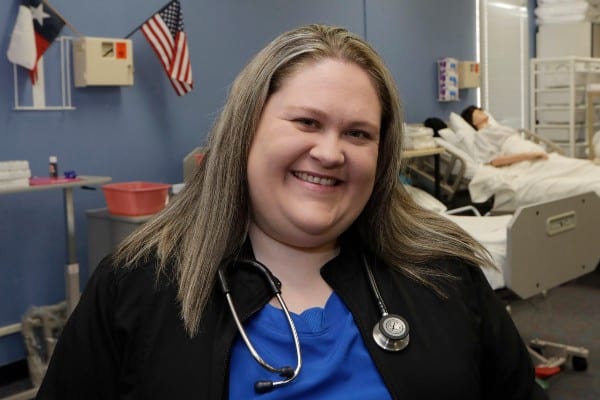 FORMER STUDENTS
By her estimates, Megan has helped about 100 students reach their career aspirations, but this was the first time she was treated by any of them. Former students and current patient care technicians Chelsea Stapleton and Gabby Marquez were among those who checked on her.
"I had no idea they'd be on shift," Megan says. "They told me they saw my name on the board, looked at each other, and said, 'Wait a second! Ms. Lynch!'"
Chelsea and Gabby even helped Megan with her discharge paperwork and getting to her car. It was gratifying to see her former students thrive, she says.
"I told them you never know when you have a chance to make a difference," Megan says. "Sometimes it comes full circle, and you end up treating people you know."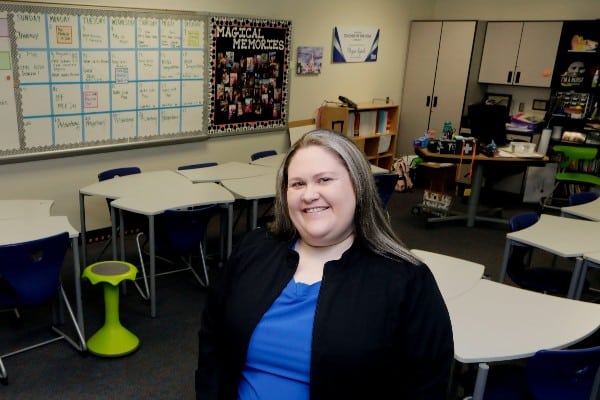 MOVING FORWARD
After her hospitalization, Megan went through months of vestibular therapy at Methodist Mansfield to overcome her dizziness and balance issues.
"The nerve between my inner ear and brain was inflamed so messages were not getting there, and that was throwing off my equilibrium," Megan explains.
Months later, Megan has made significant progress in getting back to her pre-vertigo self, and she now knows the tools and exercises to help her "retrain" her brain whenever she feels her symptoms coming. She has a renewed appreciation for her physical and emotional health, she says.
"The whole experience definitely made me slow my own life down, to re-evaluate, and to remember what's important," Megan says.
The high-quality care she received at Methodist Midlothian also reinforced a lesson she wants to share with all of her students, past, and present.
"You can always make a difference in some way, whether big or small, to the people you come in contact with," she says, "That is what I remember from my experience."