Imagine being told you have only six to 12 months to live. Now imagine getting that news in your 20s.  
This was the reality for Bhargava Kotapalli when he was diagnosed with glioblastoma, a devastating brain cancer, at age 27.  
The disease typically proves fatal within 15 months of diagnosis, explains Paul DeRose, MD, radiation oncologist on the medical staff at the Methodist Richardson Cancer Center.  
"I can hardly describe the magnitude of a moment like that," says Bhargava, remembering that day doctors delivered the news that he might not survive a year. 
But that was back in 2016. 
'WE HAVE RENEWED HOPE'
Today, Bhargava is living a normal life, enjoying his work as a data analyst for an engineering firm and spending his spare time hiking with friends, cooking, and learning about architecture.  
It's a far cry from the prognosis he was given just a few years ago. For this, Bhargava credits the team at Methodist Richardson Medical Center and an experimental treatment called Optune, a wearable device that utilizes electric fields to disrupt the tumor cells' ability to multiply. 
The 31-year-old Plano resident was the first patient at the Cancer Center to try the new treatment and believes it has saved his life. 
"The level of care and support I received at Methodist and the chance to try Optune are why I am still alive," Bhargava says. 
Until recently, there has been very little progress made in the treatment of glioblastoma, Dr. DeRose says.  
"Bhargava's story is a big reason why we have renewed hope."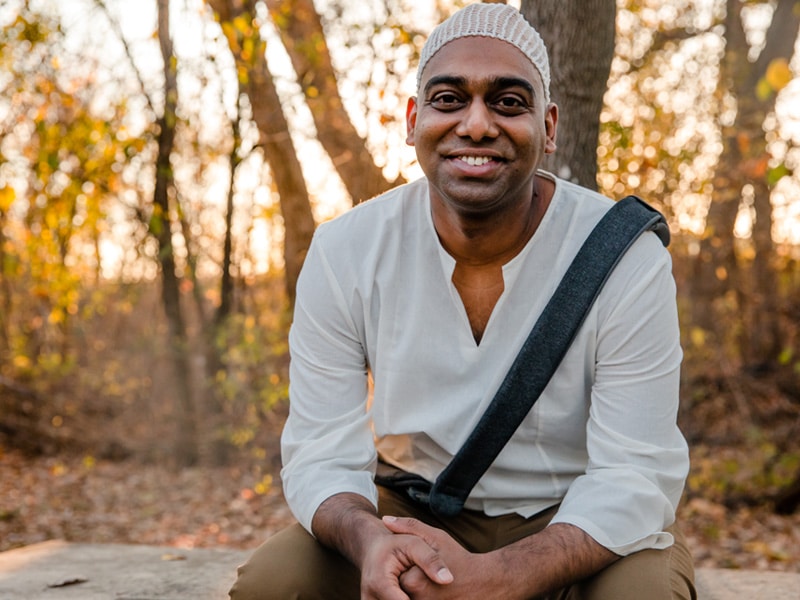 A LIFE-CHANGING DIAGNOSIS 
Bhargava remembers the night he first realized he was sick. It was Aug. 27, 2016, and he was a graduate student pursuing his master's degree in Geospatial Information Sciences at The University of Texas at Dallas. 
That evening he went to dinner with friends, but he had to ask for a ride home when he started to feel unwell. He promptly fell asleep in the car and then again on the couch at his apartment. The last thing he remembers was getting up in the middle of the night to use the restroom. 
Bhargava's roommates found him unconscious in the bathroom, so they called an ambulance. He was rushed to Methodist Richardson, where doctors determined a seizure was the cause of his collapse.  
That kicked off numerous tests and scans that ultimately discovered a tumor on the left side of his brain. Surgery would be the first step. 
"The surgeon was able to successfully remove the entire tumor, but it would be a few days to get results of the biopsy," says Bhargava. "I never expected I would get the news I did." 
When the results came back, he was shocked when doctors told him it was glioblastoma and that he likely had only months to live. 
BEGINNING TREATMENT 
Shortly after his diagnosis, Bhargava began seeing Dr. DeRose, who quickly set up a treatment plan that included radiation and chemotherapy. To further improve Bhargava's odds, Dr. DeRose began looking into other treatment options, as well. 
"I was impressed by the early data on Optune so I offered the choice to Bhargava," Dr. DeRose says. "He was also enthusiastic about the data and decided to try it." 
In February 2017, Bhargava began wearing Optune, a portable device that saturates the tumor location with an electric field. At this point, he had completed six weeks of radiation and was in the final phase of his almost year-long chemotherapy treatment.  
Before long, Dr. DeRose and Bhargava agreed to get even more aggressive and he began to wear the device at least 90% of the time because data indicated the more a patient wears the device, the better the results.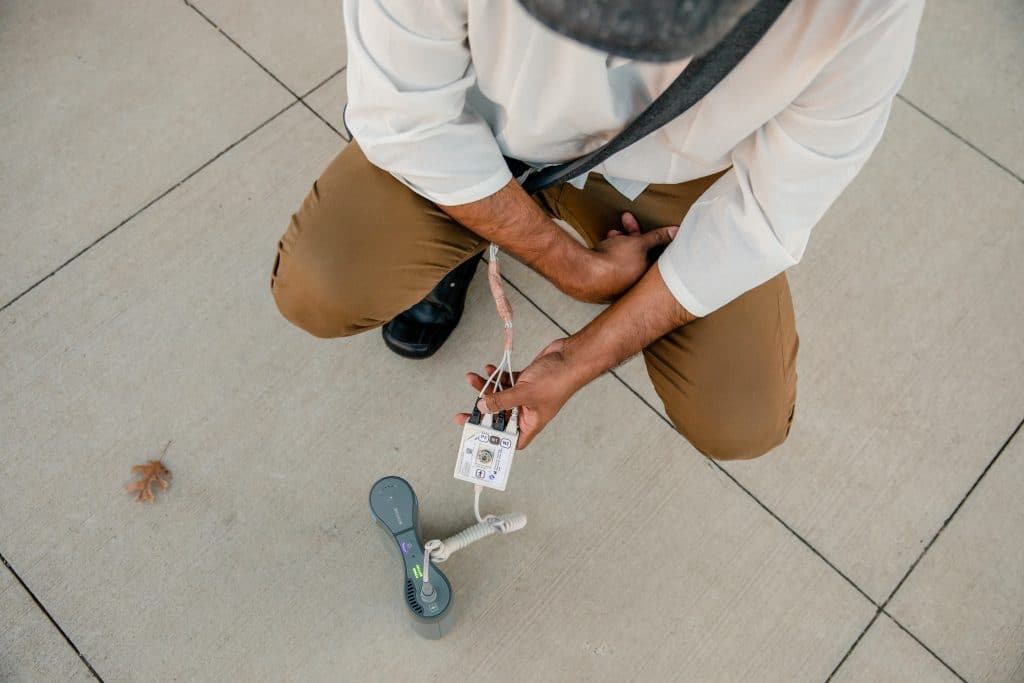 Bhargava carries the battery pack that's attached to his Optune headgear in a small satchel.
THANKFUL FOR EACH DAY
Bhargava has now been wearing Optune for almost four years and has no plans to stop. The outcome has surpassed both his and Dr. DeRose's expectations. 
"When I see him every four months for scans, I tell him the same thing," says Dr. DeRose. "I don't have a prognosis for you anymore. You are so far outside of any data or evidence we have, but I have no reason to believe that your brain cancer will return." 
In addition to Bhargava, Dr. DeRose has had success in pursuing the Optune treatment with almost 20 other patients at the Cancer Center.  
Bhargava says he's thankful for every day, and his doctor credits innovative treatment options for his survival.
"There is no one reason to explain how or why Bhargava is still alive," says Dr. DeRose. "But his success with Optune is one of the biggest factors."
WHAT IS OPTUNE?
It's a wearable, portable, FDA-approved device that creates low-intensity, wave-like electric fields that are sent to the tumor location via adhesive patches attached to the patient's scalp. Also known as TTFields, they help slow or stop glioblastoma cancer cells from multiplying and may also destroy some brain cancer cells.  
 Other treatment options for brain cancer and glioblastoma include: 
Surgery to remove the glioblastoma

 

Radiation therapy

 

Chemotherapy

 

Targeted drug therapy

 

Clinical trials

 

Palliative care