Dieters who have resolved to live a healthier lifestyle may think they need to swear off traditionally carb-heavy comfort foods like Tex-Mex.
Not so fast, says Abby Read, MS, RDN, LD, a wellness coach and program coordinator at Methodist Dallas and Methodist Charlton Medical Centers.
"Most people love all of the flavors that Tex-Mex entrées have," Read says. "You can continue to enjoy those flavors, but with healthier exchanges."
Serve up a Mexican menu without any regrets with just a few low-carb swaps. And don't worry, Read says:
"Low-carb Tex-Mex food doesn't have to be as depressing
as it may sound"
— Abby Read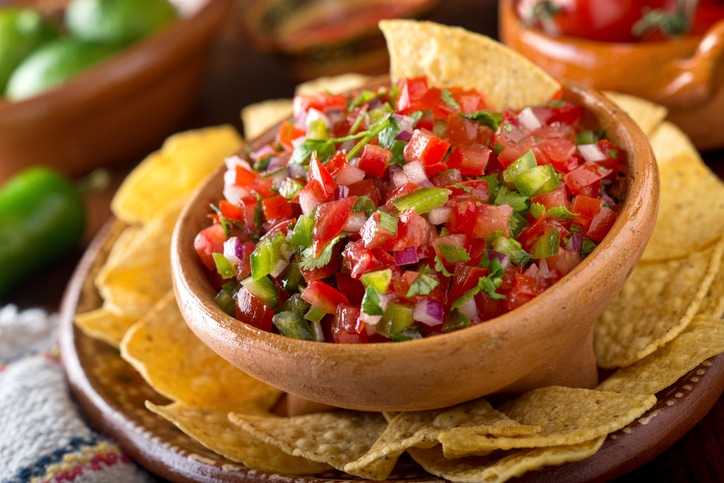 LOW-CARB CHIPS
Making your own tortilla chips might sound overly ambitious, but it's quite easy — either using store-bought corn tortillas or, if you're more industrious, after making your own almond flour tortilla (see below).
"Creating your own low-carb chips doesn't require that many steps," says Read. "It's actually really simple and you'll be able to control how much salt, oil, and calories go into your snack."
For premade tortillas, all you need to do is cut your tortillas into small triangles, sprinkle olive oil and salt over the triangles, and place them in the oven/air fryer at 400 degrees for six minutes.
Here's a recipe from Simply So Healthy that combines almond flour and mozzarella cheese.
PICO DE GALLO
Pico can help amplify your Tex-Mex dish with low-carb, fresh, and flavorful tastes. It's an easy-to-make, low-calorie staple in Tex-Mex cuisine.
You don't even need a blender for this topping. Just chop up fresh tomatoes, jalapenos, white onions, and cilantro, then add lime and salt. Here's an easy recipe from Cookie + kate, if you'd rather not improvise.
Pico pairs well with just about any Tex-Mex dish and is packed with vitamin C, which helps manage high blood pressure, and vitamin A, which is important for maintaining healthy vision.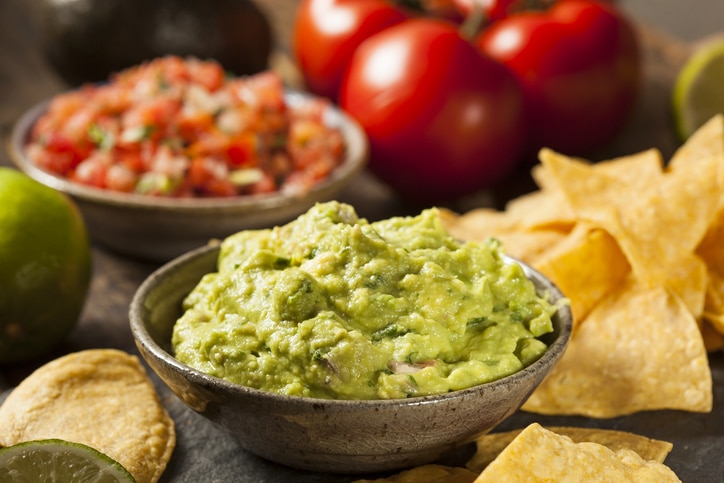 GUACAMOLE
This creamy, avocado-based dip may be a bit high in calories and fat, but at least it's the right kind of fat, Read says
"Guacamole is heart-healthy and much healthier than sour cream because it comes from all of the good fat in the avocado," says Read. "But it's also high in calories, so it's best to eat in moderation."
Two tablespoons of guacamole contain around 50 calories and 3 grams of carbs.
The secret to making the perfect guac is to start off with a ripened avocado, which should be dark in color. Search for a firm avocado that has a slight softness, but isn't mushy.
Stay Snatched has a step-by-step example of how to create the perfect low-carb guacamole.
SALSA
You can't go wrong adding salsa to just about any Tex-Mex dish for some extra spice and juiciness.
It depends on who you ask, but pico is typically considered a kind of salsa, with the main difference being that pico is made strictly from fresh ingredients. Salsa is saucier and can contain cooked ingredients liked stewed tomatoes.
It's very simple to make your own salsa, especially if you have a food processor. Just chop and blend tomatoes, jalapeno, cilantro, onion, garlic, lime juice, salt, and cumin until it's as chunky or smooth as you'd like.
Salsa is low in carbs and calories and provides a good dosage of vitamin C, which promotes kidney health and can help prevent kidney stones.
Here's a basic recipe from A Spicy Perspective.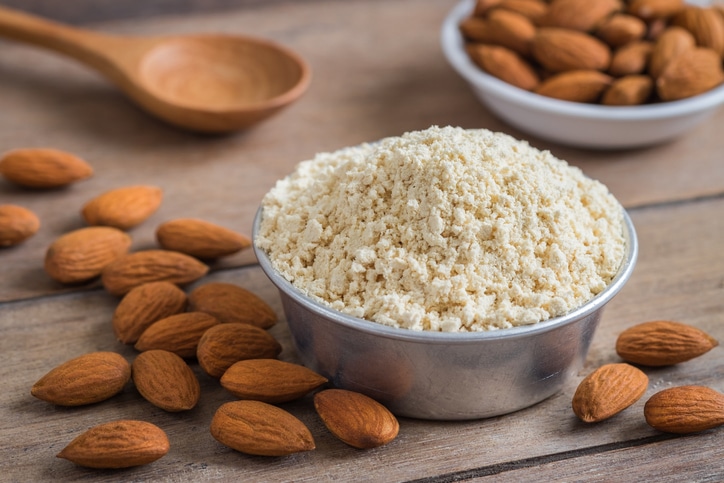 ALMOND FLOUR TORTILLA
You don't have to be a professional to make your own tortillas, but you may have to visit your local health food store to snag some of the necessary ingredients.
If you want a gluten-free version, try using almond flour. It's high in protein, low in carbs, and contains fiber and vitamin E, a powerful antioxidant.
There are a few extra steps that come with making your own tortillas, but it makes the perfect low-carb substitute for the tortillas that usually come with your fajita plate.
Here's an easy almond flour tortilla recipe from the gnom-gnom gluten-free foodie blog.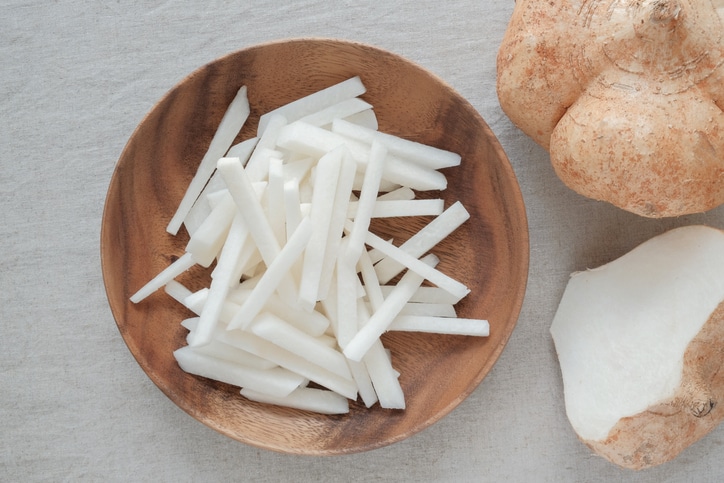 JICAMA TORTILLAS
If you're not a do-it-yourselfer, jicama tortillas are a great pre-made alternative available at many grocery stores.
Jicama is a root vegetable also known as a Mexican turnip. It's packed with fiber and dense in nutrients, which can help improve heart health. Even better, two jicama tortillas contain only 15 calories and 3 grams of carbs.
Jicama tortillas pair well with fajitas, tacos, enchiladas, and flautas.