Two years ago, Alice Chapa was enduring chronic constipation and abdominal pain when she had a frightening discovery in the bathroom.
"At that moment, I felt it," she says, recalling the bleeding that ultimately led her to seek medical help.
The Dallas woman's worst fear was realized: She had stage 3 colorectal cancer.
Her story – shrugging off the symptoms until the problem can't be ignored – is far too common, says Anand Lodha, MD, colorectal surgeon on the medical staff at Methodist Dallas Medical Center.
"People downplay the significance of what it could be when it's the colon and the rectum," Dr. Lodha says. "Patients automatically jump to 'Am I going to have a colostomy?' and that thought dominates the conversation. To the detriment of the patient, the symptoms get ignored."
Symptoms of colorectal cancer can include abdominal pain and persistent changes in bowel movements, including constipation, diarrhea, and skinny pencil-shaped stools, he explains.

'I'M GOING TO FIGHT THIS'
Methodist Dallas quickly admitted Alice to the hospital and ran a series of scans and tests, including a colonoscopy.
When Dr. Lodha came to give Alice and her family the diagnosis, there were plenty of tears, with one notable exception: The patient remained dry-eyed and clear-headed.
"I thought, I'm going to fight this. I looked at Dr. Lodha and said, 'Let's do what we got to do.'"
— Alice Chapa
Alice needed an immediate colostomy, he says, a surgery that creates an opening in the abdominal wall into the colon, bypassing the rectum. For many patients, it's a temporary procedure, but it can still be a shock.
"It's a very difficult transition for patients," Dr. Lodha says. "A great deal of it depends on one's attitude and outlook. The vast majority of the time they are not permanent."
Alice took it in stride.
"I said, 'I got this, I'm telling you,'" she says. "I know I got this."
GOING GOT TOUGH …
At Methodist Dallas, cases like Alice's are reviewed by a colorectal cancer board of surgeons, oncologists, radiologists, and pathologists who will determine the best course of treatment.
Because Alice's tumor was so large, a team led by Vasu Moparty, MD, oncologist on the staff at Methodist Dallas, worked to shrink the tumor through a yearlong regimen of chemotherapy drugs and radiation treatments, along with regular imaging screenings to monitor her progress.
It was tough, Alice admits: "I did get weak."
Still, she embraced the treatments and continually expressed gratitude for her doctors' care and the support she received from her family.
"My faith in God is what kept me strong," she says. "I never showed signs of sadness."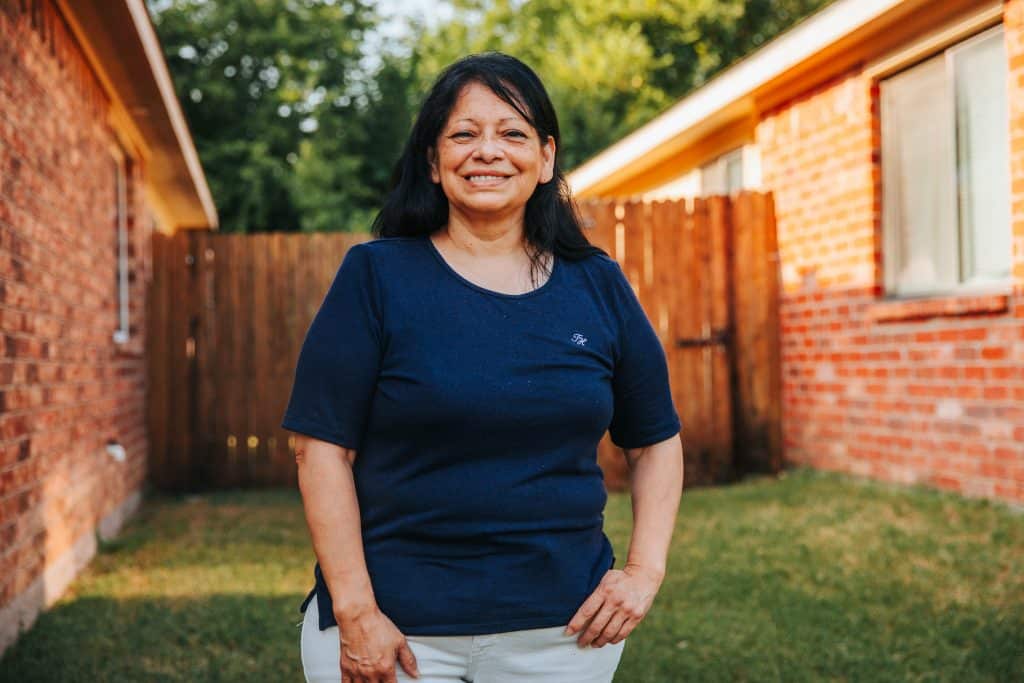 … BUT SHE KEPT GOING
A year after her diagnosis, Dr. Lodha was able to remove the tumor and reconnect her colon.
"A day or two went by and Dr. Lodha came into my room and said, 'I have some news — all your cancer is gone,'" Alice recalls. "I popped up in my bed and said, 'Thank you, thank you, thank you! It's a blessing.'"
Dr. Lodha still marvels at Alice's positive attitude in the most challenging circumstances.
"It's a real shot in the arm to see what the human spirit is able to accomplish," he says. "Her outlook explains a great deal of how she has done so well."
Alice hopes her story will encourage others to realize that they, too, can find their inner strength to fight cancer, especially with the team at Methodist Dallas on their side.
"I feel great — it's amazing," Alice says. "I'm alive and walking because of Dr. Lodha and his team."
Methodist Dallas has earned national accreditation from the Commission on Cancer for rectal cancer treatment, a distinction held by only a few dozen medical centers nationwide.