As a paramedic and EMS consultant, Michael Marsh knows an emergency when he sees one — at least until a burst appendix turned into a crisis of his own last spring. 
Before the pandemic, Michael might not have delayed going to Methodist Mansfield Medical Center when he found himself delirious with pain, feverish, and unable to keep food down. 
"There were times where I was 10 out of 10 on a pain scale, bent over in a fetal position," he says of his ordeal in May 2021.  
As ill as he was, the one-time operations manager for American Medical Response Arlington didn't want to take a bed from a COVID-19 patient in need, or risk catching the virus himself. So he waited, never suspecting his appendix had burst. 
"I didn't realize how close to death I really was," he says. "It was a pretty big wake-up call."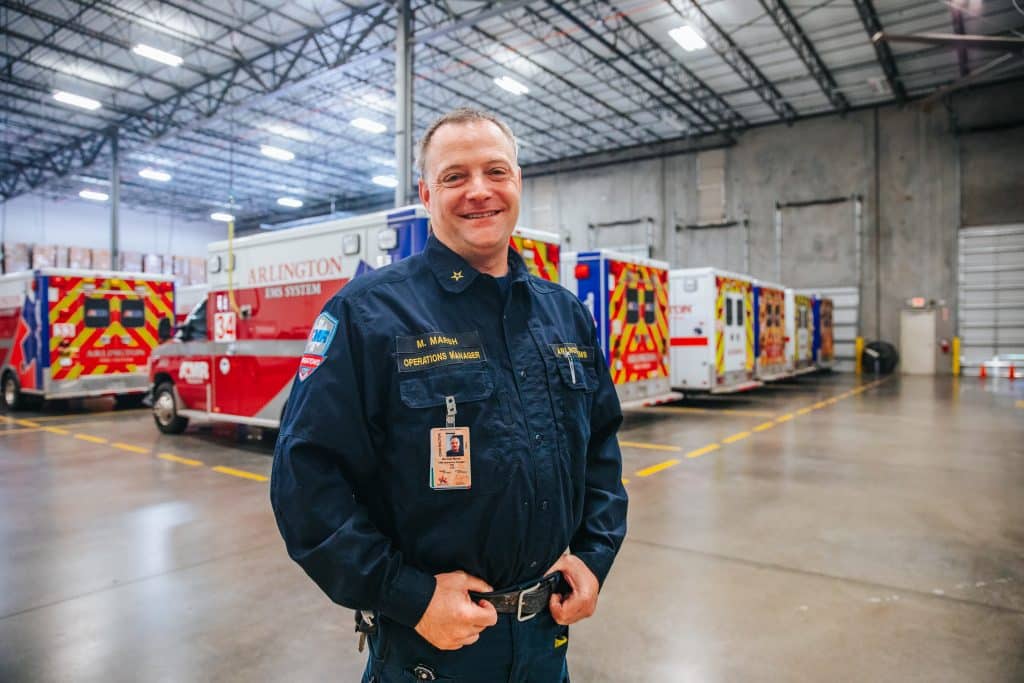 WHEN RELIEF IS A BAD SIGN
Shrugging off the warning signs is not uncommon among men who suffer from appendicitis, says Andrew Standerwick, MD, general and bariatric surgeon on the medical staff at Methodist Mansfield. 
"Women and children tend to come in as soon as the appendix starts hurting. But a lot of guys try to tough it out and it gets worse. When they come in, they're really sick."
— Dr. Standerwick
Michael, 46, first felt poorly on a flight back from Cancun with his wife. An adventurous eater, he chalked it up to a meal in Mexico. A doctor he saw remotely prescribed an antibiotic for salmonella. 
In the coming days, his health deteriorated from feeling rundown to suffering diarrhea, vomiting, and stomach pain. Nothing changed until more than a week after his return from abroad — when, suddenly, he felt "amazing." 
It turns out he felt better only because his inflamed appendix had broken open, thus relieving the pressure. And his health was about to get much worse. 
CHOOSING A HOSPITAL
After the pain returned, Michael still refused to go to the hospital, even though he had a 102-degree fever and was immobilized by misery. 
"I felt like someone was stabbing me with a hot poker," he says. 
His boss at the EMS company suggested he needed fluids and had a paramedic bring an IV to him over the weekend.  
"My wife said, 'You're sick, go lie down, and tomorrow we're going to take you to the doctor,'" Michael recalls. "The next thing I know I'm looking up at a bright light and one of my own paramedics who works for me." 
Michael had come to after passing out, but he was lucid enough to ask the paramedic to take him to Methodist Mansfield. 
"I knew [EMS coordinator] Karen Yates and the staff, and I felt very safe to go there," he says. "If someone is going to look out for me, this is going to be the place."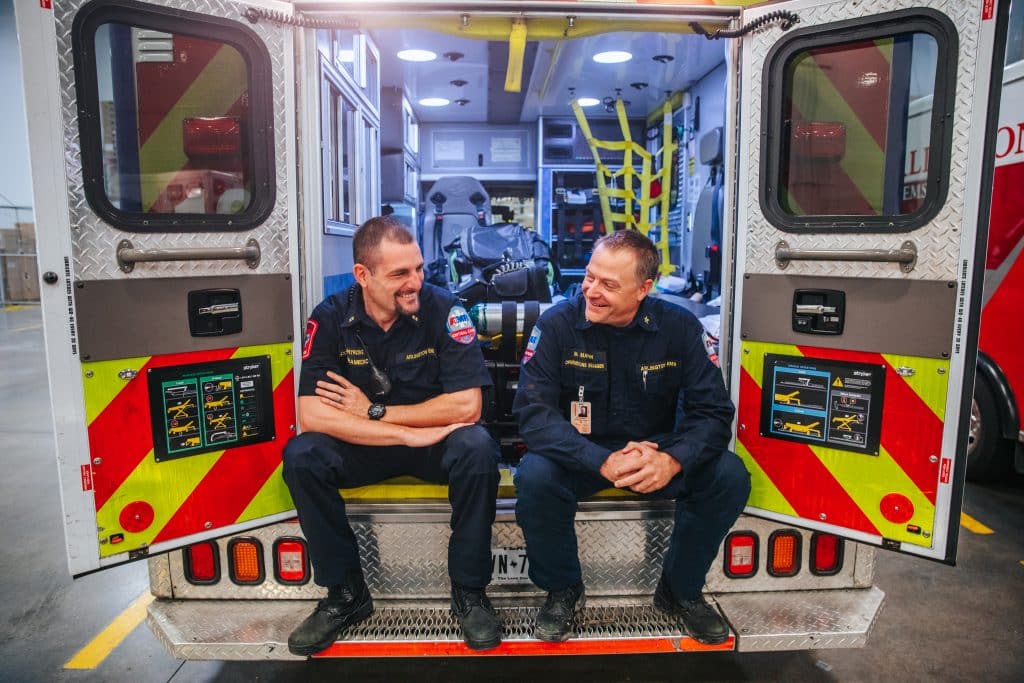 It was Andrew Armstrong (left) who rushed Michael to Methodist Mansfield after his appendix burst.
FIXING THE INFECTION FIRST
A CT scan of Michael's abdomen and pelvis revealed the perforated appendix and two abscesses, one of them bigger than a racquetball.  
Severe sepsis elevated the risk of removing the appendix, so Dr. Standerwick opted to wait until the abscesses were drained. Marsh was treated with an extensive course of intravenous antibiotics.  
Had Marsh delayed treatment much longer, the sepsis could have entered his bloodstream and killed him, says Shantala Samart, MD, infectious disease specialist on the medical staff at Methodist Mansfield. 
"When you have something unusual, some symptoms that last for more than a day or two, then it is time to call a doctor," she says. 
After an interventional radiologist placed tubes to drain the abscesses, Michael spent a week at Methodist Mansfield before being sent home to heal with IV antibiotics. When the infections subsided, the surgical team removed the appendix using minimally invasive laparoscopic surgery. 
"The room and the staff were awesome," Michael says. "I had the most amazing customer service I've ever had in my entire life."