It was over 70 years ago, but Chuck and Kathy Magers still remember the first time they saw each other at 4 years old.
"I was making mud pies when he got off the school bus with his brother," Kathy says of her husband, Chuck.
"She was the only other kid around the neighborhood who was my age," Chuck says. "I thought it was nice to have someone to play with. We became inseparable."
That bond never wavered for the East Texas couple, even after their families moved apart. They eventually found their way back to each other, eloping at age 19 before starting a family of their own.
Now the couple is celebrating 55 years together – an anniversary that Kathy believes would not have been so joyful if not for the medical staff at Methodist Dallas Medical Center.
She credits them for preserving their 70-year love story after Chuck was diagnosed with a life-threatening case of necrotizing pancreatitis, which caused his pancreatic tissue to die and digestive enzymes to spread to his other organs.
The disease, first diagnosed in 2019 after a disruption in his pancreatic duct, took a drastic toll on his health, and he first visited several clinics and hospitals close to their lakeside home.
"He was in a lot of pain and really sick. He wouldn't eat or drink anything," Kathy says. "At that point, I knew we needed to be at a hospital that's better equipped with handling this type of disease."
Finally, a physician Chuck was seeing in the city of Quitman said he'd make a call to the Liver Institute at Methodist Dallas.
"If it weren't for that doctor and those at Methodist Dallas, I wouldn't be here today," Chuck says.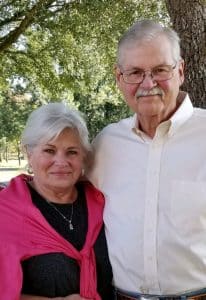 Kathy and Chuck are celebrating 55 years of marriage, an anniversary that was no sure thing after his health scare.
'WE WERE LOSING HIM'
Several doctors on the medical staff at Methodist Dallas tried minimally invasive procedures to treat Chuck's pancreatitis, but the infection had become too severe.
Chuck's case was eventually brought to Richard Dickerman, MD, FACS, surgical director of the kidney and pancreas transplant program at Methodist Dallas. Recalling their first meeting, Chuck says Dr. Dickerman reminded him of the can-do cowboys who once worked his family's ranch.
"He had this persona that if he can't fix it, it can't be fixed," Chuck says.
Acute pancreatitis typically does not require surgery, Dr. Dickerman says, but Chuck's disease had progressed to an extreme point.
"There was dead tissue in his pancreas and so much infection inside his abdomen that he was basically dying," Dr. Dickerman says. "His kidneys were failing, and it had caused fluid to build up in his lungs."
Because of the fluid in his lungs, Chuck had to rely on a ventilator to help him breathe, and his family recalls multiple complications, including sepsis, diabetes, and atrial fibrillation.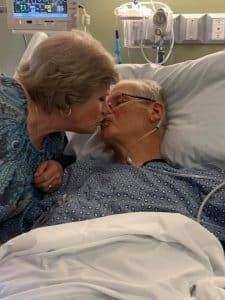 Kathy was always by Chuck's side in the hospital.
"We thought we were losing him," Kathy says. She and their two daughters, Angie and Dana, took turns sitting with Chuck in the hospital. Kathy repeatedly made the three-hour drive to East Texas to get clean clothes and some rest before jumping back in the car to return to Chuck's side.
Dr. Dickerman removed the dead tissue in and around Chuck's pancreas, but he'd return to the operating room a few months later to repair more damage caused by the pancreatitis.
This time, Dr. Dickerman and Vichin Puri, MD, FACS, director of surgical oncology, performed a pancreaticoduodenectomy, also known as the Whipple procedure.
"The surgery means removing the section of the pancreas that's attached to the intestines, along with the bile duct, and reattaching the remaining portions of the stomach, pancreas, and duodenum, so the patient can have normal gastrointestinal function," Dr. Dickerman explains. "He made quite a remarkable recovery after that."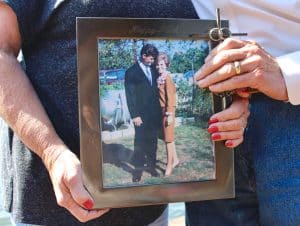 Kathy credits the staff at Methodist Dallas for saving Chuck, her soul mate for seven decades.
ON THE MEND
Chuck says he doesn't remember much about his time in the hospital aside from the fierce devotion his family showed him. He was also touched by the team of nurses who cared for him, especially when he was so weak in the intensive care unit.
"I've never gotten over how they took care of me, my daughters, and my wife," he says. "It was the most unbelievable thing I've ever seen in my life. I'll never forget it."
Through it all, Kathy was always by his side, daughter Angie says, "but she's only one person. He needed around-the-clock attention," she says, "and we knew we were in the best hands in that situation."
Back home with Kathy, Chuck says he's using his story as a source of strength and inspiration when ministering at his church where he serves as a deacon.
"It was a hard time," he says, "But my family and I came out stronger at the end of it."