Last fall Ashley Donnell had barely begun her third trimester with her twins when she woke up cramping.
A month earlier, Ashley had been placed on steroid treatments because she was already dilated. So she wasn't about to take any chances and made an appointment at her OB-GYN's office that November morning.
"I thought I'd go in for my appointment and they'd say, 'You're OK; let's just watch you,'" Ashley says. "Boy, was I wrong."
About seven hours later, her sons were delivered at Methodist Mansfield Medical Center. Most twins come four to six weeks early; Ashley's were born 12 weeks ahead of schedule.
That evening Malik — all 2 pounds, 11 ounces of him — made his debut. His brother, Myles — weighing in at 3 pounds 2 ounces — was delivered a minute later.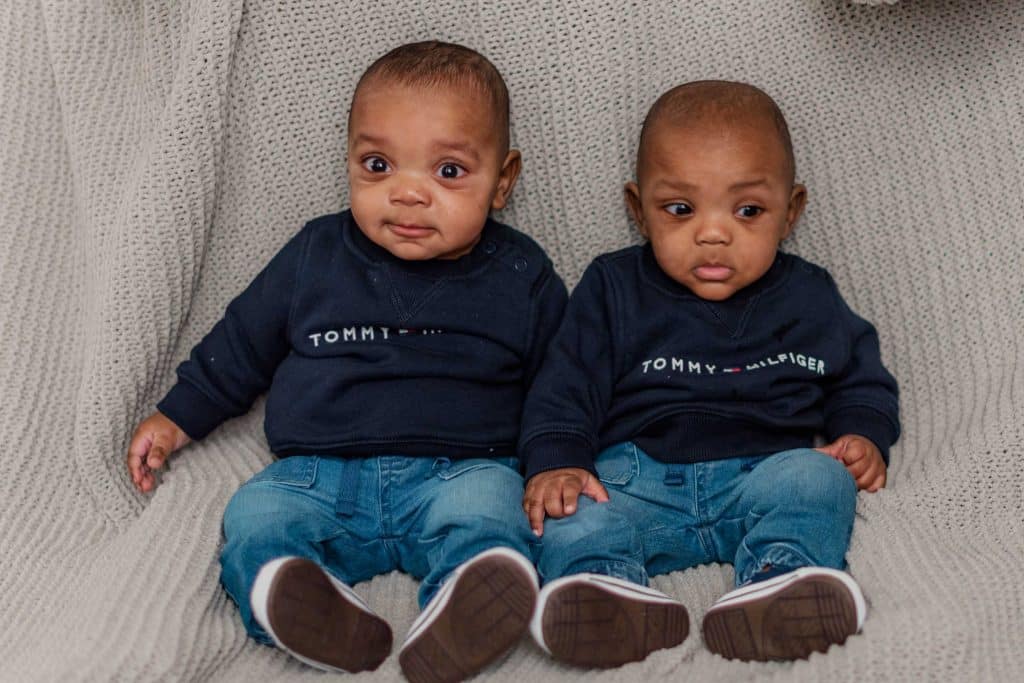 The fraternal twins were sent to the hospital's state-of-the-art, 16-bed neonatal intensive care unit (NICU). Ashley and their dad, Mario Mouton, saw them for the first time a day later.
"They were just there, tiny and wonderful," she says.
Ashley stayed in the hospital for three days, spending as much time as possible with her babies. When she was discharged, she cried all the way home.
"I can't believe I had babies this early!" she remembers thinking. "This is a disaster!"
'BEST I'VE EVER WORKED WITH'
Now Ashley knows it was anything but a disaster, and she has only praise for her boys' care.
"The staff cares for your babies like they were their own," she says.
Her doctor, Robert S. Krombach, MD, OB-GYN on the medical staff at Methodist Mansfield, sees that close relationship between families and nurses every day and finds it inspiring.
"Our nurses and staff in labor and delivery and in the NICU are some of the best I've ever worked with," he says. "We are so lucky to have them."
PUTTING THE PATIENTS FIRST
His associate Heather J. Havener, MD, a fellow OB-GYN on the medical staff at the hospital, agrees. From pregnancy through birth and beyond, she says, Methodist Mansfield has an "amazing team in women's services."
"Nurses, lactation specialists, physicians, social workers, techs, managers — we all work together and always put the patients first," Dr. Havener says.
Jordyn Gary, RN, was part of the team of nurses caring for the Mouton boys.
"The whole family was easy to fall in love with," says Jordyn, who came to Methodist Mansfield NICU from the Methodist Dallas NICU in 2017. "Our whole goal is to make families feel comfortable, so they know that when they can't be with their babies that their babies are being taken care of."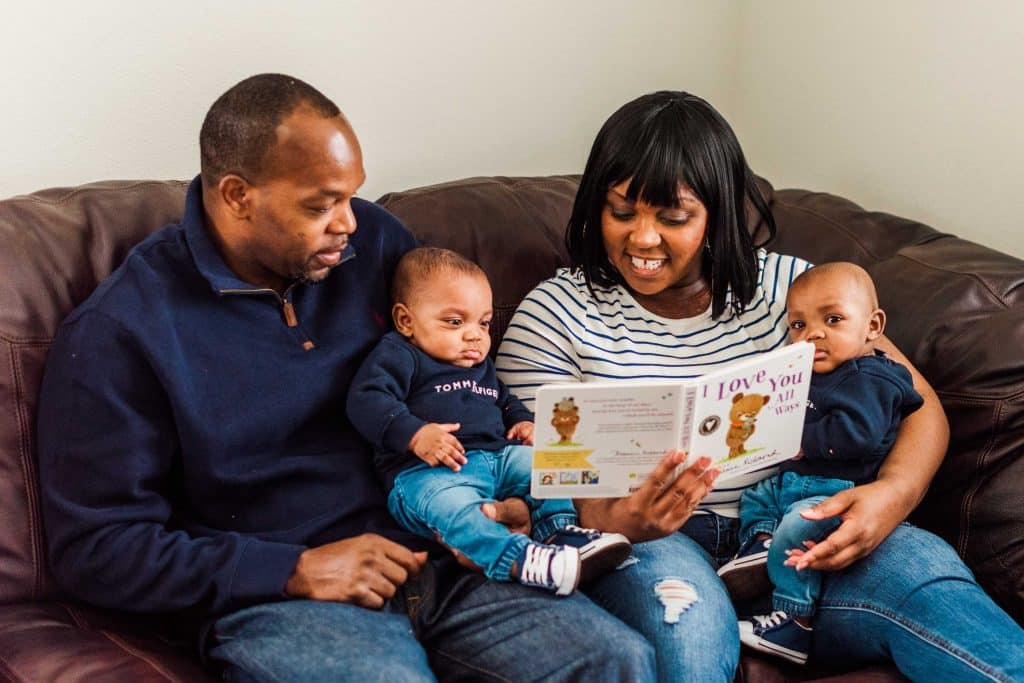 When Ashley talks about Myles' and Malik's six weeks at Methodist Mansfield, her appreciation for everyone who cared for her and her babies is evident.
"The nurses explained everything going on," she says. "The doctor would call me every morning to tell me what tests had been run and what the results were. There were no holes, no gaps, and they were happy to answer questions."
KEEPING TABS WITH WEBCAMS
Jordyn remembers the first time Mario was allowed to hold the babies.
"He was nervous but so excited," she says. "They were both so loving and so sweet. Oh, my gosh, they love those boys so much."
When Ashley and Mario weren't in the nursery, they could use the hospital's Angel Eye Camera System to watch on their cellphones what the boys were up to. So could their grandparents, who weren't allowed in the hospital because of COVID-19 restrictions.
This spring, Methodist Mansfield took another step toward improving the health of newborns and infants by once again earning the Texas Ten Step Program facility designation from the Texas Department of State Health Services.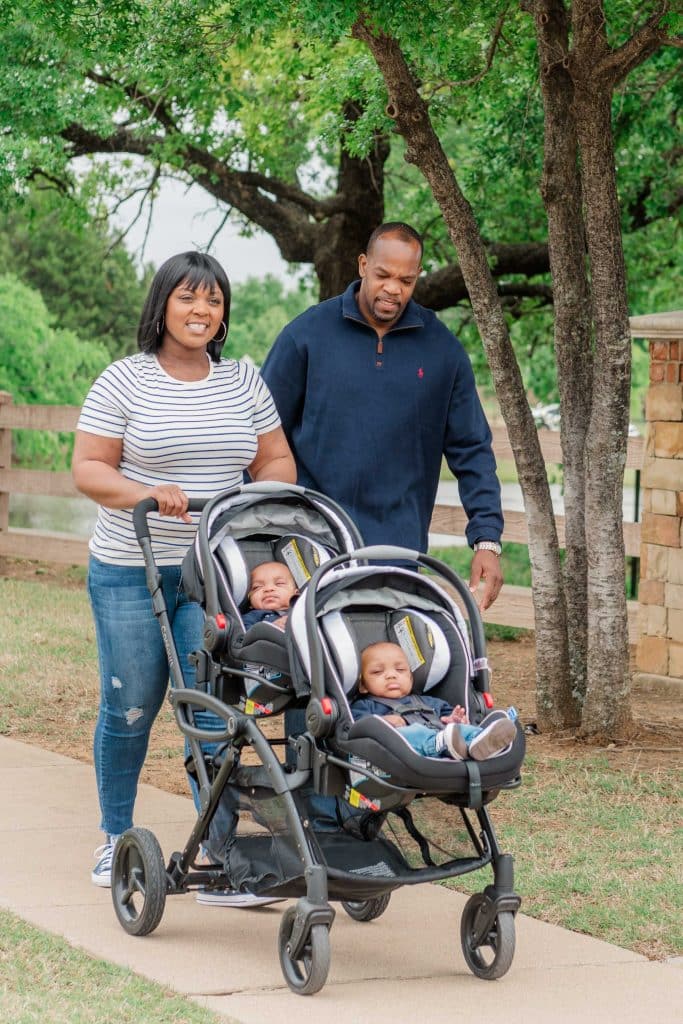 A TEARFUL GOODBYE
By late December, the twins were doing well enough to be released more than a month ahead of their original due date in February. It was an emotional send-off, for the nurses and family alike.
"You're trying not to cry; they're trying not to cry," Ashley says.
While saying goodbye was tough, Ashley is grateful her babies are home and that they're healthy. And although months have passed, she cherishes her memories of that special time in the NICU.
"I can't say enough good things about our experience there," she says. "I loved it."