Methodist Health System's success depends on multiple departments, and that's more evident than ever during the pandemic.
From supply chain to custodial staff, each plays an integral role in the healthcare ecosystem. Here are some of the ways these behind-the-scenes heroes have contributed to the fight against COVID-19.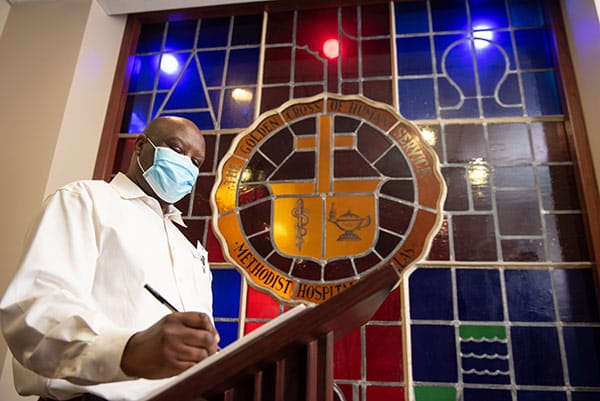 Rev. David Impwi, chaplain at Methodist Dallas Medical Center, has been helping families come to terms with loss during the pandemic.
Pastoral services
The pastoral services team at Methodist Health System stands at the intersection of the community's physical and spiritual well-being, reaching out to faith organizations to inform and educate people on ways to prevent the spread of disease, where to get screened for infection, and how to safely return to worship. 
With visitation policies restricted, many patients came to rely on our chaplains and ministers for strength. The pastoral services team provides for individuals of all faiths. Staff members use electronic tablets to connect patients with spiritual leaders from different denominations. 
"We're dealing with a lot of tragic situations. Out of that comes this existential question: Who are we?" says Caesar Rentie, vice president of pastoral care at Methodist Health System. "When I think about that, I think of pastoral care as an instrument of healing and peace." 
Interpreters
Methodist Health System is proud to serve a culturally diverse community.
Our staff interpreters play a crucial role in this respect. They firmly believe in advocating for all patients, and the pandemic hasn't changed that.
"They are so driven by their commitment to the patients and those who speak a different language, to make sure they are comforted and supported, that I can't say they've acted any differently during the pandemic than they would have at any other time," says Sandra González, BBA, manager of guest services for Methodist Health System.
Our interpreters' dedication to others ensures everyone at Methodist Health System receives the same excellent level of care, regardless of language barriers — and for those separated from loved ones, that makes all the difference in the world.
"During these extremely difficult times, it gives me great satisfaction to be able to help my community in need,"  says Cynthia Granados, CCHI, coordinator of language services for Methodist Health System.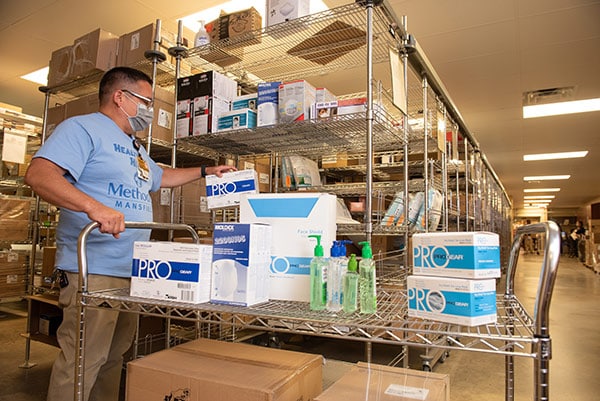 Julian Escamilla, supply chain manager at Methodist Mansfield Medical Center, put his know-how as an Army veteran to work.
Supply chain
Equipping a hospital to face a global health crisis is no easy task.
But supply chain workers across Methodist Health System rose to the occasion, making sure the hospitals were prepared for the worst-case scenario. In fact, they were prioritizing emergency supplies before the pandemic even existed.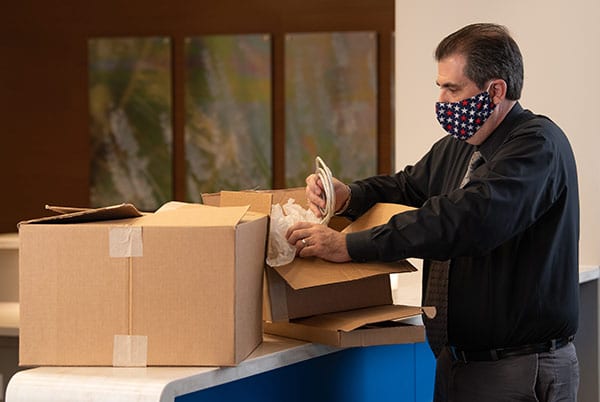 Luke McKittrick, supply chain director at Methodist Richardson Medical Center, worked tirelessly seven days a week to ensure the hospital had all the necessary personal protective equipment (PPE).
Then, when COVID-19 shut down business ports and manufacturers struggled to fulfill orders, supply chain staff coordinated with a network of businesses and volunteers to find critical supplies, including N95 masks, surgical gowns, and equipment for respiratory machines.
The careful planning and foresight of leaders like Director of Supply Chain Operations Carol Powers, Senior Vice President Jan Lea, and Assistant Vice President Aaron Holt afforded hospital staff with the PPE, sanitation supplies, medical devices, and other valuable tools needed to successfully tackle COVID-19.
But they also credit the community for helping Methodist Health System in its time of need.
"I want to recognize and give thanks to our community who graciously demonstrated their generosity to Methodist Health System, as well as other healthcare organizations," Powers says. "We have sought to be good stewards of the gifts entrusted to us."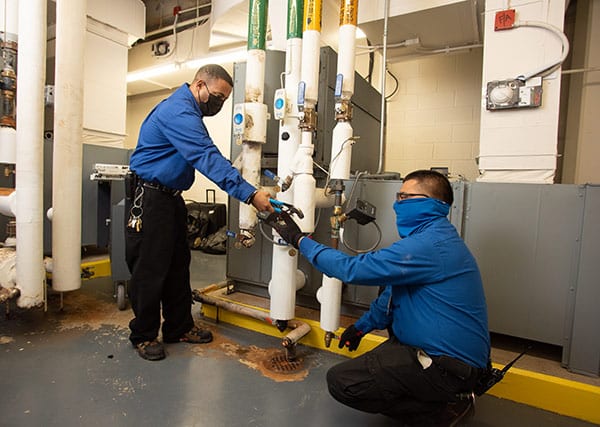 Physical plant technicians like Don Turner (left) and Juan Reveles play an integral role in prioritizing patient and staff safety and maintaining equipment and facilities throughout Methodist Health System.
Physical plant
The fight against COVID-19 wouldn't be nearly as successful without the contributions of Methodist Health System's physical plant team.
With the onset of the pandemic, the entire department stepped up. Facilities staff has been intensely involved with preparing the hospital for surges in patients. Plans for new COVID-19 units went into motion in just a matter of days, and those plans can change by the day, and even by the hour.
Technicians installed negative-air pressure machines, and adjusted heating, ventilation, and air-conditioning systems to ensure both patients and staff were protected from airborne viral particles.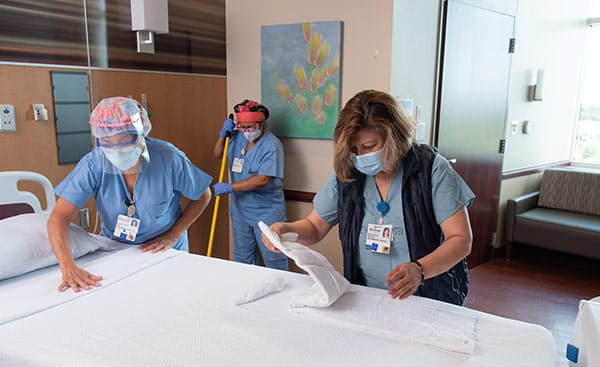 Rosa Nyaoga (right), director of environmental services at Methodist Mansfield Medical Center, leads a team that includes Noelia Toruno (center) and Ledoina Campos.
Environmental sciences
Floor technicians, housekeepers, and waste technicians act as the engine that keeps Methodist Health System running.
Every day, they ward against the spread of germs by sanitizing common areas, disinfecting high-touch surfaces, and cleaning patient rooms. And despite the ravages of COVID-19, staff members have not wavered in their mission to protect patients and their coworkers.
As COVID-19 patients were discharged from Methodist Health hospitals, the cleaning staff systemically cleaned beds, tables, linens, and even walls to ensure there would be no chance of contact exposure to the coronavirus or any other pathogens.
Overcoming the unknown, they have continually worked to make our hospitals a safe place for everyone — just as they've always done.
"When it came down to it, even with the fears that were there, everyone stuck in there and found a way to overcome all the challenges that we were facing," says Olu Fasoranti, director of environmental services for Methodist Health System.
Records department
Think of the recordkeepers at Methodist Health System as the gatekeepers of information for the system.
They touch every patient chart from every hospital in the system, ensuring each one is accurate and properly scanned into the system before destroying the hard copies to ensure patient privacy.
"We start every morning at 6 a.m., reviewing the files and digitizing every one," says Brenda Miller, a medical records specialist for Health Information Management. "It's quite a process."
Miller praised the leaders of the Methodist Charlton Medical Center-based department — Vice President Kelly Wauters, Director Valerie Hayes, and Manager Nancy Wingler — for looking out for her and her coworkers through thick and thin.
"They wanted to make sure we were well taken care of," she says.
But it was Methodist Health System's dedication to treating the community that drew Miller here in the first place.
"Two of my sisters, one brother, and my son have all been patients at Methodist Health System," she says. "And I've been a patient twice myself. The care I received made me more determined to work there myself."