Sara Grace Lane has seen her share of doctors and specialists, having lived with scoliosis for nearly half of her 20 years.
"I have two curvatures in my spine," Sara says. "The curve started in my lower back, but above it, my spine started curving in the other direction to compensate for it."
Doctors told Sara she would need a complete spinal fusion and recommended placing rods along the length of her spine. That would correct Sara's scoliosis, but it would also limit her flexibility and mobility.
So she sought another opinion in Dallas, 1,200 miles away from her home in North Carolina.
A SAFER AND SUPERIOR X-RAY
A family friend referred Sara to Randall Graham, MD, neurosurgeon on the medical staff at Methodist Dallas Medical Center.
After a positive initial consultation, she made her first trip to Dallas to see him in 2019.
Dr. Graham needed to examine Sara's spine, so he used Methodist Dallas' EOS imaging system to get a clear 3D X-ray. The advanced machine provides a better quality scan with about a third of the radiation.
"The machine allows you to X-ray a patient standing up, so I can see how her spine aligns with her hips and head," the surgeon explains. "The lower dose of radiation also makes it safer for long-term health, especially for scoliosis patients who regularly have to get X-rays."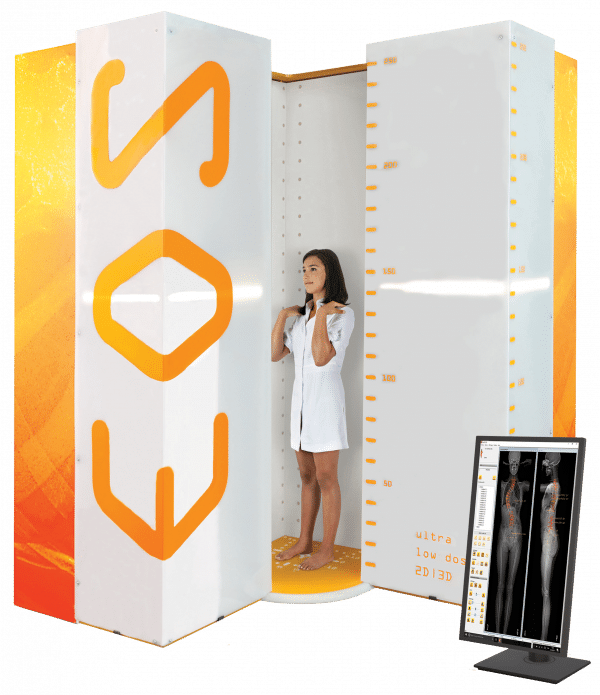 The EOS machine at Methodist Dallas offered Sara's surgeon a better view of her spine with less radiation.
ALTERNATIVES TO SURGERY
Dr. Graham says Sara has adolescent idiopathic scoliosis, generally diagnosed around age 11 when children start experiencing growth spurts. But it typically doesn't require surgery.
"It can be treated by wearing back braces," Dr. Graham says. "Yoga and other exercises that strengthen core muscles are also beneficial for the spine."
Surgery is more often used when the curved spine puts pressure on other organs, causing pain or trouble standing.
Sara says it was refreshing to have a surgeon who wasn't pressuring her to have surgery.
"He made it clear it was my choice, and I could take time to think about it," she says. "That was really important to me because it's a pretty big commitment to go from North Carolina to Texas."
A LESS EXTREME SOLUTION
At the time, Sara was heading to college, and the muscle spasms caused by her scoliosis were starting to interfere with her quality of life. She was finding it difficult to sit through her classes and carry textbooks. She even had trouble finding comfortable clothes.
She wanted relief but was hesitant to have her entire spine fused with rods and screws.
"A surgery like that would involve delving into more muscles and tissue, and it might end up making her quality of life even worse," Dr. Graham explains.
That's why Sara was so pleased when he proposed a more conservative approach.
"She was already going through a transitional period in her life, graduating high school and going to college," Dr. Graham says. "I wanted to be sensitive to that."
Dr. Graham says Sara's curvature was centered in her lumbar spine. By operating on this small portion of her lower back, he says, the other curve in Sara's thoracic spine would right itself naturally over time.
"I was pretty excited to hear him say that because it meant I didn't have to have my entire spine fused all the way down from my shoulder to my hips," Sara says.
So in June, she and her parents made the two-day drive to Methodist Dallas.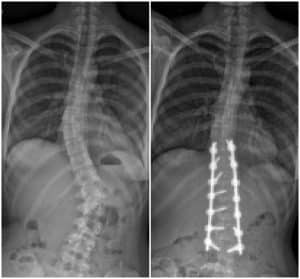 The difference in Sara's spine was pronounced before the surgery (left) and afterward.
'SO MUCH BETTER'
Sara was nervous about the surgery, especially during a pandemic, but her mother was by her side for most of her stay.
Dr. Graham used metal implants to help fuse the lower part of Sara's spine, and she spent a week recovering in the hospital.
"I was doing really well there because I had the full-time care of all those nurses," Sara says. She and her family stayed close to Methodist Dallas for a few weeks after her discharge, just to be safe.
Now back home in North Carolina, Sara's still going to physical therapy but says she's getting stronger every day.
"I'm doing so much better now," she says. "Since the surgery, my back has tremendously improved. I'm never taking for granted doing normal tasks like taking a walk or doing the dishes again."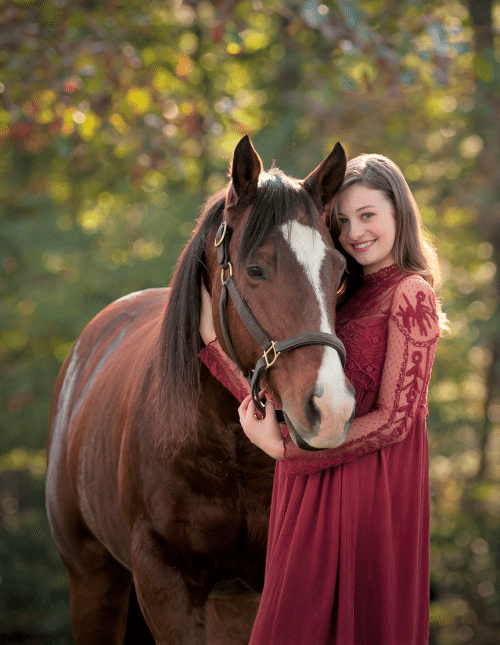 After surgery, Sara juggles physical therapy with the things she loves to do, like spending time with her horse.