Corey Ripe's ordeal with COVID-19 began with a seizure in the drive-through of a fast-food restaurant.
"I placed my order, pulled forward, and put my car in park. The next thing I remember is waking up to paramedics and firefighters asking me questions," Corey says. "I'd had a seizure and the people in the car behind me called 911."
Corey was taken to a nearby hospital where he underwent tests and was released later that night with an all-clear.
"He wasn't tested for COVID-19 because at the time there was no evidence that a seizure could be a symptom," says Jena Parris, Corey's fiancée. "He went back to work the next day and was fine for the rest of the week."
By the following weekend, that all changed.
"As a healthy 47-year-old, it didn't seem likely that I would get COVID-19, much less have life-threatening symptoms if I did," Corey says. "There are only two reasons I am here today and able to tell my story: God's grace and the care I got at Methodist Mansfield Medical Center."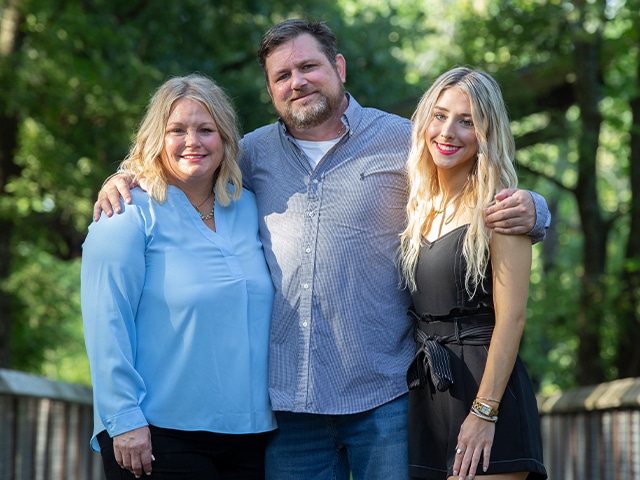 Corey, his fiancée Jena Parris, and her daughter Jillian celebrate his recovery from his seizure and COVID-19
AN ORDINARY DAY
The day Corey ended up at Methodist Mansfield began with a routine trip to the store.
"When Corey got back, he was acting 'off' and said he was really tired so he laid down for a nap," Jena says. "He was snoring. I could hear some rattling in his breathing, but nothing that sounded too concerning."
Corey woke up a few hours later still fatigued and sounded even more congested, so he took some cough and cold medicine. When he woke again in the middle of the night feeling even worse, Jena knew something wasn't right.
"He was talking nonsense," she says. "I was so baffled by how he was fine earlier in the day and then he wasn't. I remembered a friend saying that seizures had just been linked to COVID-19 symptoms, so we went straight to the Methodist Mansfield emergency department."
SPRINGING INTO ACTION
Medical personnel met Corey and Jena at the door after she called ahead to tell them she was bringing in a possible COVID-19 patient. Corey's vital signs showed he was already in critical condition, and he was immediately taken to the intensive care unit.
That was the last time Jena saw Corey for 7 days.
Shelley Lenamond, DO, internal medicine specialist on the medical staff at Methodist Mansfield, was working in the COVID unit when Corey was admitted.
"I can't imagine how scary it is to watch your loved one rushed away," Dr. Lenamond says. "I knew I could help by frequently communicating updates to his family. It's become part of our job these days."

KEEPING IN CLOSE CONTACT
The entire medical staff of the COVID-19 unit has made the same commitment to frequently call and video chat with a patient's family members.
"When a patient's loved ones are by their side, they are able to see all that the doctors and nurses are doing," says Jaeca Flanagan-Simpson, RN, BSN, CCRN, one of two charge nurses in the COVID-19 unit at Methodist Mansfield. "The team of doctors and nurses working exclusively on the COVID-19 floor are absolutely committed to their roles."
Dr. Lenamond agrees, saying that having a dedicated team just for COVID-19 patients allows them to deliver high-level care, which ultimately aids in patients' recoveries.
As Corey was fighting for his life, Jena got phone updates from Dr. Lenamond and the nurses.
After Corey was stabilized, he had a remarkable turnaround. Most COVID-19 patients spend two to three weeks on a ventilator; Corey was taken off after only four days.
"I was able to go home to Jena and our family a few days later," Corey says. "I could never put into words how thankful I am to the nurses and doctors who took care of me. They saved my life."