Months after Cyndia Moore suffered a massive stroke, the Sachse grandmother is back in the classroom working as a substitute teacher.
Cyndia, 70, has come a long way since November 2021, when she was rushed to Methodist Richardson Medical Center with a blood clot in her brain that "could have easily been a life-ending condition," says Bartley Mitchell, MD, PhD, FAANS, neurosurgeon on the medical staff.
"I remember going to Methodist Richardson for a follow-up, and Dr. Mitchell says, 'I don't see anything wrong with you,'' Cyndia recalls. "I told him, 'That's because you guys fixed it!'"
Today, she has returned to the classroom as a substitute teacher, a career of 40-plus years in the making. Her daughter insists you would never guess she had suffered a stroke.
"Each day, she just gets progressively better and better," Julie Lawson says.
That outcome was hardly assured last fall when Cyndia's family feared the worst. That's because she had hip surgery a few days earlier and was already in a fragile state.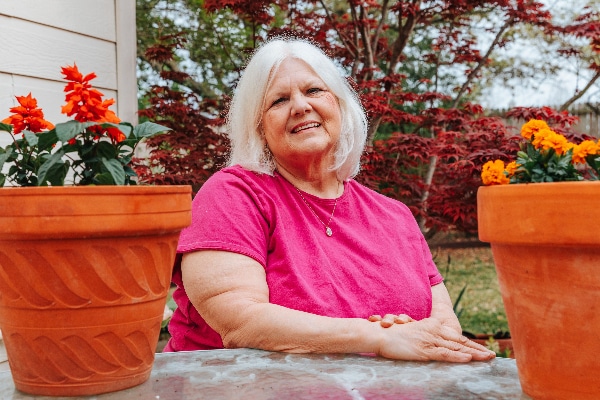 A MASSIVE STROKE
Cyndia, who has a history of blood clots, had been taken off her normal regimen of blood-thinning medications for her hip replacement — a delicate but necessary balancing act doctors must take to prevent major bleeding during surgery.
She had been home for only two days after surgery when the worst-case scenario unfolded. Cyndia was walking from the bathroom when her arm was seized by a sudden tremor. Thankfully, her family and friends were there keeping an eye on her.
"We were all taking turns checking on her," Julie explains. "Her friend Janna and I were talking in the living room when all of a sudden we heard a grunt from my mom's room."
The pair ran to find Cyndia struggling to steady herself, and it became clear she was suffering a stroke. Her granddaughter Laci dialed 911, and first responders rushed her to Methodist Richardson.
Dr. Mitchell ordered a brain scan, which confirmed there was a clot in Cyndia's middle cerebral artery (MCA). She had the typical symptoms: muscle weakness or paralysis on one side of her body, facial drooping, difficulty speaking, and vision changes.
"The MCA supplies large areas of the brain, and having a stroke in one of these regions can be devastating or even deadly," Dr. Mitchell explains.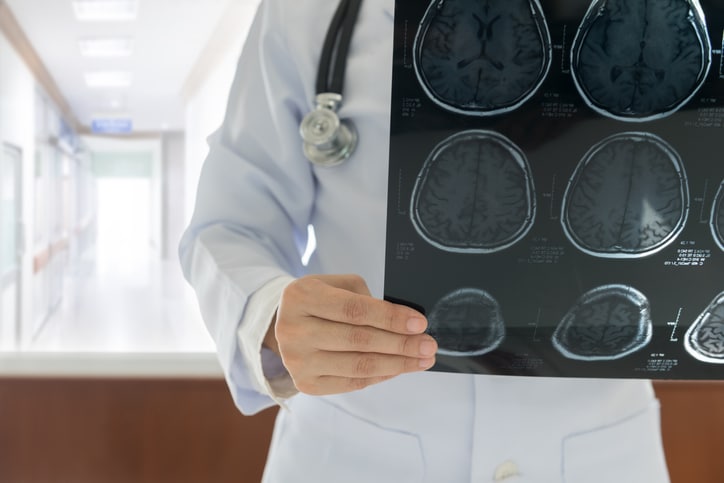 EVERY MINUTE MATTERS
The medical team knew they had to remove the blockage immediately. Each minute it remained was a minute Cyndia's brain was starved of oxygen.
To restore blood flow, Dr. Mitchell inserted a series of slender catheters through an artery in Cyndia's leg and delicately threaded the instrument to her brain to retrieve the clot.
"Because of the fast actions of our staff, we were able to get her down for treatment right away, and that probably saved her life," Dr. Mitchell says.
While the surgery went well, Cyndia's family and medical team were wary of lasting side effects. But Cyndia quickly dispelled those worries. She woke up the next day and gradually began to regain her strength.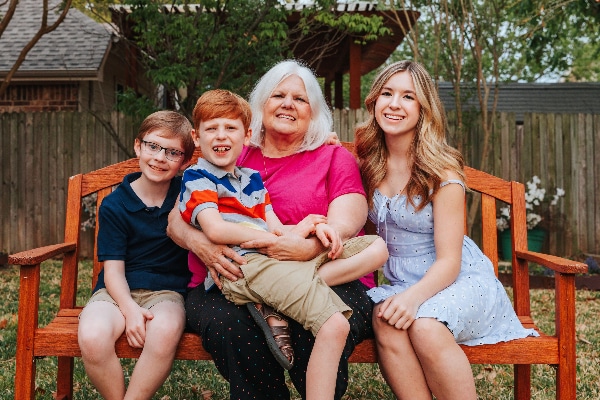 Cyndia with her grandchildren (from left) Holden, Harrison, and Laci
BACK HOME AND WORKING
Home from the hospital and focusing on rehab, Cyndia has come a long way since that terrifying November day.
"The staff was absolutely phenomenal," says Julie, who, along with her sister Jennifer, has been by her mother's side the entire time. "Honestly, everyone was so great and really trying to do the best that they could for her."
Cyndia says she's already back in the classroom, working as a substitute teacher, a passion she won't take for granted again anytime soon.
"I was able to go back to the classroom," she says, "and that felt really good."
Dr. Mitchell is equally pleased with Cyndia's progress.
"This was a huge team effort, and Ms. Moore is a great example of the kind of work we are doing at Methodist Richardson," he says. "I am so pleased for her and her family."