Gravely ill and losing hope with each ragged breath, the time had come for Rich Niccolls to lace up his running shoes and beat COVID-19. 
Three days into his stay at Methodist Mansfield Medical Center, Rich had reached a turning point in his battle with the virus. 
"I was scared to death because I couldn't breathe — and I wasn't seeing any real improvement," he says, a year removed from his ordeal. "I had to do something, so the next morning I grabbed the shoes I'd worn into the hospital, laced them up, and turned a corner." 
Years ago, Rich ran half-marathons, and he insists that simple gesture made him an active participant in his recovery. 
"I realized I've got to get back home," he says. "I still have to be a husband, a dad, and a friend. So I'll do what I can for my part."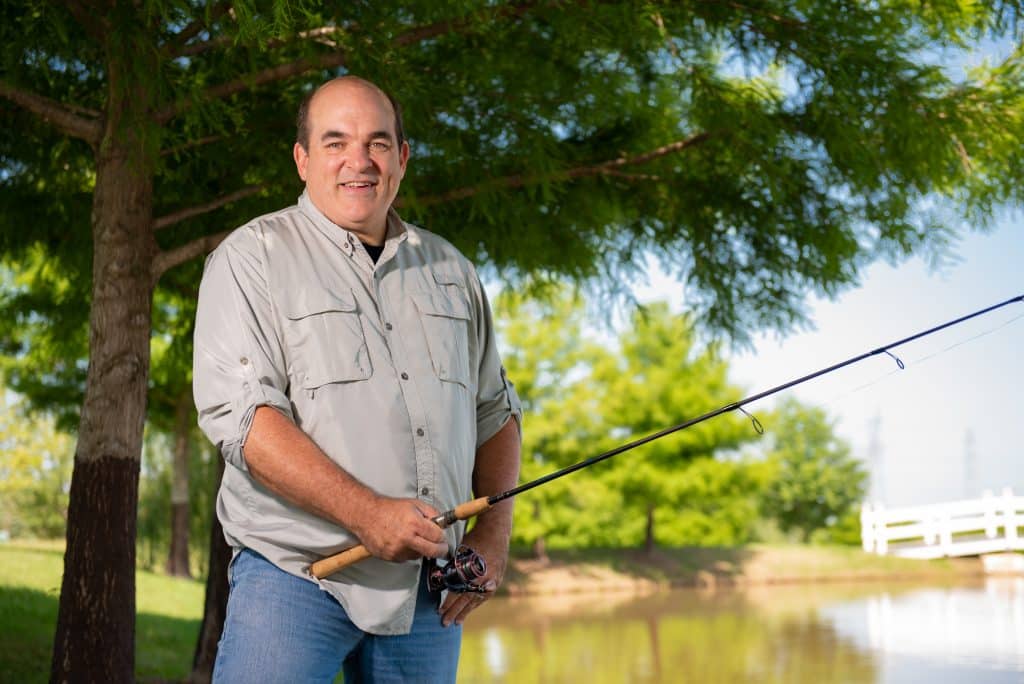 'BEST DECISION I'VE EVER MADE'
Days earlier, Rich's wife, Traci, was taking him to the hospital for a second COVID-19 test (the first was negative) after he suffered a nasty case of heat exhaustion while working a construction job in the Texas heat. Now, the Grand Prairie resident was dangerously dehydrated and running a fever. 
"She asked, 'Do you want to go to Arlington or Mansfield?'" he recalls. "I said, 'Take me to Methodist Mansfield.' It's probably the best decision I've ever made." 
Shortly after arriving, he learned his test came back positive. He was told he was being admitted and wouldn't leave the hospital for a couple of days, at least. Rich was devastated.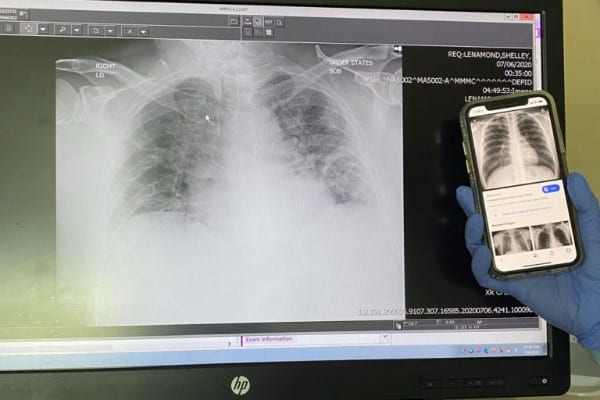 Two days into his stay, Rich's lungs were full of fluid. The cellphone shows an X-ray of healthy lungs
"I was concerned with my pride," he wrote in a 4,000-word blog post chronicling his ordeal. "The doctor was concerned with my life." 
That doctor, Shelley Lenamond, DO, FHM, CPE, internal medicine specialist on the medical staff at Methodist Mansfield, says Rich was quick to appreciate how serious his infection had become. There's no substitute for a patient who is engaged in their treatment, she says. 
"That's super important, especially with COVID-19 patients," Dr. Lenamond says. "That mental aspect profoundly affects our patients, and it makes a huge difference."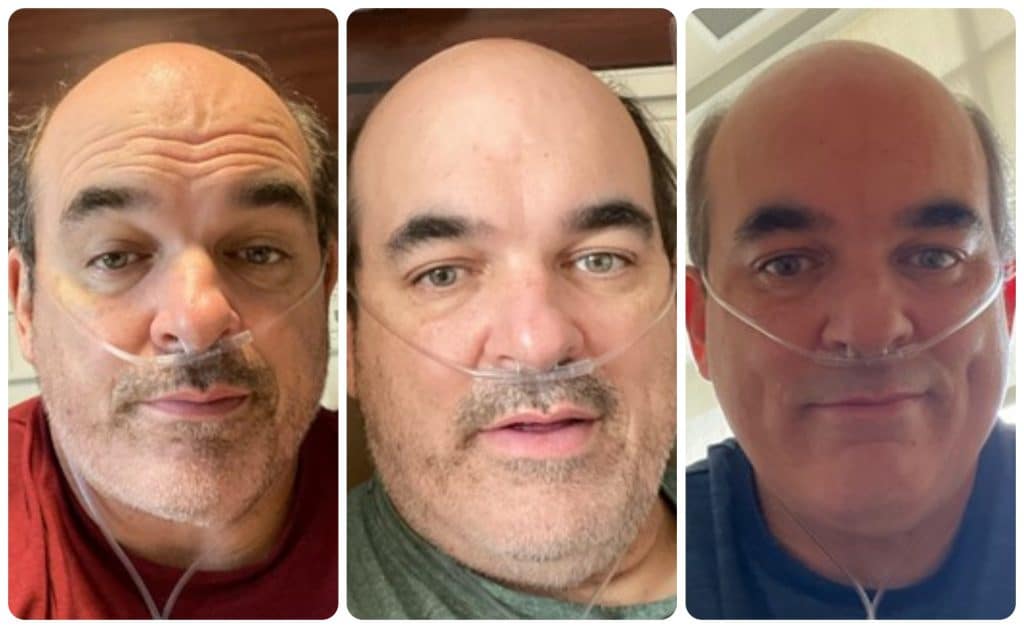 Rich took selfies throughout his hospital stay. What a difference a new mindset (and a shave) makes.
COVID CLAIMS FATHER
Rich was not the first man in his family to suffer a bad case of COVID-19, and sadly, he wouldn't be the last. His adult son was hospitalized with the virus shortly before Rich was exposed himself. And his own 82-year-old father, died from COVID-19 in May 2021, after years of suffering from chronic obstructive pulmonary disease. 
Rich would receive the antiviral treatment remdisivir and an infusion of antibody-rich blood plasma from a patient who had recovered from COVID-19.  
Even so, he hit bottom that July Fourth weekend in 2020. That's when he strapped on his shoes and called on his faith for help. 
"I realized I had been faithless in my approach to all this," Rich says. "But others lent me their faith, and I rediscovered my own. I realized I'm not by myself."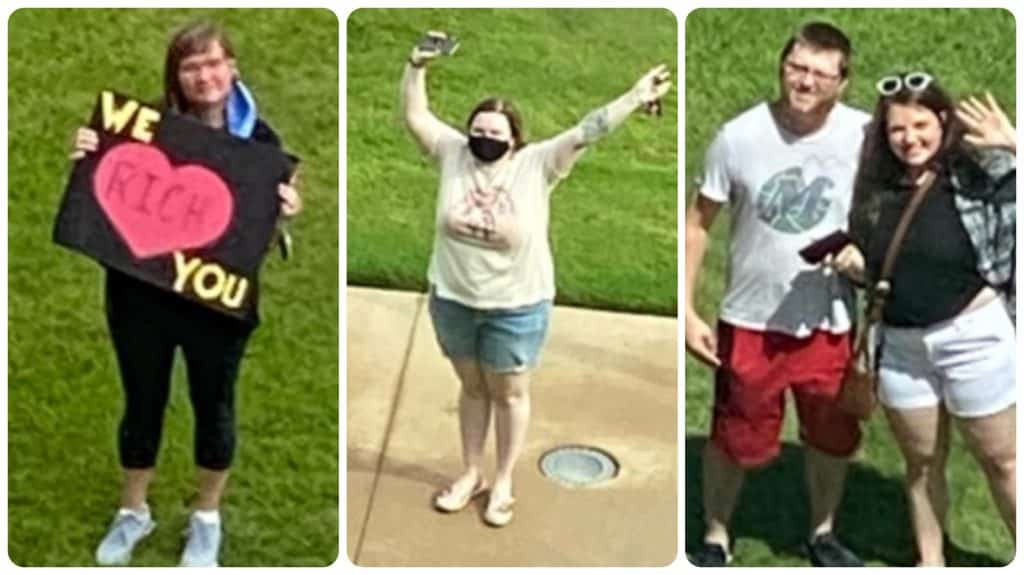 Rich's family and friends routinely showed up outside the window of his hospital room to wish him well.
NOT ALONE IN HIS FIGHT
A former missionary and Christian youth pastor, Rich thanks God for his recovery. But he also credits others along his path, from his family and friends who showed up holding handwritten signs in the parking lot outside his window to the cleaning staff, respiratory therapists, doctors, and nurses who were there night and day to care for him.  
"I don't know how they do it, day in and day out," he says. "They took a risk every time they opened that door. They treated me like I was the only person in the hospital." 
Of course, he wasn't, and thoughts of his fellow COVID-19 patients weighed on his mind when his condition improved and the time came for his release. The staff even organized a "clap out" in his honor, dancing, shouting, and singing along to "Uptown Funk" by Bruno Mars. Rich captured a video of the celebration.
"In the midst of a very tough year, I am glad for the three minutes this staff had to dance and celebrate, and super glad that I was part of the party!" Rich says.