As COVID-19 targets the lungs, the work of pulmonary specialists is more important than ever, highlighted by the respiratory therapists at Methodist Health System who work around the clock to serve the community.
Respiratory therapists have expert knowledge of the complex machines, equipment, and techniques needed to care for sick lungs. The nature of their work puts them in close contact with patients, so respiratory therapists are among those at the highest risk during the coronavirus outbreak. They brave potential exposure on a daily basis to put patients first.
To combat COVID-19, they mobilized quickly to fit machines with extra filters and adopted new protocols for the use of aerosol-generating medications, which can cause the coronavirus to linger in the air.
Without missing a step, they managed complex ventilation systems and administered lifesaving medications, all while juggling multiple patients at once. On top of assessing a person's physical needs, respiratory therapists often soothe emotional patients, as well, spending time bedside to make sure they are as comfortable as possible.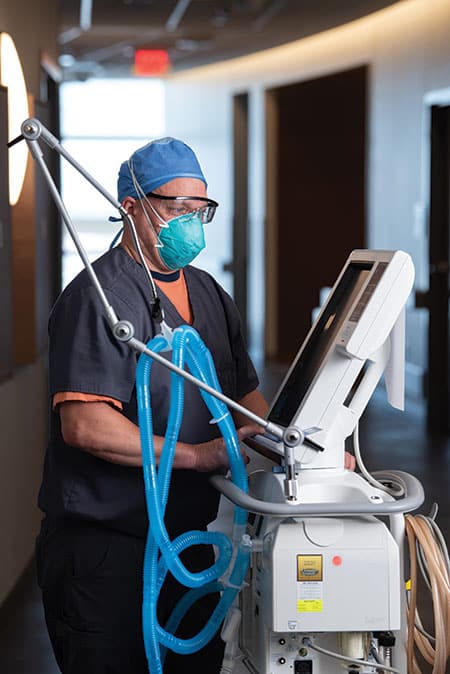 Todd Steele, RRT, RCP, respiratory therapist on the medical staff at Methodist Richardson Medical Center, was among the first to volunteer in the COVID-19 unit. He helped find vital medical supplies to ensure the hospital was prepared while never shying away from complex surgical procedures or complaining of new changes.
---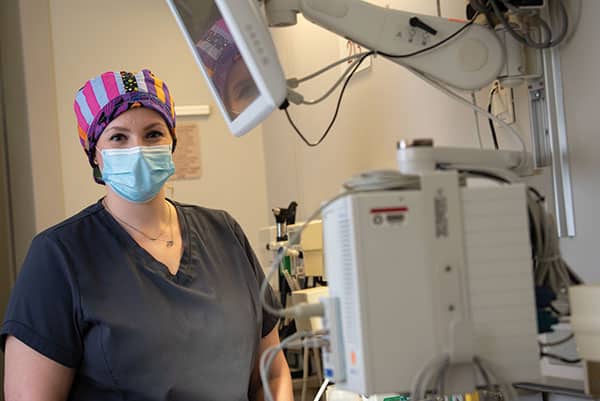 Jordana Bledsoe, RRT-NPS, RCP, team lead in the neonatal intensive care unit (NICU) at Methodist Dallas Medical Center, provided staff with headwear, contributing to personal protective equipment and conserving much-needed supplies.
"We have come together more to look out for each other.
We have each other's backs to make sure we all have the
protective gear we need."
— Jordana Bledsoe
---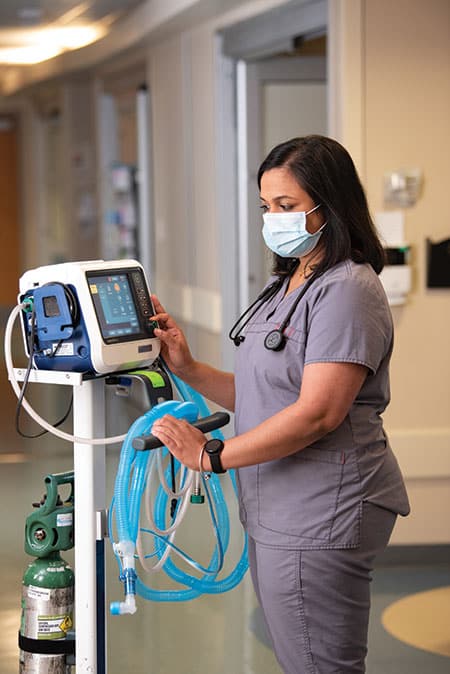 "Everybody's been stepping up and adapting to the situation with great support from our own team and from other departments."
— Susan Money, RRT-NPS, AE-C, ACCS, respiratory therapy manager at
Methodist Charlton Medical Center
---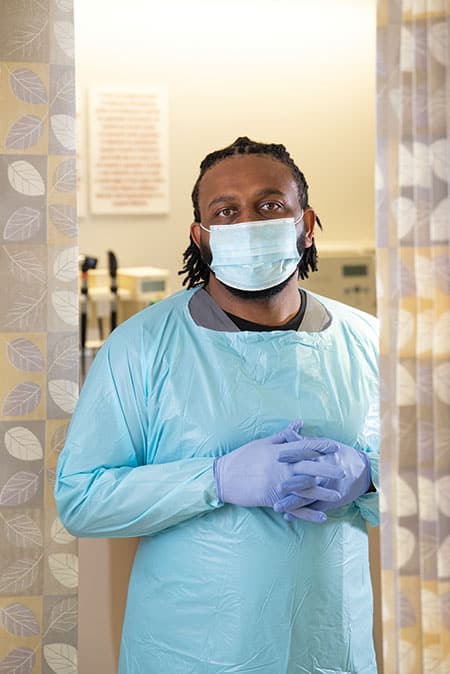 Clyde Malone, RRT, RCP, respiratory therapist on the medical staff at Methodist Dallas Medical Center, cares for about six critically ill patients on a daily basis. But he also makes sure to take care of his co-workers, coordinating with a locally owned catering company to provide several meals for employees.
"It can be really hard for patients, especially without their family members around. They're relying on your skills
to take care of them."
— Clyde Malone
---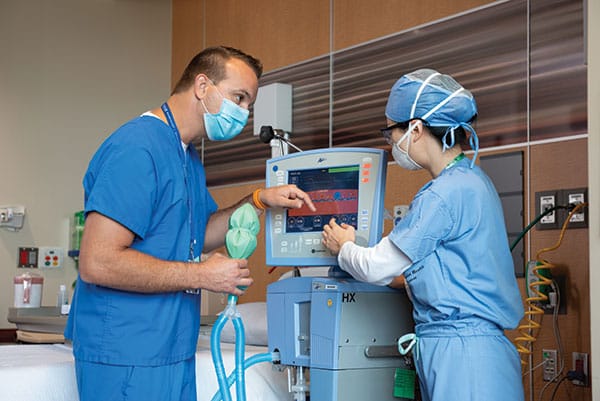 It's the delicate task of respiratory therapists like Lucas Friedel, BSRC, RRT-NPS, director of respiratory therapy at Methodist Mansfield Medical Center and Yan Lin, RRT, to ensure proper oxygen levels for COVID-19 patients on ventilators. Some suffer from silent hypoxemia, or "happy hypoxia," a condition characterized by extremely low oxygen levels but no outward signs of difficulty breathing.