The coronavirus gives rise to the COVID-19 unit at Methodist Health System and forces intensive care units (ICUs) to adapt.
Nurses and doctors in the ICU and COVID-19 units now dress head to toe in personal protective equipment (PPE), including isolation gowns, gloves, face shields, and N95 respirator masks.
They work 12-hour shifts — on average — and must shuttle in and out of negative-pressure rooms designed to contain the airborne coronavirus that causes COVID-19.
Containing the coronavirus means keeping patients' loved ones away, for their own protection. That's put added emphasis on the care in caregivers, as nurses often play the role of surrogate family members.
"The nurses are doing so many jobs," says Lauren Hoffman, MD, a hospitalist on the medical staff at Methodist Dallas Medical Center. "They really have gone above and beyond."
But don't forget the pulmonologists and hospitalists, many of whom work long hours and as many as six weeks at a stretch without a weekend.
"The thing that really makes it where you can keep going is to have a good camaraderie with the people around you," says Les Cler, MD, FACP, CPE, chief medical officer of Methodist Dallas. "In a lot of ways, we overprepared and just really considered worst-case scenarios. We're in a good position right now because of that."
That teamwork is evident in ICUs and other units across the system and allows Methodist Health to provide our most critically ill patients the care and compassion they deserve.
---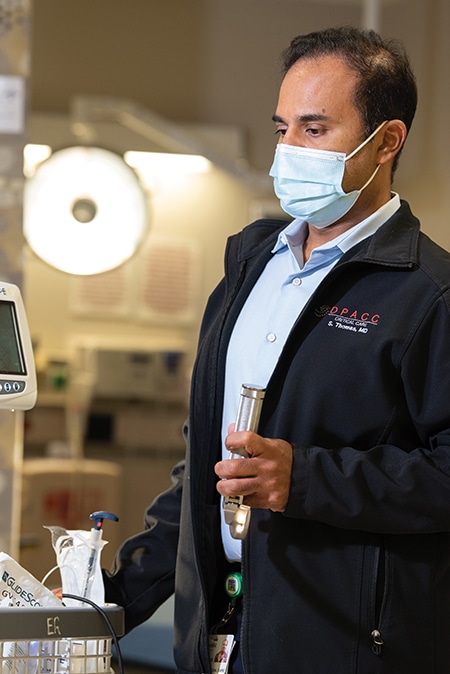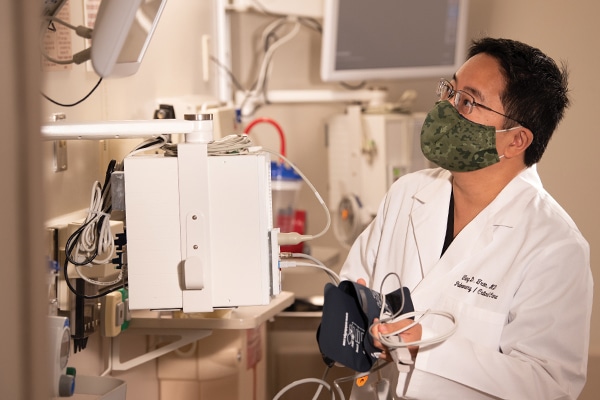 Since the pandemic began, Shibu Thomas (top), MD, and Tung Tran, MD, pulmonologists on the medical staff, have worked tirelessly throughout Methodist Health System, both in a typical capacity in the ICU and in planning and administrative roles. "Those two guys really helped us the whole way," says Les Cler, MD, FACP, CPE, chief medical officer at Methodist Dallas. "They endured an amazing amount of change and adaptation — and a lot of stress."

"Our staff is not just helping patients, but they're also helping families get information on a regular basis since they're not able to visit the patients."
— Dr. Shibu Thomas
---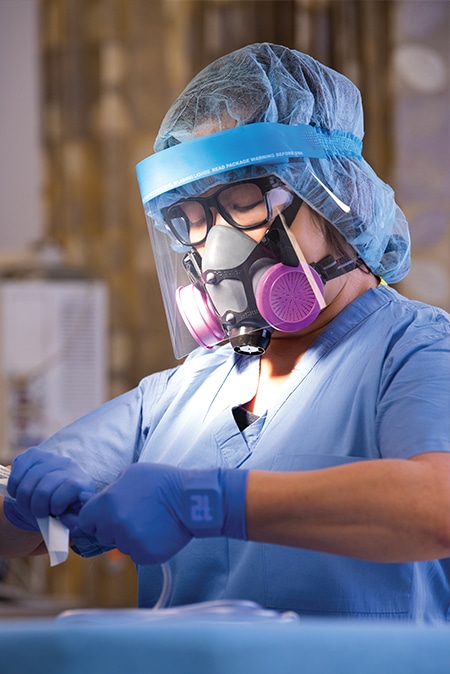 As a highly-skilled nurse practitioner, Margaret Bondoc, ACNPC-AG, intensivist on the ICU staff at Methodist Dallas, Methodist Charlton, and Methodist Mansfield medical centers, has embedded herself in ICUs across Methodist Health System, managing the care of patients who need the closest attention. "Margaret has a keen sense of awareness when it comes to patients," Dr. Thomas says. "She's able to stabilize them with her medical knowledge and skill."
---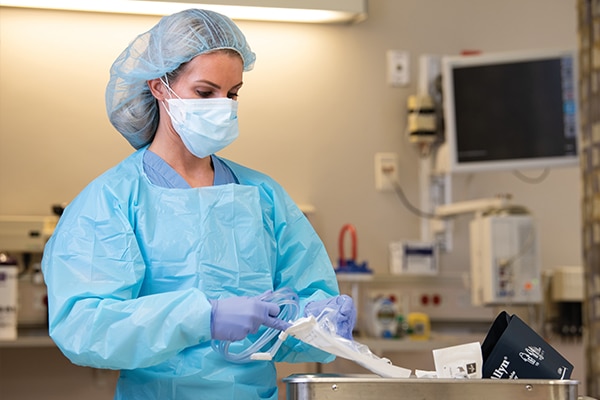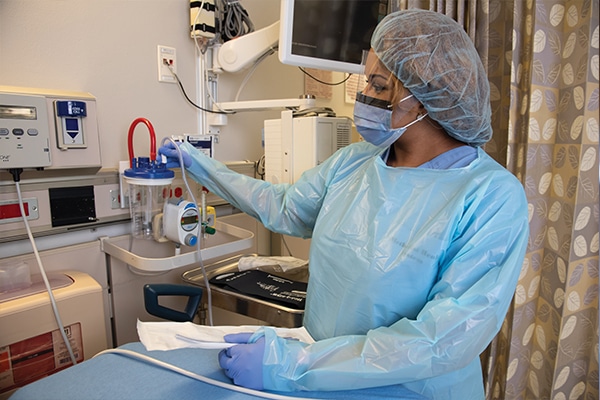 As part of the Resource team, Liz Pearson (top), RN, and Sameil Deleon, RN, charge nurses in the COVID-19 unit at Methodist Dallas, are veteran nurses who are accustomed to coming to work and going wherever they're most needed. They've helped lead the COVID-19 unit as it doubled in capacity from 27 to 54 beds, caring for patients and less-experienced colleagues alike. "Both of them are mothers, so they've become mother hens for anyone who comes down there," says Carol Oran, RN, nurse manager at Methodist Dallas.
---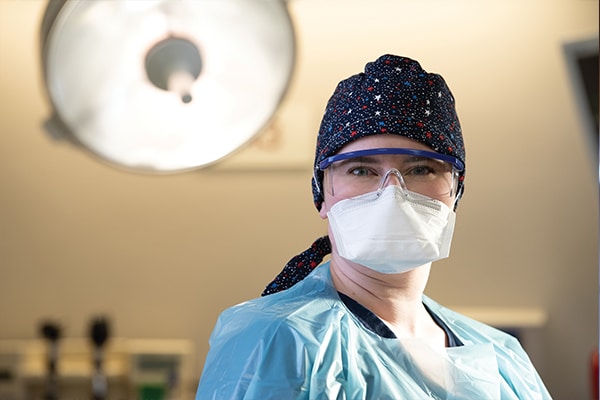 Lucy Burns, RN, charge nurse in the ICU at Methodist Dallas, is a "whirling dervish" and the "glue that holds the unit together," says nurse manager Dawn Huggins, MSN, RN, COHN-S. A resource to everyone around her, she exudes joy and positivity that can be in short supply on the toughest days.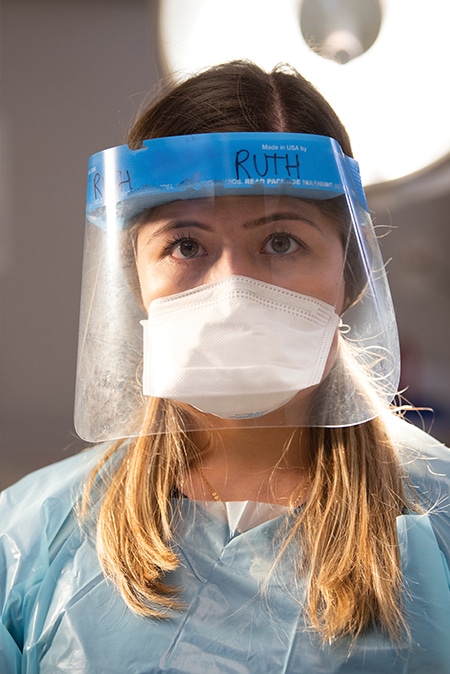 Ruth Ruvalcaba, RN, another charge nurse in the ICU at Methodist Dallas, "got thrown into the deep end of the pool" as a relatively new charge nurse, Huggins says, but has "taken to the role with aplomb." She makes sure her fellow nurses have everything they need to provide their critically ill patients with the best care possible.
"They have dug deep and figured out what they're forged of. They go into the place where no one else will tread, and every day they come back and do it again."
— Dawn Huggins, MSN, RN, COHN-S, nurse manager at Methodist Dallas
---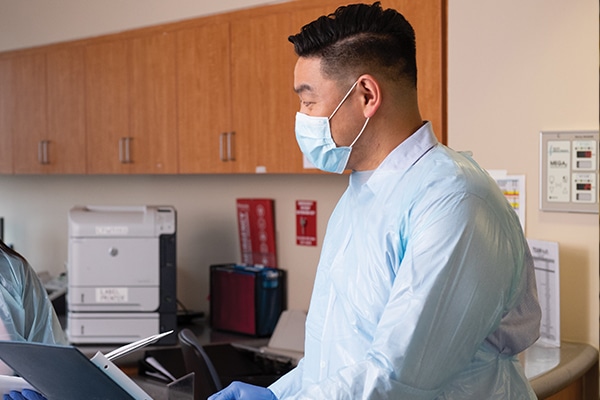 Mark Gemina, BSN, RN, CCRN, nurse leader for the COVID-19 unit at Methodist Charlton Medical Center, fearlessly leads a team of nurses and patient care technicians to treat a 30-bed unit of COVID-19 patients. Recognizing that being quarantined away from their families took a toll on his patients, Mark helped obtain tablets so patients could chat online with family members. Gemina has worked 16-hour days to support his staff, and his empathetic leadership style has boosted the unit's morale.
---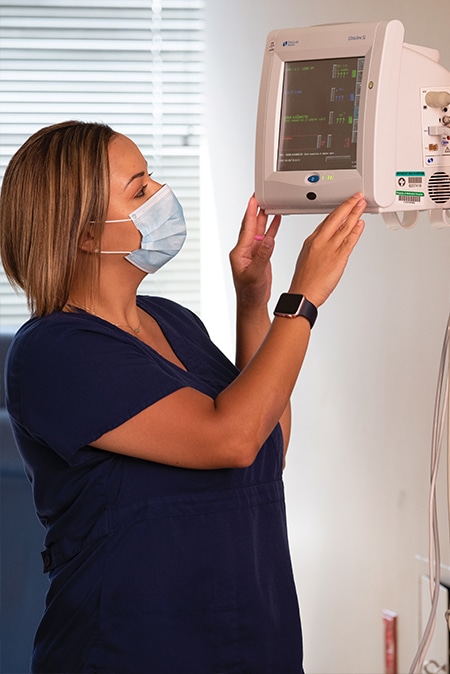 While managing a 44-bed unit filled with the hospital's sickest patients, Jennifer Allen, BSN, RN, nurse manager in the ICU at Methodist Charlton, took a proactive approach by visiting another unit with COVID-19 victims in less dire conditions. There, she showed nurses how to care for patients so they could keep breathing on their own without the need for mechanical ventilation.
---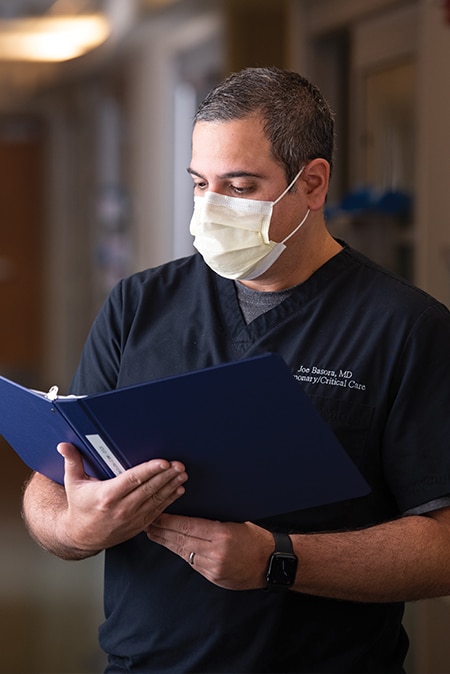 Jose Basora, MD, pulmonologist on the medical staff at Methodist Charlton, was the first to volunteer for duty in Methodist Charlton's 32-bed ICU. In addition to caring for the sickest COVID-19 patients, he helps educate staff on the latest research and ways to treat the emerging disease, including "proning" patients by placing them on their stomachs to help with breathing.
---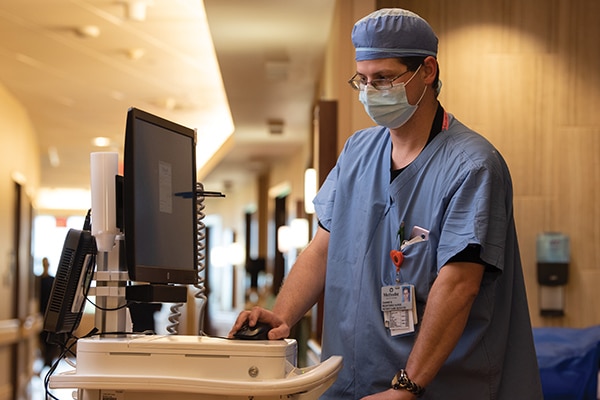 Chanse Boehringer, BSN, RN, charge nurse for the COVID-19 unit at Methodist Mansfield Medical Center, provides exceptional leadership and works closely with physicians to build relationships between nursing and the ancillary departments, creating teams that respect one another and have one focus in mind: the patients. The morale is high, the energy is vibrant, and it's like the entire unit is a family when Boehringer leads the charge.
---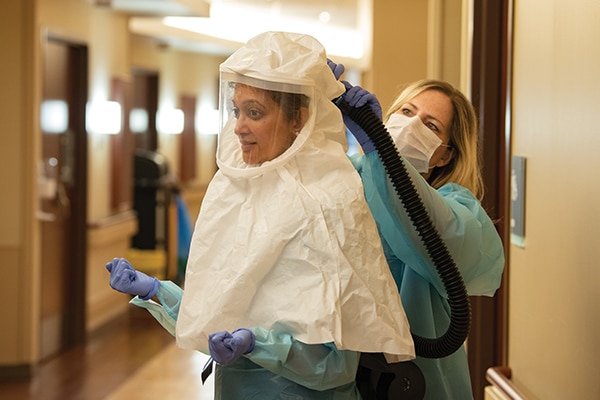 Infection prevention manager Cheryl Wherry (right), BSN, RN, CIC, LSSYB, supports Shantala Samart, MD, infectious disease physician on the medical staff at Methodist Mansfield — and vice versa — when it comes to protecting each other and Methodist Mansfield patients from the coronavirus. Dr. Samart helped lead the hospital's charge in the COVID-19 units and ICU.
---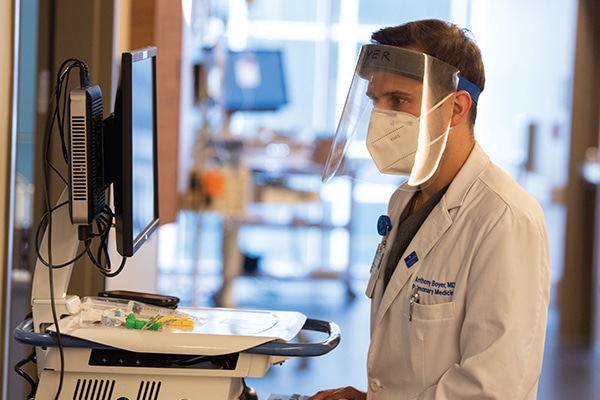 Anthony Boyer, MD, pulmonologist on the medical staff at Methodist Richardson Medical Center, never gives up on a patient, not even a COVID-19 victim who spent six weeks on a ventilator and almost as many on dialysis after his kidneys failed. When the time came for the patient to go home, Dr. Boyer was there for the clap-out celebration and to wish the patient's grateful family well.
"The nurses really are amazing and deserve a ton of credit. They've responded to the coronavirus pandemic with grace."
— Dr. Anthony Boyer
---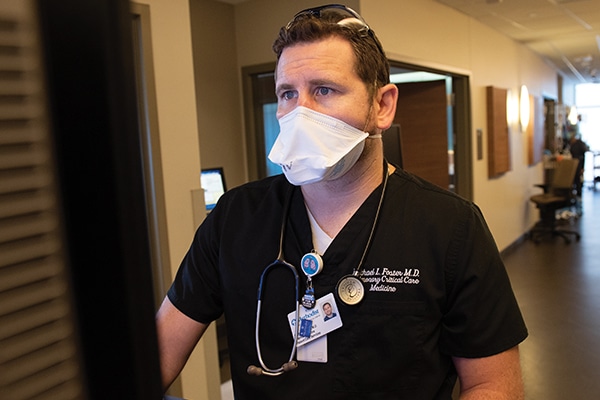 Michael Foster, MD, pulmonologist on the medical staff at Methodist Richardson, specializes in critical care medicine, internal medicine, and pulmonology — the trifecta for caring for COVID-19 patients. He wrote the COVID-19 manual for Methodist Health System, taking it upon himself to chronicle the latest research on testing and trends.
---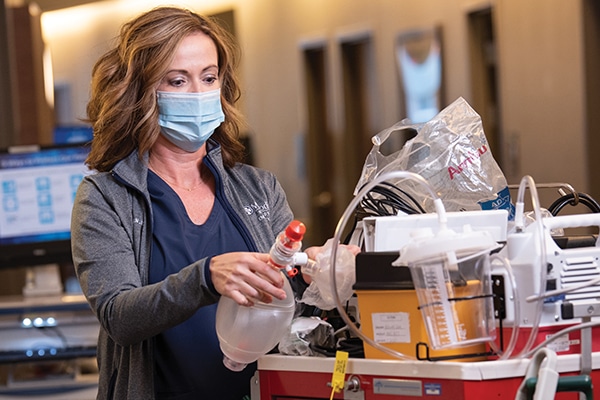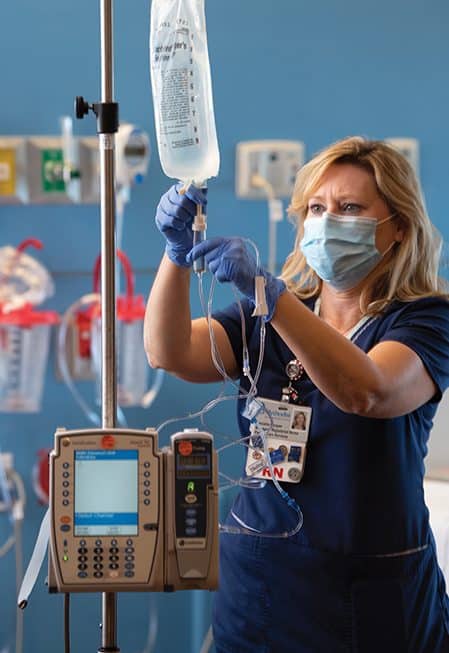 Shannon Jackson (top), MSN, RN-BC, and Danielle Cooper, BSN, RN, PCCN, nurse managers at Methodist Richardson, had just begun their roles as nurse managers when the pandemic struck. Thrust into new roles, neither missed a beat. Jackson applies her expertise as a former trauma nurse to running one of two COVID-19 units at the hospital. Cooper's team cares for patients on ventilators who require constant care.
---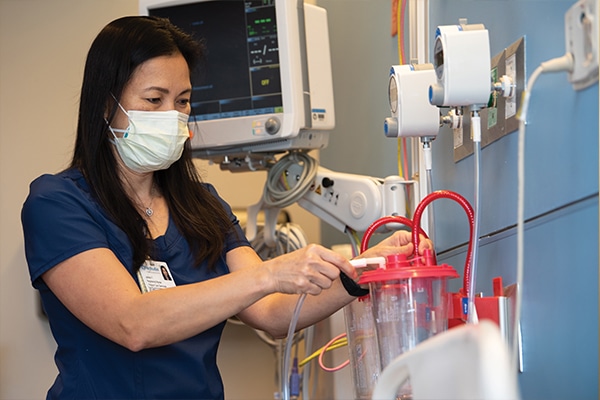 Since joining the ICU team last fall, Jacklyn Yeap, BSN, RN, CCRN-CSC, nurse in the ICU at Methodist Richardson, has embraced team nursing and has served as charge nurse, a runner, and a primary nurse for COVID-19 patients. Her positive attitude and unwavering professionalism make Yeap a role model and an inspiration to the ICU team.
---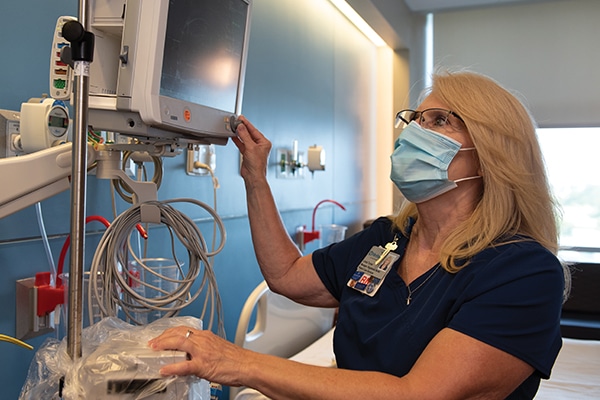 Linda Turner, MSN, RN, CCRN, veteran ICU nurse at Methodist Richardson developed a nursing model to help expand our ICU capacity during the pandemic. She partnered her ICU staff with COVID-19 unit nurses to form mentoring teams that share four patients a shift. Her innovative approach gives patients who need ventilators the around-the-clock care they require.
Hallucinations in the ICU: COVID-19 and its toll on the mind.