When Leslie Moulton was growing up, her mother would often tell the story of how the medical team at Methodist Dallas Medical Center took care of her in the neonatal intensive care unit (NICU) when she was born eight weeks early.
As a newborn, Leslie weighed less than 4 pounds. She needed weeks of critical care in the neonatal intensive care unit (NICU) under the watchful eyes of Harold Kolni, MD, neonatologist on the medical staff at Methodist Dallas.
"All of the doctors, and Dr. Kolni especially, were all very nice and very helpful," says Teresa, Leslie's mother.
He was memorable enough that, to this day, Teresa still carries a business card bearing his name.
But the family never expected to cross paths with Dr. Kolni again. That is, until Leslie had a child of her own, Ethan, who ended up in the same NICU — with the same doctor.
Leslie says when she first told her mother that Ethan would be staying at Methodist Dallas, Teresa texted her the photo of the old business card. And sure enough, Leslie soon came face to face with the doctor who helped her all those years ago.
"On our second day in the NICU, the doctor who came in to talk to me was Dr. Kolni," Leslie says. "I thought it was a really neat coincidence that someone who took care of me when I was a baby also took care of Ethan. I remember he said, 'We don't usually have repeat customers.'"
Dr. Kolni had just started his career at Methodist Dallas in 1985 when he first encountered Teresa and Leslie. Now in 2021, after treating 25,000 babies and near retirement, he was surprised Leslie recognized his name at all. But he was delighted to see her again. He says it's always a gift to get to see his patients and their families.
"Many of these babies are very sick, and you still worry," he says. "It's a blessing to see them leave the NICU. Whether I have a good day or a bad day has nothing to do with me. It's all about what's going on with those babies."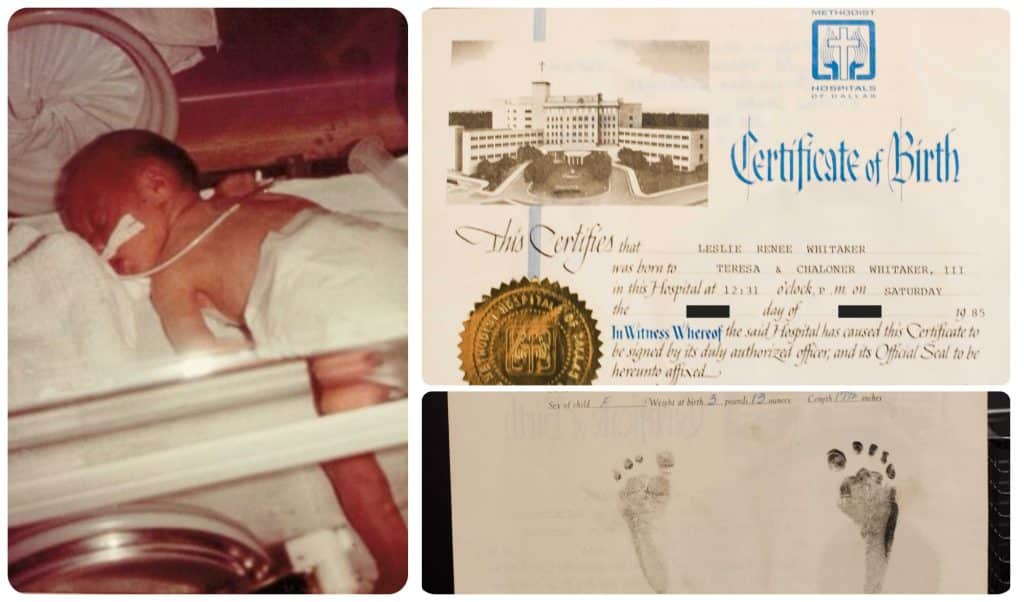 Baby Leslie spent three weeks in the Methodist Dallas NICU in 1985.
35 YEARS AGO
Teresa says it was completely unexpected that Leslie was born so early. The pregnancy was a smooth one until a month into her third trimester when she began feeling unwell. Her doctor ordered her on bed rest, but two days later, on July 13, Teresa went into labor.
"Leslie was born at 32 weeks, and she weighed 3 pounds, 13 ounces," Teresa recalls. "We didn't know what to expect, and we were really scared because she was so small."
Teresa was discharged after a couple of days, but Leslie needed around-the-clock care.
"It was very hard not to be there," says Teresa, remembering the days after she left the hospital. "I would go out there at least once a day to visit with her and stay with her, but they would also call and give us an update each day."
But she knew Leslie had a strong support team. Carlos Laos, MD, another neonatologist on the hospital's staff, handed her a business card including Dr. Kolni's contact information.
Three weeks passed before Leslie was allowed to go home. But in the weeks, months, and years that followed, Teresa held on to Dr. Kolni's business card, keeping it in her wallet.
"Every time I looked at it, I just didn't want to throw it away or put it anywhere else," she says.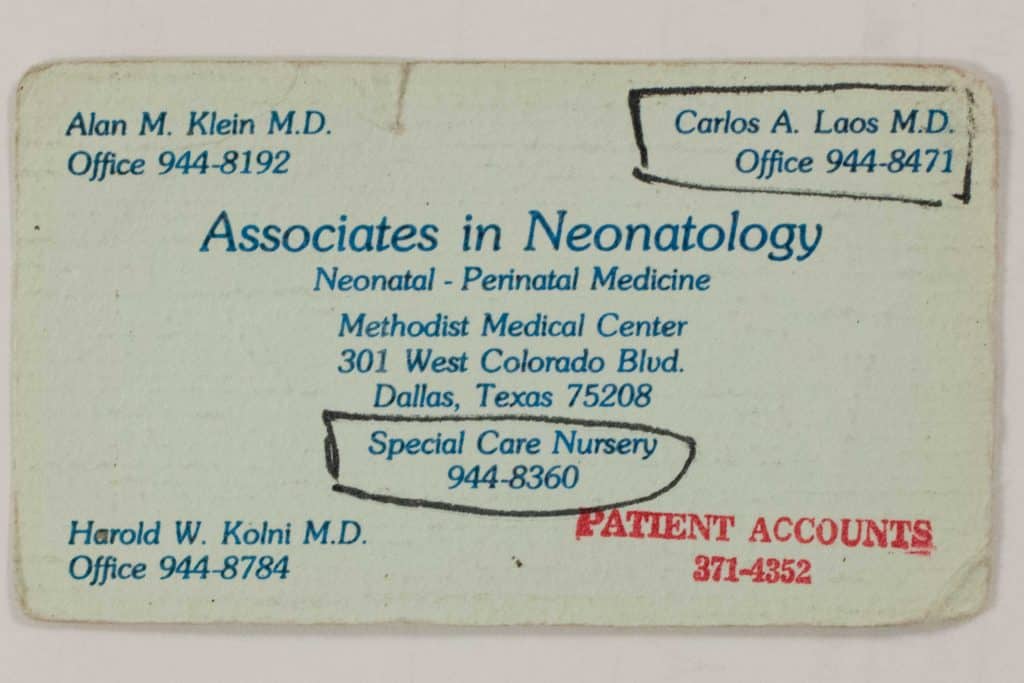 The business card that Leslie's mother, Teresa, kept for three decades.
HISTORY REPEATS
In 2020, Leslie and her husband, Geoff, found out they were expecting their second child, another boy. They were overjoyed, but there was also an underlying worry that Leslie would develop preeclampsia, a potentially dangerous pregnancy complication characterized by high blood pressure.
"I had kind of a rough pregnancy, my first go-around," Leslie says. "When I was pregnant with my older son, Jordan, I had high blood pressure, so he was born early at 33 weeks."
Leslie's doctor monitored her closely and gave her medicine to keep her blood pressure stable. But despite their best efforts, Leslie still ran into trouble.
"Turns out my blood pressure made me start getting sick, which is called HELLP syndrome," she says.
HELLP syndrome is a more severe form of preeclampsia and can become life-threatening to both the mother and child.
For Leslie, the condition escalated to the point that it was more dangerous to stay pregnant than to deliver the baby.
So at 28 weeks and five days, the family welcomed baby Ethan in a C-section delivery on Jan. 26.
He was 1 pound, 14 ounces.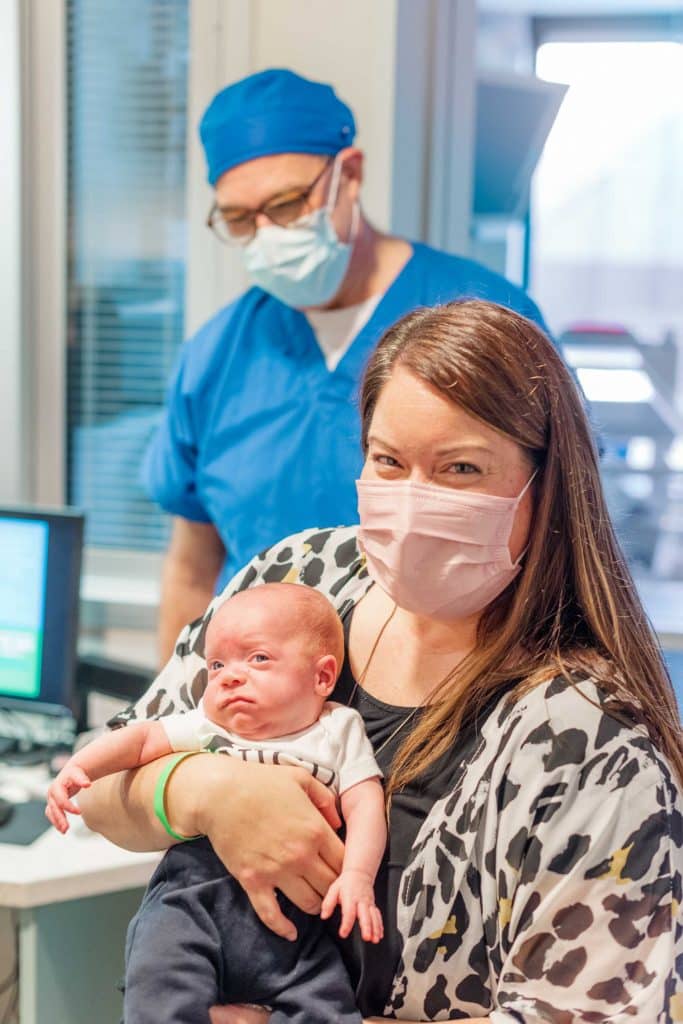 Leslie and baby Ethan, with Dr. Kolni in the background.
PAYING IT FORWARD
Ethan spent 12 weeks in the NICU, and on April 20, he was finally able to go home.
"Every single nurse that Ethan had was truly amazing," Leslie says. "They literally became like family. They truly went above and beyond."
For Leslie, it only reaffirmed her decision to become a nurse herself — a choice she made long ago, after hearing her mother praise those who took care of her years ago.
"She told me how awesome those nurses were," Leslie says. "And I thought, I love babies, and that would be a great profession! I've always wanted to help people who are in that situation."
Those stories are what inspired Leslie to become a labor and delivery nurse at Methodist Charlton Medical Center, a sister hospital of Methodist Dallas, but it's her experience as a mother of two NICU babies that really drives her.
"When I first started nursing and doing labor and delivery, I didn't have any kids," Leslie says.
Now after two eventful pregnancies, she feels a stronger connection to worried parents.
"I feel like it really helps me to bond with my moms and dads that have the same issues," she reflects. "I understand it more, and I'm able to offer them more assistance. I feel like I've been there now, so I can help them through it a little bit better than I could before."