Samantha and Colten Crist were adjusting to a new life in North Texas when they learned they were expecting their second child.
Samantha Crist's July 2020 due date came at an especially nerve-racking time for the young couple: right in the middle of a summertime surge in COVID-19 cases.
"It's a special time, but it can be very scary," says Samantha, now at home in Midlothian with baby Charlotte and 2-year-old Everly.
Her husband, Colten, agreed.
"Your initial thought is you don't want to be anywhere but home during COVID-19," he says.
Far from their usual support system back in their former home in Austin — and in a pandemic, no less — finding a hospital they could trust was a top priority for the couple. That's why they were elated to find a labor and delivery team at Methodist Mansfield Medical Center who excelled at putting the family at ease.
"They prepared me for what to expect and actually made it kind of fun," Samantha says. "They kept me laughing and enjoying that time."
Colten says the delivery team had him and his wife in stitches.
"We were cracking up," he says. "It was so much more relaxed than the first time around."
A MOTHER'S BOND
When baby Everly was born two and a half weeks early in 2018, the couple was in Austin, where the first-time mother had a physician she had known "forever."
"Samantha had her doctor that she had known for 15 years that she loved to death," Colten says.
It's hard to overstate the bond a young mother builds with her doctor, says Bhavisha Bhakta Nunez, DO, OB-GYN on the medical staff at Methodist Mansfield.
"That's a relationship and trust that builds over the years," Dr. Bhakta says. "It's tough to replicate in such a short time."
Colten had built a business relationship with Methodist Health System working for a media company in Ellis County, but it was Samantha whom Methodist Mansfield really won over.
"Samantha landed on Methodist Mansfield by doing her research," he says. "She was really impressed by the hospital."
Fast-forward to the summer of 2020, and Samantha felt like a new mom all over again when Charlotte arrived in July.
"It's kind of crazy how in two years you forget so much stuff," she says. "It was like I was going through it for the first time again."
This time the baby arrived right on schedule, Samantha says, but there was a new twist: COVID-19 testing for both Mom and Dad.
"Surprisingly, that was not nearly as scary as people were trying to make it out to be," Samantha says. "Everyone was so informative and kind and helpful."
Her cesarean section went off without a hitch, thanks to a delivery team who made it a joyous occasion that the couple will remember forever. After months of anticipation and excitement, the Crists welcomed baby Charlotte on July 23, 2020.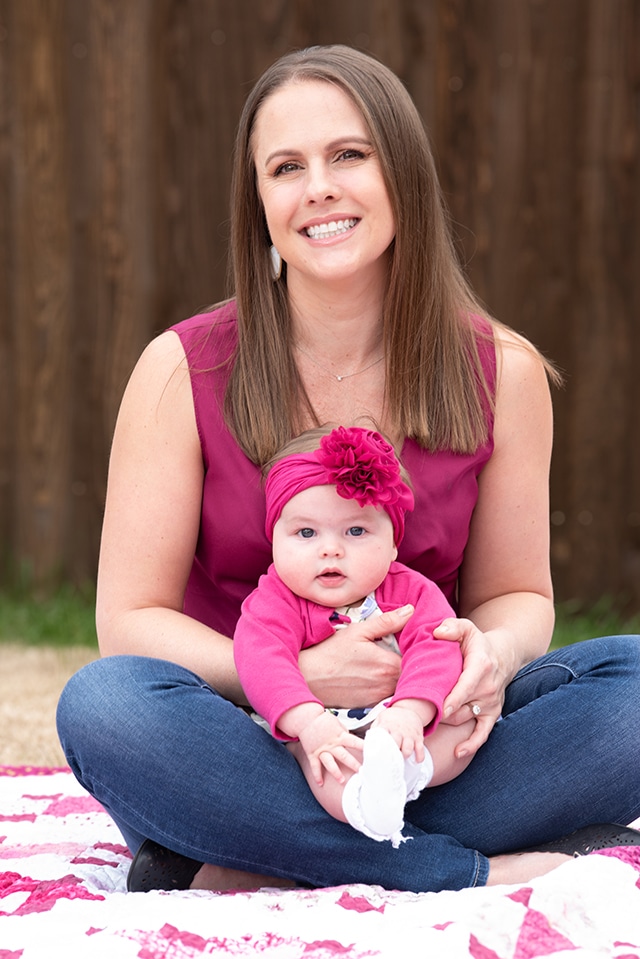 Samantha Crist with her baby girl Charlotte.
'EVERYONE TREATED US SO WELL'
Despite the pandemic, Colten says, they never felt vulnerable, and postpartum nurse Kara Russ, RN, went above and beyond to make them feel secure.
"Kara was wonderful," Samantha says. "She was just very protective about letting anybody into our room."
The labor and delivery unit enforces "quiet times" several times a day to build a bond between parents and their newborns and to help families make a seamless transition from a hospital schedule to life at home.
"We know how important it is for our families to have that time to themselves," Kara says. "Those first days together should be treasured."
Now at home with their two daughters, Samantha says their time at Methodist Mansfield was exceptional, thanks to people like Kara, Dr. Bhakta, and the rest of the team.
"Everyone treated us so well," she says.
As for Colten, he'll fondly remember one perk that he never would have expected, considering his visits to other hospitals.
"The cafeteria food was amazing," he says. "I love that cafeteria!"
Tough pregnancy delivers 'divine blessing' for first-time mom