For many of us, it's not unusual to wake up with a crick in your neck. But for Dale Parker, that pain was a warning sign for a potentially life-threatening hemorrhage in her spine.
When Dale woke up in the early hours of Jan. 13, the 70-year-old Granbury resident brushed off the stiffness in her neck as a run-of-the-mill muscle ache. She applied some analgesic cream to relieve the soreness and went back to sleep.
"About 30 minutes later, I woke up with the most unbelievable pain in my neck that I've ever had," Dale recalls. She soon noticed she was losing feeling in her left arm and leg.
Dale was rushed to the local emergency department where it was revealed she suffered a spontaneous spinal epidural hematoma, meaning a blood vessel in her neck had ruptured, and the blood was compressing her spinal cord, causing pain.
She would need spinal surgery immediately.
A METHODIST CONNECTION
Dale knew exactly which surgeon she wanted to help her. She asked the doctor to contact Nimesh Patel, MD, neurosurgeon on the medical staff at Methodist Dallas Medical Center — a hospital more than an hour's drive from her Granbury home.
"I told him the only neurosurgeon I want to see is Dr. Patel," Dale says. "He helped me with an unrelated spinal surgery three years ago, and I have such great faith in that man."
Dale also had another connection to Methodist Dallas: All three of her children were born there. She says it was serendipitous that she ended up meeting Dr. Patel three years ago.
"A friend referred me to him, and I had no idea he was associated with Methodist," she says. "I remember walking into his office that first time. He just has this way about him that makes you feel like everything's going to be OK."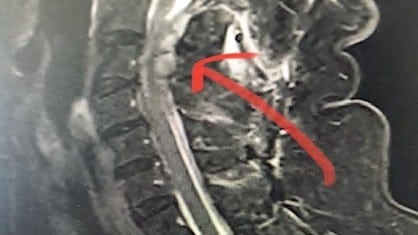 Scans showed blood from a ruptured vessel in Dale Parker's neck compressing her spine. 
A RARE CASE
Paramedics drove Dale to Methodist Dallas while hospital staff notified Dr. Patel, who was called in around 1 a.m. Staff briefed him, and imaging scans showed blood pooling along the C3 and C4 vertebrae near the top of her neck.
"To have a blood clot in that area, it's very high risk for a couple of different reasons," Dr. Patel explains. "One, it can cause paralysis, and two, it can affect your diaphragm, the muscle that controls your breathing. It's only a matter of time before the swelling starts to impede your ability to breathe."
This injury is more typically seen in trauma patients or people who have recently undergone surgery on or near their necks.
"Cases like Dale's are rare because this doesn't usually happen spontaneously," Dr. Patel says. "But the tell-tale sign here is the muscle weakness she experienced. That's indicative of an issue in the upper spinal cord or brain."
Because time was of the essence, Dr. Patel says, it really mattered how swiftly the medical staff moved. Once he started working, it took about 30 minutes to completely remove the clot and relieve the pressure.
"This is just one of the countless nights where we followed our coordinated plan to take care of the patient," he says. "If you have an emergency, just know that Methodist Dallas is a hospital here for the community, and we know how to take care of you."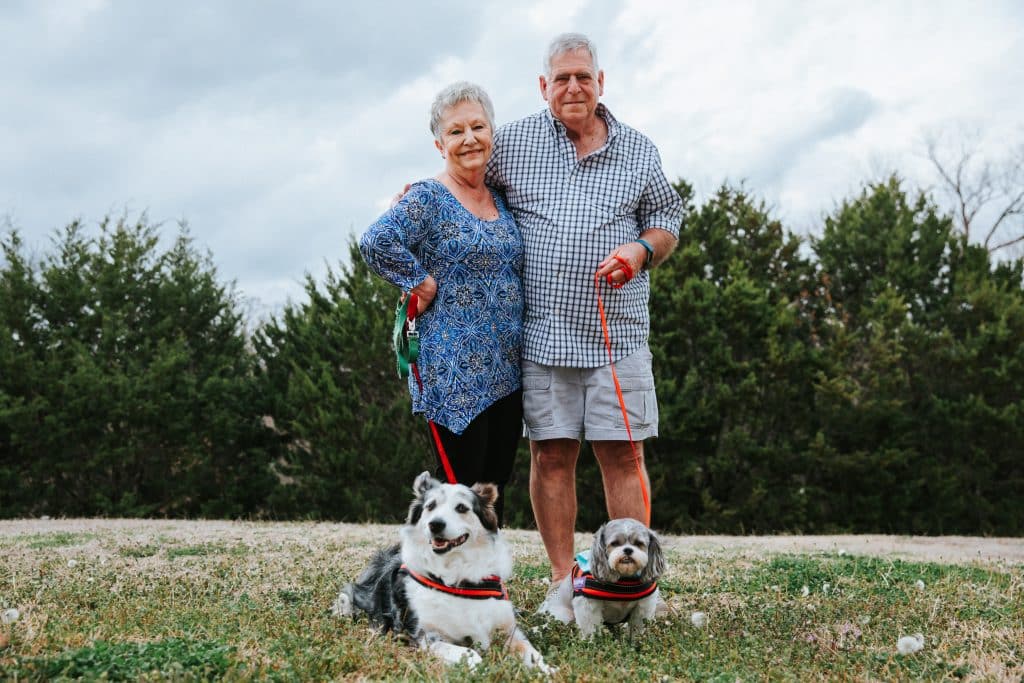 Within three days of her surgery, Dale had returned home to Granbury with her husband, Tommy.
'HE SAVED MY QUALITY OF LIFE'
Dale's surgery was a success, and she began to make a speedy recovery. With some assistance, she regained her mobility quickly and was soon getting around the nurse's station. Within three days, she returned home with her husband, Tommy, and their children, who had come to help.
"I didn't even need a home health nurse," says Dale, who is feeling stronger each day.
She and Tommy try to take half-mile walks when they can, and she no longer needs a walker. Follow-up doctor appointments have confirmed that Dale's recovery is on the right track.
She credits Dr. Patel and his team for the high level of care she received that night.
"I honestly believe they saved my quality of life," she says.