When the U.S. government declared monkeypox a public health emergency this summer, it echoed the beginning of the COVID-19 pandemic, with hundreds of cases across Dallas-Fort-Worth and thousands nationwide.
But don't panic — this outbreak can still be contained. There's already an effective vaccine, although it's in short supply, and monkeypox is not nearly as transmissible as COVID-19. Also, this virus isn't new; it's been around since the 1950s.
What is new is how it's spreading: person to person rather than animal to person. Anyone who has sustained contact with infected individuals is at risk of infection, says Leigh Hunter, MD, FACP, infectious disease specialist and director of the Methodist Internal Medicine Residency Program.
"In fact, there are concerns that colleges will be next to experience outbreaks," she says.
Dr. Hunter and other experts set the record straight on the emergence of this previously little-known disease.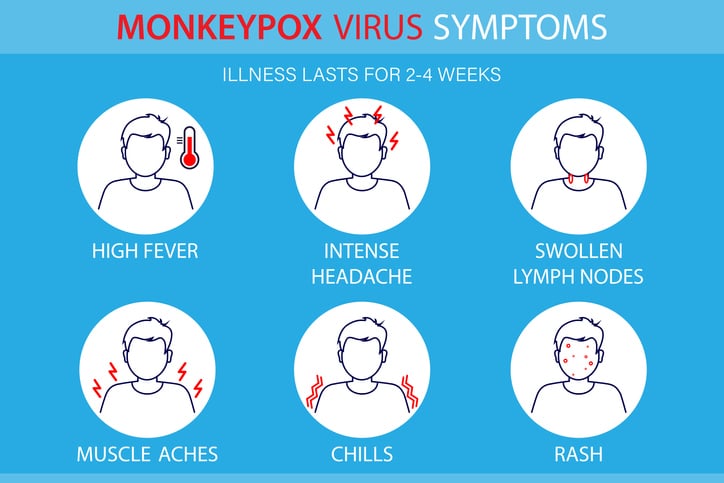 SYMPTOMS AFFECT TRANSMISSIBILITY
The monkeypox virus is part of the same family of viruses as the variola virus, which causes smallpox. But while monkeypox can cause flu-like symptoms — including fever, chills, headache, body aches, and swollen lymph nodes — symptoms are usually mild and rarely fatal.
The virus is most transmissible when symptoms appear — about four to 11 days after exposure — and it is unclear whether it can spread before that.
Of course, the one thing everyone associates with monkeypox is the telltale rash that may appear on any part of the body.
"The presentation can vary during this outbreak, so it is important to still consider monkeypox even if the lesions don't look like the pictures you find online," Dr. Hunter cautions.
She advises anyone who thinks they have monkeypox to isolate and consult a physician for guidance.
"Testing is much more available at this point, and vaccination or treatment may be needed," Dr. Hunter says.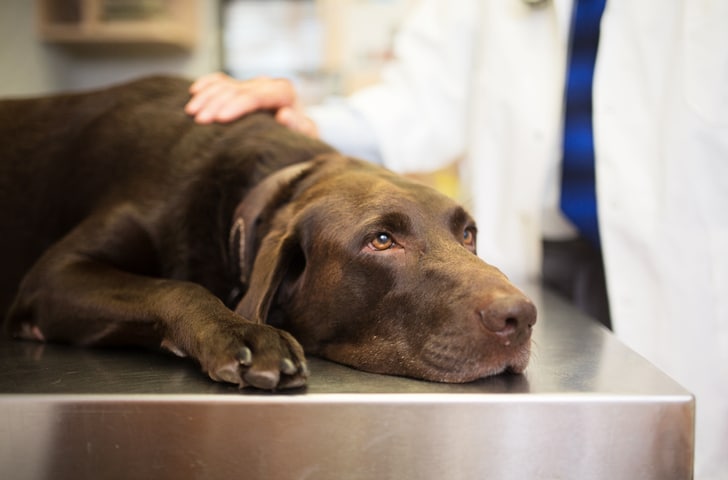 ANIMALS CAN CARRY THE VIRUS
Dr. Hunter says humans are not the only species that can be infected with monkeypox. The virus has been found in several animals, including monkeys, anteaters, hedgehogs, prairie dogs, squirrels, and shrews, according to the Centers of Disease Control and Prevention.
Although researchers are still investigating which species are susceptible to the virus, The Lancet recently reported evidence of the first possible case of human-to-dog transmission.
To err on the side of caution, the CDC advises infected patients to avoid interacting with pets and other animals, even after they have been exposed. It offers more guidance on its website.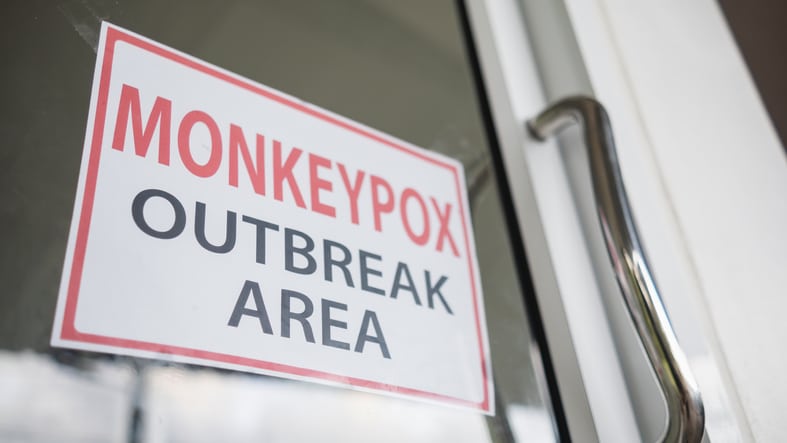 SEX ISN'T PRIMARY WAY IT SPREADS
There's a debate about whether monkeypox should be labeled a sexually transmitted infection because over 95% of reported cases in the latest outbreak have involved men who have sex with other men. That's led some people to believe they aren't vulnerable.
But sex does not appear to be the primary way the virus spreads, although during the current outbreak it has become the main setting where the skin-to-skin contact is occurring, Dr. Hunter says.
"There is concern that if monkeypox is labeled an STI, the associated stigma might undermine investigations and contact tracing," she says, "and certain populations may think they aren't at risk."
But anyone is potentially at risk if they have prolonged, skin-to-skin contact with an infected individual — particularly by touching scabs, sores, or bodily fluids. Monkeypox can even spread via contaminated objects, although it is not clear how long the virus can survive on surfaces.
"This means things like bedding, clothing, or towels that have been in contact with lesions or scabs of an infected individual," Dr. Hunter elaborates. "Monkeypox can also spread via respiratory secretions with lingering face-to-face contact."
But, she adds, it is unlikely that people will get sick from briefly brushing against a handrail, doorknob, or handle.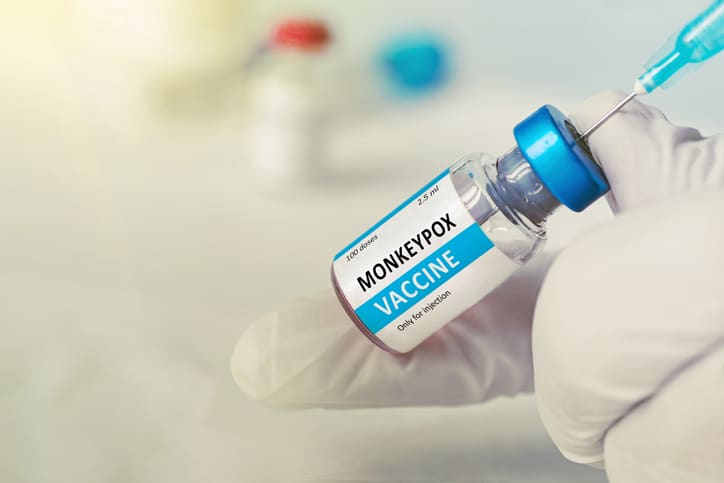 VACCINE SUPPLIES ARE LIMITED
Just as it was with the COVID-19 vaccines when they first became available, the supply of the monkeypox vaccine is limited at the moment, and your eligibility to receive the vaccine depends on your location, risk, and symptoms.
While Dallas County does not currently offer the vaccine to those who are already infected, others might.
"Since the incubation period is relatively long, vaccines can play a role in treatment if used early — along with antiviral drugs," Dr. Hunter explains. "Vaccines and drugs are in limited supply, so patients with severe disease and/or immunosuppression are prioritized."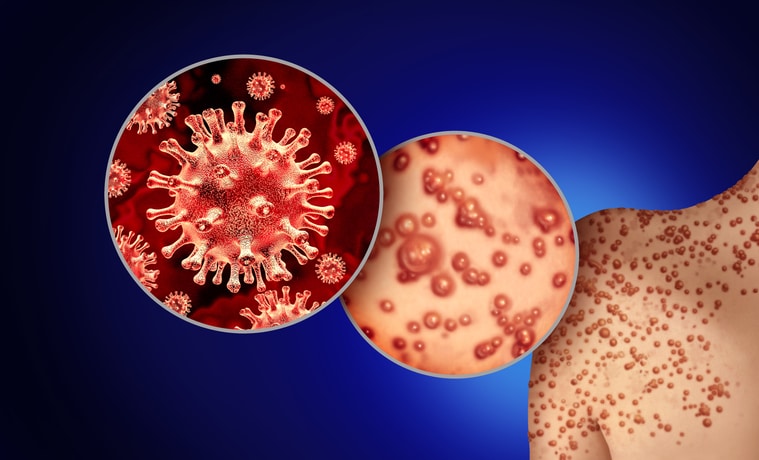 INFECTIONS MAY LEAD TO COMPLICATIONS
On top of possible scarring from the skin lesions, the World Health Organization warns against potential complications, including secondary infections, bronchopneumonia, sepsis, and encephalitis.
And as with most other infections, people with comorbidities are considered more at risk of severe illness. That includes people who are immunocompromised, older, or pregnant.
But there are differences too, Dr. Hunter adds.
"Monkeypox is more difficult to transmit than COVID-19, and its primary mode of transmission is by contact with infected lesions," she explains. "Patients should remain isolated until all lesions have resolved, scabs have fallen off, and a new layer of skin has formed. This can take several weeks."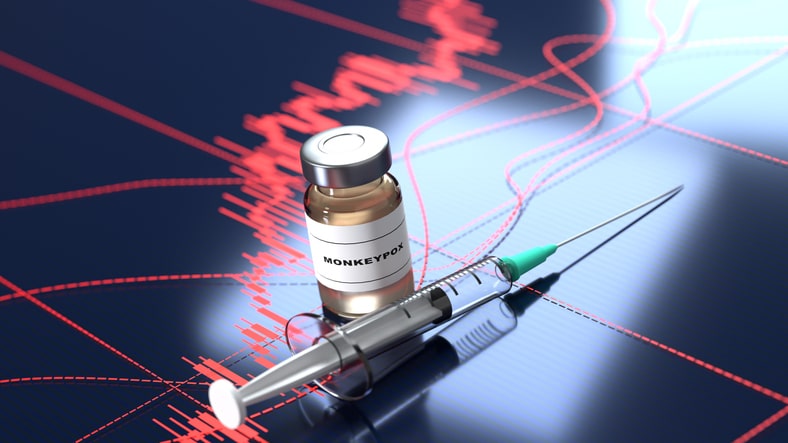 A PANDEMIC CAN BE AVOIDED
Many are worried that monkeypox may lead to the next pandemic, but Dr. Hunter says it's too soon to tell how this will play out on a global scale.
"It depends on many things," she says.
This includes testing, contact tracing, and vaccine availability; how we contain its spread; how patients follow recommendations; the sustainability of public health resources; and whether monkeypox will spread to small animals in new areas of the world.
In the meantime, Dr. Hunter recommends some familiar tactics to protect ourselves and our loved ones.
"If you are infected, it is important to keep your distance from others; avoid intimate contact; avoid sharing clothing, towels, bedsheets; and keep lesions covered until all lesions have healed," she says.