For as long as she can remember, Melanie Proffitt had experienced migraine headaches, so at first, the pain behind her right eye did not seem out of the ordinary.
"I'd take migraine medication, and the pain would go away in about an hour," says Melanie, a pharmacist at Methodist Dallas Medical Center who manages outpatient pharmacy services and the medication therapy management program.
Then in early 2021, the headaches she had lived with for 30 years intensified, causing unrelenting pain, vertigo, and nausea that sometimes made her vomit. Her 7-year-old son, Ethan, was worried, as were her co-workers, who prodded Melanie to get it checked out.
"One day my co-worker had to drive me home because I couldn't make it," says the 42-year-old Midlothian resident. "They dialed the phone to a neurologist and said, 'Make an appointment.' So I made an appointment."
A week later, as she was leaving her MRI appointment, Melanie's neurologist called and urged her to go to the emergency department immediately. She had a brain tumor the size of an apple in her right frontal lobe.
"It was literally pushing my brain to the side, you could see on the MRIs," Melanie says. "I went home, packed a bag, and my husband drove me back to Methodist Dallas. It happened so fast, I didn't have a chance to think about it."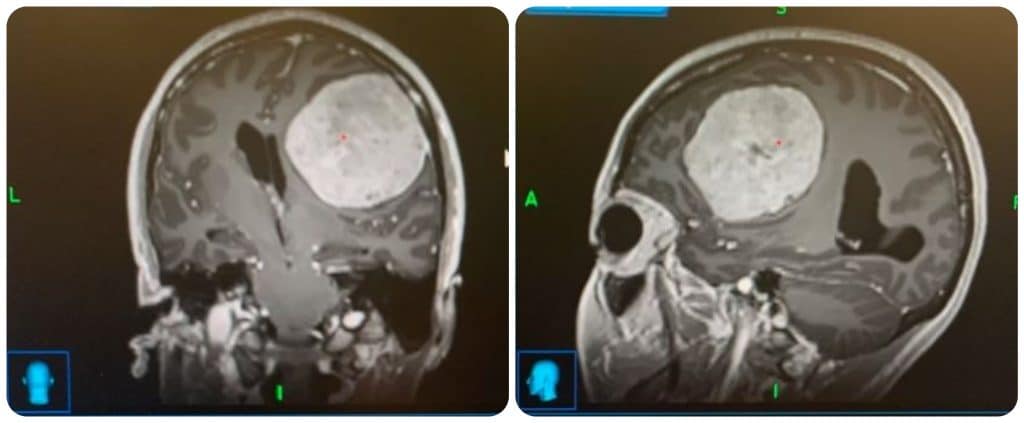 The tumor in Melanie's brain, shown here in an MRI scan, was almost 3 inches in diameter.
TUMOR WAS BENIGN
Melanie needed brain surgery to remove the meningioma, a specific type of tumor that grows in the lining surrounding the brain, explains Randall Graham, MD, neurosurgeon on the medical staff at Methodist Dallas. The size of the tumor made it surprising that Melanie was able to function as well as she could.
"I was shocked that she was able to talk and do her job with a tumor this large," Dr. Graham says. "It shows how our bodies are constantly adapting. Our brains form new circuits to keep us functioning."
Dr. Graham performed the surgery in less than two hours. A biopsy of Melanie's tumor determined that it was benign — a grade 1 meningioma. Grade 1 meningioma is considered cured and does not need further treatment when it is completely removed.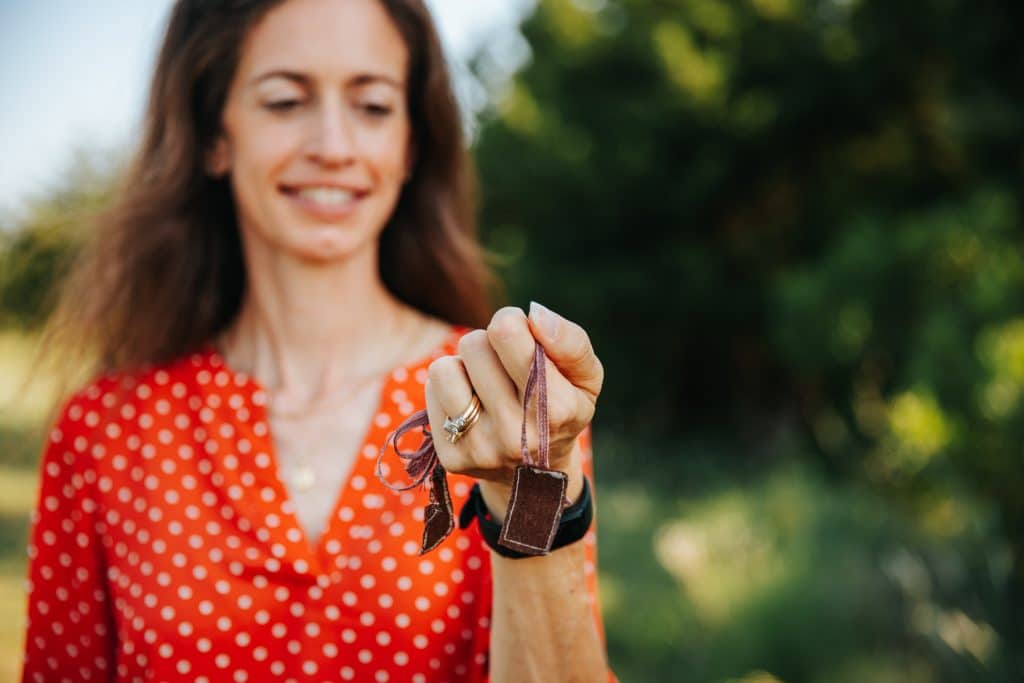 Melanie always carries a blessed Brown Scapular, given to her by her mother, as a sign of her strong Catholic faith.
"I feel like I owe so many people so much. They gave me my life back, and I will forever be grateful. I could not have made it through this difficult time without the relentless support and love from my family and work family."
— Melanie Proffitt

The tumor had likely been growing for years and may have contributed to Melanie's frequent migraines, says Gregg Shalan, MD, a neurologist on the medical staff at Methodist Dallas who oversaw her post-operative recovery.
"This was another great outcome from Methodist's Brain and Spine Institute," he says.
Methodist Dallas performs a variety of neurosurgical procedures including brain surgery, spine surgery, and endovascular therapy, which uses angiogram technology as a treatment option.
"Brain surgery by definition is complicated," says Dr. Shalan, who credited the surgical team for Melanie's positive outcome.
While Dr. Graham was at the center of that effort, he credits the entire neuro team and hospital staff with Melanie's success.
"These surgeries require an entire village of experts," Dr. Graham says. "Our hospital staff is exceptionally well trained and has incredible levels of expertise."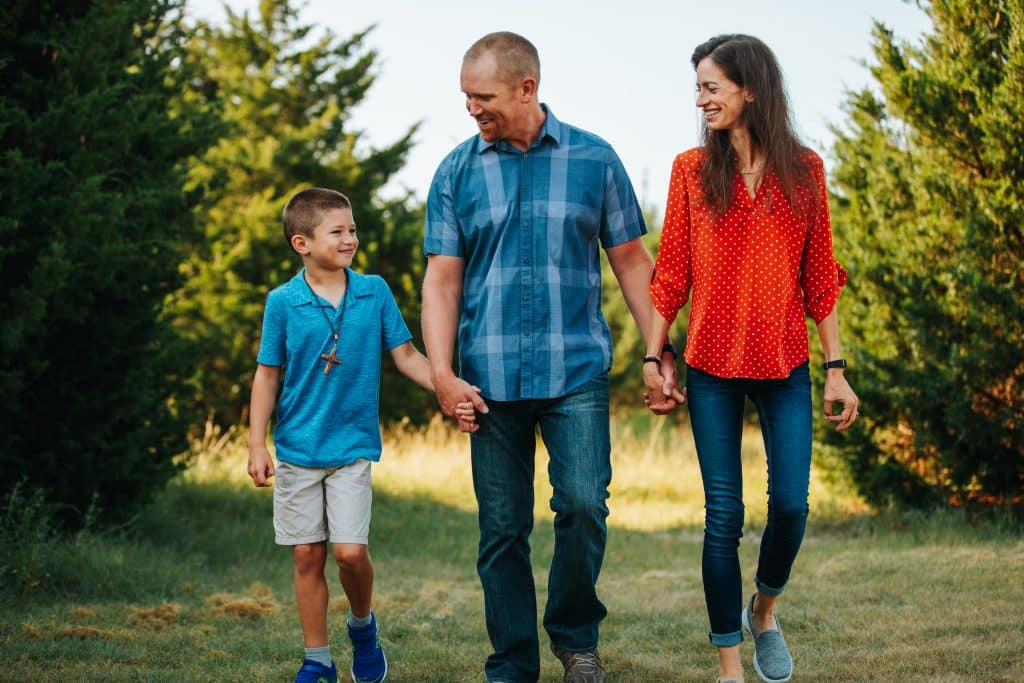 Melanie credits her work family with reuniting her with her husband, Matt, and son, Ethan.
BACK TO WORK
After a few days in the hospital, Melanie spent another week recovering at home before she returned to work.
"Her positive attitude and great state of physical health helped her recover quickly," Dr. Shalan says. "Being as healthy as you can is a definite plus."
Melanie reports that she is now completely headache-free. "It's the most amazing thing," she says.
While it's unlikely the tumor will return, Melanie will undergo yearly MRIs to monitor her brain. And in the meantime, she's back to work managing outpatient pharmacy services and the medication therapy management program.
"What Melanie does for Methodist Dallas is so important," Dr. Graham says. "It hits close to home that someone in the Methodist family had a problem and that we could take care of it and help them get back on their feet. It shows our level of community and how we help each other."
But all patients get that same level of care, whether or not they work for Methodist, Dr. Graham says.
"We welcome any and all patients in DFW who want to be part of this family," he says.