Two strangers who had bypass surgery within days of each other at Methodist Mansfield Medical Center later met during cardiac rehab, where they opened their hearts to each other.
Patty and Ron Spurgeon got married last fall, several months after their surgeries four days apart at the same hospital with the same doctor, Darien Bradford, MD, cardiothoracic surgeon on the medical staff at Methodist Mansfield.
The Arlington residents' romance began in rehabilitation and made their healing hearts whole again.
"I want her with me, and I want to live a long time," says Ron, 75, a widower who lost his wife of 53 years in 2021.
Patty, a 66-year-old divorcee, shares that sentiment: "Ron nourishes my soul. He truly does."
News of their marriage delighted Dr. Bradford, their surgeon and inadvertent matchmaker.
"I was totally shocked but extremely happy for them," he says. "I don't believe this has ever happened with two of my patients. I am truly humbled by their newfound love and wish them many years of happiness."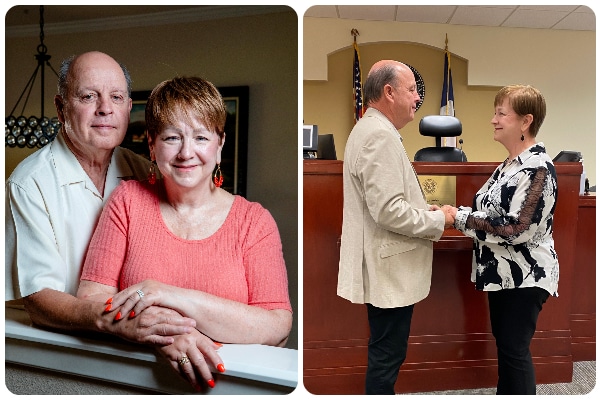 BYPASSES DAYS APART
While cardiac rehab is where Patty and Ron officially met, they remember seeing each other at Methodist Mansfield a day or so after their surgeries on Feb. 28, 2022. Patty noticed Ron because he was diligently walking up and down the unit.
"I was having a reaction to the medications I was taking, so I was dizzy and weak and could barely get up," says Patty, who had triple bypass surgery after going to the ER two days earlier with chest and jaw pain. "I remember thinking, 'I don't know who that guy is, but he's sure walking a lot."
Ron noticed Patty, too, following his own quadruple bypass surgery, which came after he almost passed out one morning and his daughter insisted he go to the ER.
They went home to recuperate a little before starting rehab two months later, but still might not have met if Patty hadn't switched to an earlier group session so she could return to work.
FIRST DATE IN DECADES
While in a group session, Ron and Patty were warming up on stationary bicycles when he overheard her sharing her worries about atrial fibrillation with another patient.
"I walked over to her and said, 'Don't fear. Everything is going to be all right," Ron says. "Then I said, 'You have pretty eyes,' and walked off."
Patty cherished that moment, especially because she was single and longed for someone to share her concerns with.
"That was very sweet of him to tell me not to worry," Patty says. "And I loved what he said about my eyes. I thought, 'What a sweetheart!'"
Patty would later ask Ron if he'd like her phone number. They exchanged numbers, and she invited him to breakfast.
"I was a little apprehensive because my wife of 53 years had passed away in September 2021," Ron says. "What was it like to go on a date again? But since she asked me, I decided to go."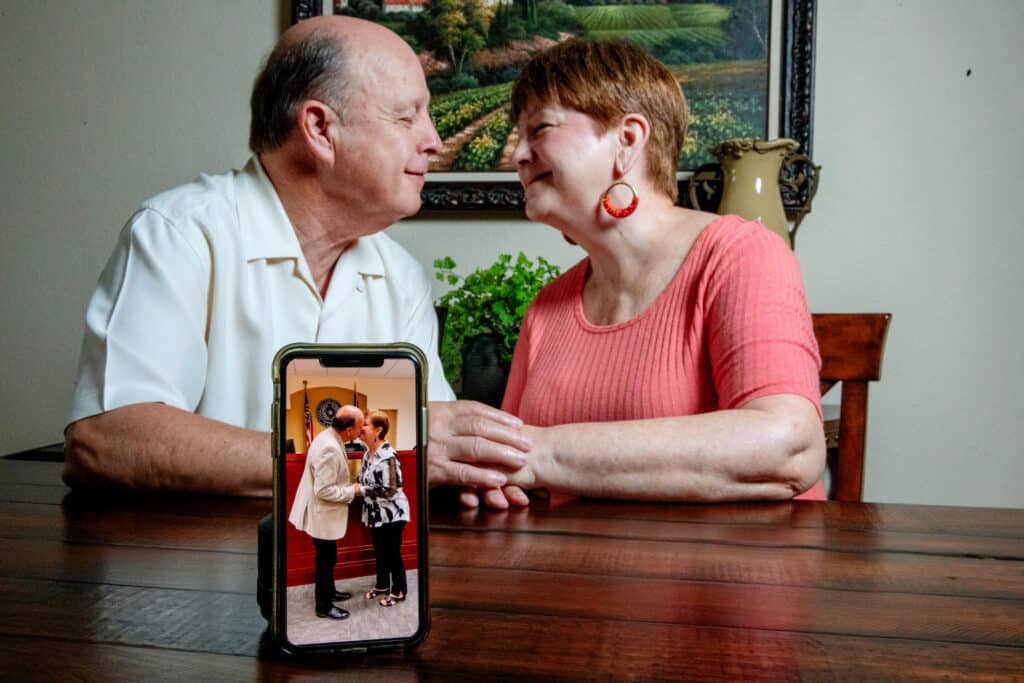 'SOMEDAY IS HERE'
After that first breakfast stretched for five hours, they met for a movie and a few dinners, once Patty returned to her job as an administrative assistant.
"The first couple of times I took her out, we just hugged when we said goodbye," Ron says. "The third time, I said, 'Someday, I'm going to kiss you,' and left it at that."
A week later, he asked her to supper and that day arrived, no doubt bringing on heart palpitations of the best kind.
When Patty came in the door, he handed her one long-stemmed pink rose, said, "Someday is here," and kissed her. And that was that.
Patty and Ron were married by a justice of the peace on October 6, 2022.
As far as Dr. Bradford is concerned, their romance was the best treatment he couldn't provide himself. Less stress and happy hearts play a significant role in recovery and in healing, he says.
"I believe the heart is the seat of our soul," Dr. Bradford says, "and in it is the spiritual plenum of kindness, compassion, and love."