If not for bad luck, Terri Cooley would have no luck at all — at least that's how she felt after having two total knee replacements, needing follow-up surgeries to replace both joints, and breaking bones in three separate falls, all in the past 10 years.
But now with those bad breaks behind her, the 76-year-old Richardson resident is back on her feet and feeling far more fortunate. She credits Methodist Richardson Medical Center and a team led by Christopher Hanssen, MD, orthopedic surgery specialist on the medical staff.
"I am so grateful for Dr. Hanssen and his team's knowledge and compassion through all our years together on this incredible journey," Terri says.
What began as a nagging pain in her left knee led to two total knee replacements in 2010 and 2011. She later turned to Dr. Hanssen for follow-up procedures to replace both knees, as well as multiple surgeries to repair her broken right leg, left ankle, and a wrist.
Through it all, Terri counted on the orthopedic team at Methodist Richardson to help her walk on her own again.
"I had very big doubts, but I had to try," Terri says.
KNEE REPLACED AGAIN
Terri first ended up at Methodist Richardson a couple of years after getting her right knee replaced for the first time. She knew something was wrong with the artificial joint, but Dr. Hanssen told her to stick with physical therapy rather than turning to surgery.
"When I met Terri she had concerns about her right knee," Dr. Hanssen says. "At that time, I advised her to continue conservative care with physical therapy."
Terri would return to his office a few years later after an infection that was associated with a bout with breast cancer. She had just beaten the cancer when tests revealed a severe staph infection in the tissue around her artificial left knee.
"The safest option for Terri was to remove the implant while the infection was treated," Dr. Hanssen says. "We got her infection under control, and I was able to put in a new knee joint."
It would not be the last time she would have her artificial knees rebuilt.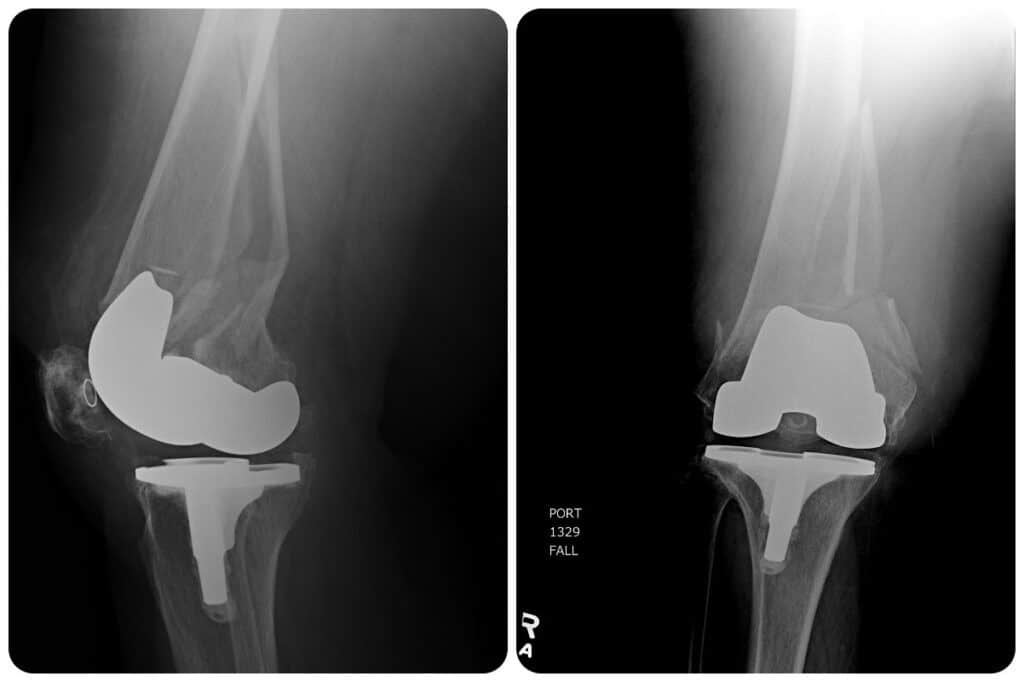 Terri needed both of her knees replaced after a series of traumatic falls. 
SERIES OF BAD BREAKS
In late 2018, Terri was at home when she tripped over her dog and broke her right leg. The fall fractured 6 inches of thigh bone and four inches of her shin bone, and destroyed her right knee.
She underwent surgery a day after New Year's 2019 and would spend the next six months rehabilitating as an inpatient. She returned home and got around with the help of a walker.
"That was an accomplishment given my injuries," she says.
A year later, Terri fractured her left ankle, and a year after that, in December 2020, she fractured a wrist. Dr. Hanssen treated both injuries with braces.
Injury-free for a year and a half, Terri began believing the bad breaks were behind her. But her health took another turn for the worse the following summer.
ANOTHER FALL AT HOME
In July 2021, Terri was again at home when she experienced another horrific fall on her right leg. This time her options were limited because of her previous injuries.
"Terri broke her tibia again, as well as bones in her ankle," Dr. Hanssen says. "She didn't have enough bone left to surgically repair the breaks."
That meant Terri would have to spend several months wearing a leg cast and rehabilitating as an inpatient so her bones could heal. Dr. Hanssen monitored her recovery with MRIs and scans.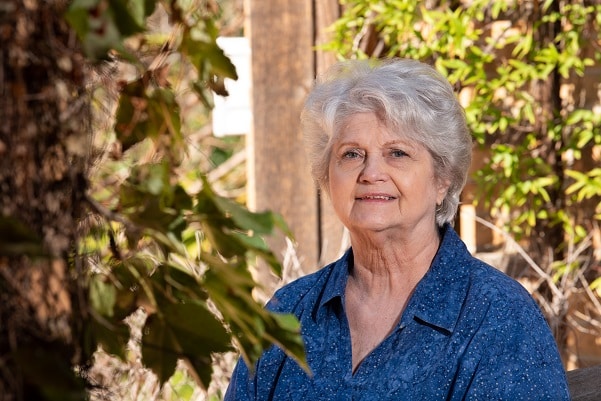 Terri made a commitment to walk on her own again and did just that after a month of physical therapy. 
ON HER FEET AGAIN
After six months, Terri went home in a wheelchair. For a month, she worked with a home health physical therapist but made little progress.
She turned to Dr. Hanssen, and again he offered a solution: twice-a-week outpatient physical therapy at Methodist Richardson Rehabilitation Center. That's why she recommends his team to anyone who will hear her out.
"Dr. Hanssen knew how much I wanted to regain my ability to walk independently," Terri says. "After just one month, I was able to walk 580 steps with my walker, and just recently I was able to take 110 steps with a cane."
She hopes those steps mark the end of a decade of adversity and the beginning of healthier years to come.