The pandemic may have made visits to restaurants, bars, and movie theaters risky and less safe, but experts agree that hospitals are one place you shouldn't hesitate to visit.
Since last spring, experts at the Centers for Disease Control and Prevention have seen an alarming decline in the number of emergency room visits. Doctors are concerned that fear of contracting COVID-19 is preventing people from seeking potentially life-saving treatments for heart attacks, strokes, aneurysms, and other emergencies.
"The hospital has taken effective steps to protect everyone," says Jeff Butterfield, MD, medical director of the emergency department at Methodist Charlton Medical Center. "If you have COVID-19, we know how to treat you. And if you don't, we've got all the precautions in place to help keep you safe."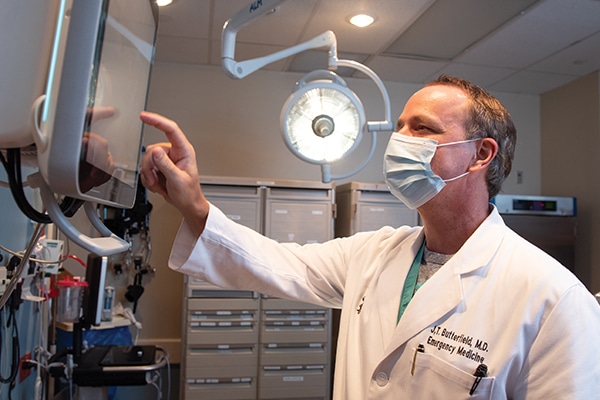 Jeff Butterfield, MD, medical director of the emergency department at Methodist Charlton
"Your safety comes first at Methodist."
— Dr. Butterfield
TAKING PRECAUTIONS
When the pandemic began, Methodist hospitals prepared every department for potential surges in patients, including the emergency department, which treats all manner of ailments and injuries.
Everyone is screened at the hospital door for possible symptoms of COVID-19, and all patients are tested for COVID-19 before they're admitted. To keep everyone safe, Methodist hospitals are limiting visitors, and medical staff are garbed in personal protective equipment to minimize potential exposure.
Hospitals have also expanded the capacity of their emergency rooms to keep COVID-19 patients sequestered in zoned areas from others. "Negative air-pressure rooms have been installed to prevent any airborne viral particles from escaping, and more are ready, if needed," Dr. Butterfield says.
What's more, maintenance workers are ready at a moment's notice to deploy movable walls to construct new units for an overflow of patients, and environmental services staff have been invaluable in sanitizing public areas and private rooms.
"If you have a medical issue or injury, your safety comes first at Methodist," Dr. Butterfield says. "We follow recommended protocols and guidelines to help keep you safe. We've got it down to a science."
In fact, each hospital has an entire department devoted to preventing disease outbreaks.
"Our office is on-call 24/7," says Marie Wilson, MSN, RN, CIC, manager of infection prevention and control at Methodist Dallas Medical Center.
Marie and her team are responsible for identifying patterns of infection in the community and within the hospital. Infection preventionists also develop hospital policies and procedures, educate healthcare teams on best practices, advise leaders and other professionals, and coordinate with local and national public health agencies.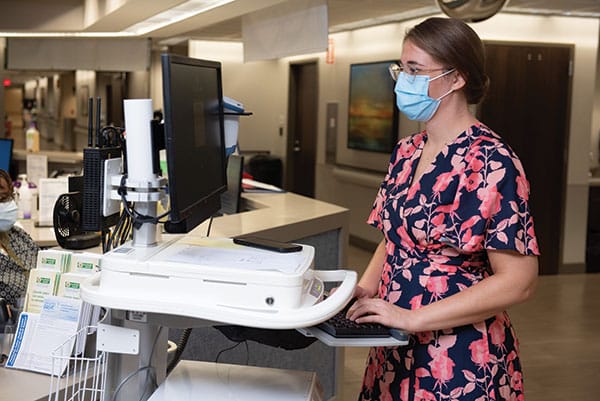 Marie Wilson, MSN, RN, CIC, manager of infection prevention and control at Methodist Dallas Medical Center
"It is possible to prevent the transmission of this infection."
— Marie Wilson
HOSPITAL VISITS ON DECLINE
A worrisome trend has emerged in the 10 weeks after COVID-19 as a national emergency: Hospitals saw patient visits decline 23% for heart attacks, 20% for strokes, and 10% for uncontrolled high blood pressure, according to the CDC. By May, visits to the emergency department dropped 42% compared with last year.
That's a serious issue because time is of the essence when it comes to emergencies. Waiting to get help for heart attacks and strokes only makes matters worse, increasing the risk of complications and even death.
Dr. Butterfield has seen the rate of critically ill patients triple and says it takes only a matter of days to improve survival rates in such cases.
"We don't want to see that trend continue," he says. "We want people to come in early, during the first signs of their illness, so we can take more preventive action before it's too late."
MONITORING THE PANDEMIC
Daily COVID-19 case numbers have dropped since the summer surge, but they're on the rise again. And doctors are always keeping an eye on case and fatality trends.
Dr. Butterfield, along with other experts, sits on Methodist's COVID-19 task force, which meets regularly to discuss best practices, treatments, infection prevention guidelines, and other strategies to tackle the pandemic.
"We all share a common bond of wanting to create a safer healthcare environment for our patients, staff, and visitors," says Wilson, who helps lead the task force and makes it a priority to stay abreast of new research and practices to combat COVID-19.
Dr. Butterfield says the task force and "great minds" across the system are staying on the cutting edge of research to keep their patients safe and well cared for at Methodist hospitals.
"We will be here for you and your family for any emergency," he says.
Emergency rooms are safe, a fact this patient knows first-hand.