In his Olympic days, "Fast Eddie" Southern could outrun just about anyone — but lung and heart disease were no ordinary hurdles, and the care he received at Methodist Health System gave him the upper hand.
At age 82, lung disease and an ailing heart caught up with the former Olympic hurdler, who won a silver medal in the 1956 Games in Melbourne, Australia.
"I was gasping for air," says Edward, who arrived at Methodist Richardson Medical Center last spring complaining of chest pain.
By that time, Edward was on supplemental oxygen around the clock because of chronic obstructive pulmonary disease. But his doctors discovered that his condition had worsened: He had endured a small stroke and a minor heart attack and had blockages in his coronary and peripheral arteries.
His heart was functioning at only 25% of normal capacity. The restricted blood flow was starving his heart of oxygen, a shortage compounded by the lung disease.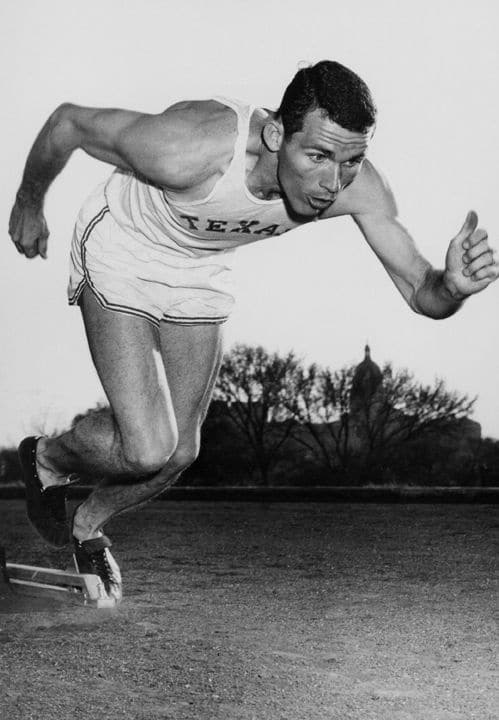 Fast Eddie Southern led the Texas Longhorns to Southwest Conference titles from 1957-59.
'HE DIDN'T HAVE LONG'
"He couldn't breathe — he couldn't do anything," says Peter Frenkel, MD, interventional cardiologist on the medical staff at Methodist Richardson. "He didn't have long."
Edward needed more blood flowing through his heart and body, but he didn't have a good chance of surviving a coronary bypass or surgery to implant a stent, according to Dr. Frenkel and his colleague Derek Williams, MD, cardiothoracic surgeon on the medical staff at Methodist Richardson.
The doctors proposed using a big mechanical heart pump called an Impella 5.0 to support his heart while stents were placed to relieve obstructions in his coronary arteries.
Edward knew his days were numbered if he didn't try the surgery. And he and his wife, Susan, still had too many things they wanted to do together.
"It was all or nothing," he says. "I thought about it and said, 'I'm not ready to go yet.'"
The heart team at Methodist Richardson regularly uses a smaller heart pump for this procedure, but Edward's ailing heart needed more support because of his blocked arteries.
"The Impella 5.0 is a large pump that can assist the heart and relieve strain on it during a high-risk stenting procedure," Dr. Williams explains. "Even though it was still a higher-risk procedure, it was by far his best option."
Through a minimally invasive procedure, the device, shaped like a flexible pencil, is threaded through a graft that is sewn onto the right axillary artery through a small incision in the chest.

NO MARGIN FOR ERROR
The delicate procedure with the big pump was a first of its kind for Methodist Richardson.
"A community hospital like ours would usually send the patient to a specialty center for such a procedure," Dr. Williams says. "However, Methodist Richardson Medical Center is able to offer this to our patients because of the strength of our heart team."
Dr. Williams made a small incision under Edward's right collarbone and threaded the pump into his heart, securing it in place. Then Dr. Frenkel took over. Working through the radial artery in his left wrist, he maneuvered four stents into blockages in two coronary arteries.
"There was no margin for error," Dr. Frenkel says. "It's kind of like the World Series. There aren't many cases where you're asked to work at the top of your skill level."
After the team determined that Edward's vital signs were stable, the pump was removed, leaving just a small bump at the site of the graft.
Edward says the care he received at Methodist Richardson Medical Center was nothing short of excellent, and he's feeling much better.
"My breathing isn't restricted like it was before," he says.
Once he regains his strength through physical therapy, Edward says he's looking forward to clearing one last hurdle, the pandemic, before spending quality time out and about with Susan.
"My wife and I will be able to go out together," he says.