Firefighter Eric Mask knows how fortunate he was to survive a heart attack while playing hockey at the StarCenter in Mansfield last winter.
"I couldn't be luckier," the 52-year-old Mansfield resident says. "I've run this call countless times and the outcome has never been as good as my outcome. My friends like to joke that hockey nearly killed me, but hockey saved my life."
That's because the players who rescued Eric on Jan. 11, 2022, were trained first responders with quick access to an automated external defibrillator (AED) next to the ice rink. Eric's friend Michael Gonzalez, a Dallas firefighter on the opposing team, began administering CPR seconds after Eric collapsed.
"He didn't have a pulse," Gonzalez says in a video produced by the Dallas Stars. "And then we saw him take his last breath."
A LIFESAVING SHOCK
Within moments, another player used the AED to shock Eric's heart back to life. He was rushed to the cardiac catheterization lab at Methodist Mansfield Medical Center, where a team placed a stent in his blocked artery.
"Eric was definitely in the right place at the right time," says Levi Rice, DO, interventional cardiologist on the medical staff at Methodist Mansfield. "Having an AED close was most important, and so was having others around him who recognized his symptoms and quickly began performing CPR."
Dr. Rice told Eric that his artery was 98% blocked, and he was fortunate to have been surrounded by first responders when he had a heart attack.
"I could have easily just died in my sleep," he says. "It was that bad."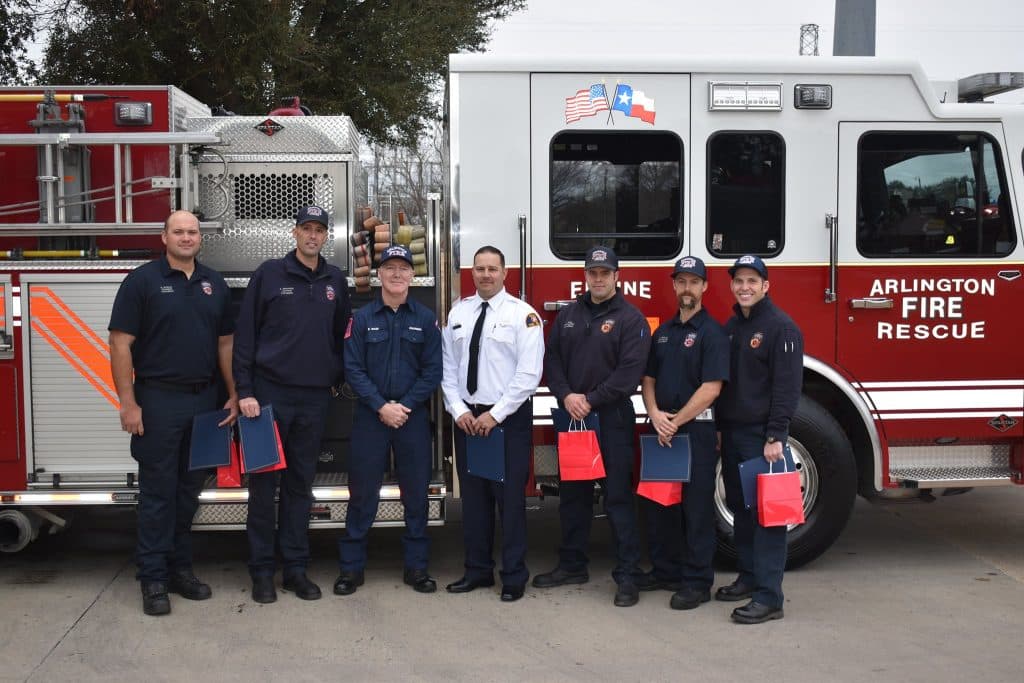 Michael Gonzalez (in white) won a lifesaving award for giving Eric (third from left) CPR that day. (Arlington Fire Department)
FITNESS CAN HIDE PROBLEMS
For years, Eric prided himself on his physical fitness, a necessity for his work as an engineer for the Arlington Fire Department. Driving a fire engine day and night is a high-pressure adrenalin rush that's not for the faint of heart.
Hockey, too, has given Eric an edge fitness-wise ever since he first laced up his skates at age 18. Now in his 50s, he was certain the exhaustion he felt after games and practices was just age catching up with him. But his fatigue was actually due to an ailing heart.
"The doctor said that because I play so much hockey, and there's so much cardio, that my heart's really efficient," Eric says. "But that's also what really hurt me and never gave me any kind of warning."
Dr. Rice agreed that physically fit patients may not recognize the red flags that are far more obvious for less active people.
"Eric was definitely in great shape and would be one of the last people suspected to have heart disease," Dr. Rice says. "Being conditioned is good generally but sometimes may mask symptoms."
Looks can be deceiving when it comes to fitness, which is still just part of the equation when it comes to heart health.

Eric Mask is back on the job at his East Arlington firehouse and playing hockey again in Mansfield.
GENETICS AND DIET
Family history is the No. 1 influence on cardiovascular health, Dr. Rice says, and a risk factor we can't control. Although Eric isn't aware of any history of heart disease in his family, a single genetic variation can cause the cardiovascular system to misfire.
"After family history," Dr. Rice says, "our diet is the second biggest risk factor, and its influence can be misleading if we only rely on our outer appearance. In the last 40 years, foods that are prepared quickly to fit our fast-paced lifestyles have come with consequences."
According to the Centers for Disease Control and Prevention, nearly half of Americans have at least one of three key risk factors for heart disease: high blood pressure, high cholesterol, and smoking.
And while genetics play a part in cholesterol levels and hypertension, we can take steps to get them under control, like eating right, exercising regularly, and seeking routine health screenings as we age. Cutting back on alcohol and cutting out tobacco are also important.

Eric defends the net for his Spartans during a game this summer.
'I CAN'T BELIEVE THAT'S ME'
The stent that opened Eric's artery was implanted through his wrist — what's called a radial approach — which shortened his recovery time and got him back on the ice quicker, Dr. Rice says.
"His intervention was thankfully straightforward," he says. "The toughest part was performed by his friends that rushed to help him."
Dr. Rice says it was hard at first to convince Eric just how close he came to dying. But once he watched the video from that day, he understood and appreciated even more the quick thinking of his fellow hockey players.
"I've watched that video 30 times at least," Eric says. "And every time, I can't believe that's me."
Now Eric's on a mission to appreciate every moment and urge others to see a doctor for routine health checks to make sure those moments continue.
"I've heard other guys say, 'You never know when you're going to go, and I've lived a good life,'" he says. "But I can promise you that there is nobody that wants to die; you just don't understand all that you will miss."
Physically fit patient can't outrun family history of heart disease