Hospitals are taking every precaution to protect patients these days, so whether it's dealing with sudden or severe pain or a major accident, emergency rooms are open and safe for all — even during the pandemic.
When concerns about catching COVID-19 encourage us to stay home and physically distant, that's healthy. When those fears drive sick people away from hospitals during emergencies, it could be dangerous.
Jeff Butterfield, MD, medical director of the emergency department at Methodist Charlton Medical Center, has a message for the latter group: our emergency rooms are safe.
"Under no circumstance should you avoid emergency rooms or wait until the day after to see a doctor if you feel that your symptoms are serious," Dr. Butterfield says. "We are seeing fewer patients right now with various medical complaints and it's worrisome."
The numbers are downright scary. A recent survey by the National Association of Emergency Medical Technicians of more than 860 Emergency Medical Services agencies across the U.S. shows a dramatic decrease in calls for heart attacks and strokes in April.
"This can lead to medical complications that could have otherwise been avoided or minimized."
DON'T HESITATE TO GET HELP
Delaying medical care because of COVID-19 fears has been an unfortunate consequence of the pandemic. Mansfield resident Johnny Colley is grateful he didn't let those fears stop him from seeking help.
When the 61-year-old attorney was hit with sharp abdominal pains one Friday in April, he was resistant to go to a clinic. Amid sweeping reports and fears of COVID-19, he and his wife hardly left their home anymore, only venturing to the store for necessities.
"I was very apprehensive about going to any doctor," Johnny says. "There was a little bit of fear of the pandemic."
He held out hope the pain would go away on its own. After all, he was in great health and hadn't needed a hospital in almost four decades. But instead of getting better as he'd hoped, the pain lingered, and soon Johnny was also running a fever. He realized he needed help and drove to Methodist Mansfield Medical Center.
"I was pretty worried and scared," he says. "But I did know that if I went to Methodist, I would not only be treated by professionals, but I would be in a great facility."
AN EMERGENCY SITUATION
Trusting Methodist Mansfield turned out to be the best thing Johnny could have done.
Doctors found two big gallstones wreaking havoc on his body. He needed to have emergency surgery to remove his inflamed gallbladder. Johnny was taken to his own room where he stayed until the procedure.
"The staff was fantastic through the whole process. They made me comfortable, and that took away the stress and the fear I had." 
— Johnny Colley

Their efforts were especially appreciated as COVID-19 was at the forefront of every conversation.
"I never felt insecure or under any threat whatsoever."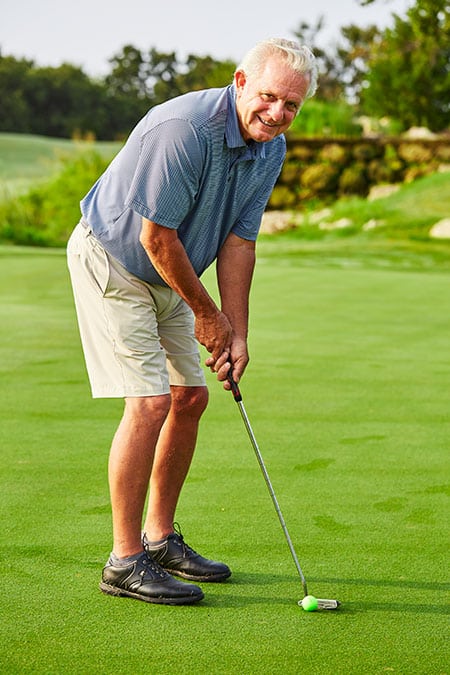 Johnny is elated to be back on the green after his recovery.
MAKING SAFETY A PRIORITY
One poll by the American College of Emergency Physicians found almost one-third of American adults are avoiding medical help due to fears about being exposed to COVID-19. Another by the Kaiser Family Foundation, a nonprofit, reported that almost half of Americans say family members have postponed seeing a doctor for the same reason.
However, waiting to get help can be life-threatening, says Jennifer Coffman, MD, medical director of the emergency department at Methodist Mansfield.
"People are being cautious, which is understandable," she says. "But not seeking treatment for serious issues can lead to fewer treatment options and complications that could have been avoided."
This is a lesson Johnny now takes to heart.
"You hear people say, 'You don't want to go to the hospital during a pandemic,'" he says. "That is not true with Methodist Mansfield."
Dr. Coffman says protecting patients is and will always be a top priority.
"We have always strived to be the safety net of the community," she says. "Let us continue to be this for you."