The emergency department staff at Methodist Health System represents the extreme front line in the fight against COVID-19.
Every day and night, emergency department (ED) doctors and nurses treat patients suffering from COVID-19 — a virus with no cure, few treatment options, and no known immunity.
During the pandemic, Methodist Health staff juggles a steady stream of COVID-19 patients with the more routine — but no less urgent — needs of the ED, including strokes and heart attacks, as well as the worst trauma cases.
"There is no typical day in the ED," says Jennifer Coffman, MD, medical director of the emergency department at Methodist Mansfield Medical Center. "That is what makes it exciting and challenging at the same time."
Nurses, as well as ED doctors like Dr. Coffman, can plan ahead but must always be prepared for the unexpected. In this case, the unexpected is a once-in-a-century pandemic. Here are some of the ways Methodist's ED staff has risen to the challenge: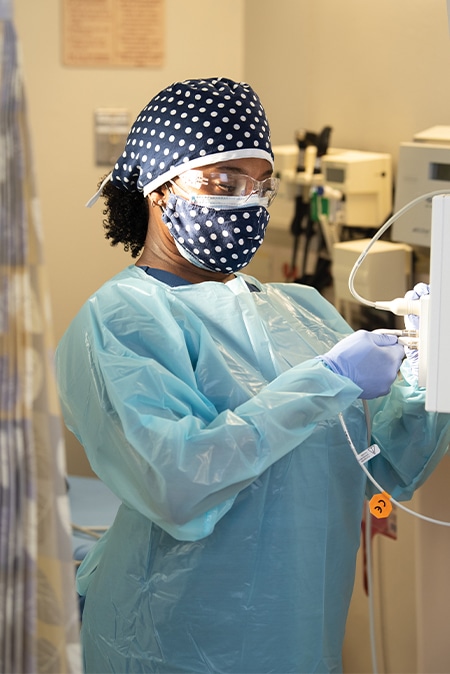 Kimberly Roland-Edmondson, BSN, RN at Methodist Dallas Medical Center, is a rock for her colleagues in the ED. She is always a positive presence and ready to pitch in when a less-experienced nurse needs help. Like her fellow RNs, Roland-Edmondson's spirit of camaraderie helped the team adapt their day-to-day processes early in the pandemic when the guidelines for personal protective equipment and other best practices constantly changed.

---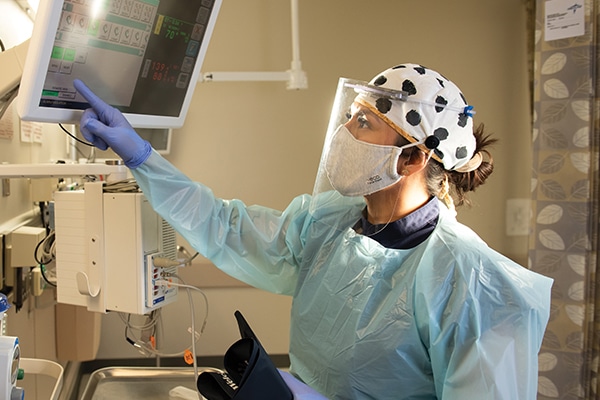 Diana Alonzo, BSN, RN at Methodist Dallas has taken new hires and nurse residents under her wing, showing them how treating COVID-19 fits into the daily routine of emergency medicine. "Mentees are a little bit more stressed than usual, but Diana has functioned as a mentor," says Amanda Peña, BSN, RN, nurse manager in the ED at Methodist Dallas.
"The teamwork between the nurses, the providers, and the physicians has been great to watch."
— Amanda Peña, BSN, RN, nurse manager in the emergency department
at Methodist Dallas Medical Center
---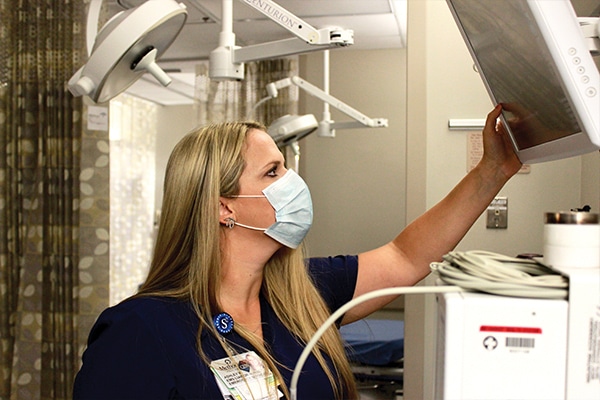 Ashley White, emergency medical service (EMS) liaison nurse at Methodist Dallas, makes countless calls each month to patients who pass through the ED, among other departments. Sometimes one follow-up call just won't do, as was the case with an elderly woman who lived alone and was diagnosed with COVID-19. White called day after day to ensure she was OK.
---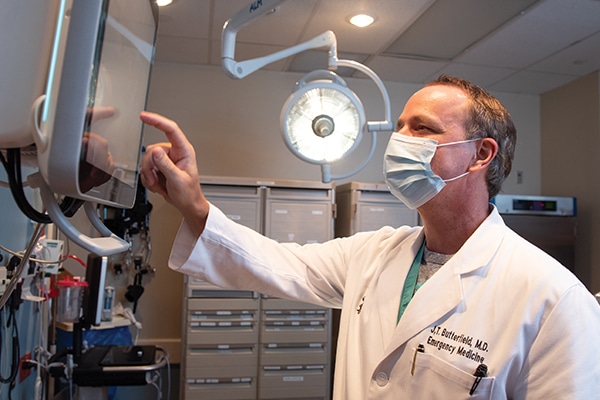 Within a week of the first COVID-19 patient's arrival, Jeff Butterfield, MD, medical director of the emergency department at Methodist Charlton Medical Center, set up negative-pressure rooms to keep the airborne virus contained. It's just one example of the ways Methodist Health System remains focused on the safety and care of every patient who comes through its doors.
"Under no circumstances should you avoid emergency rooms or wait to see a doctor if you feel your symptoms are serious."
— Dr. Jeff Butterfield, MD
---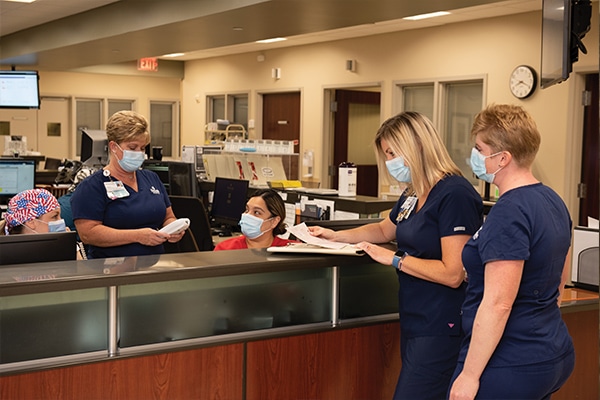 It was all hands on deck at Methodist Mansfield's ED nurse station where (from left) Allison Nelson; Dawn Morrison, RN; Blanca Estevez; Brooks Williams, RN, CCRN, nursing director; and Leah Barbee, RN, monitored the symptoms of suspected COVID-19 cases. Nurses like Morrison and Barbee opened their homes to quarantining colleagues so they wouldn't have to put their families at risk of infection. They also helped others whose spouses were laid off by offering gift cards, food, and other necessities.
---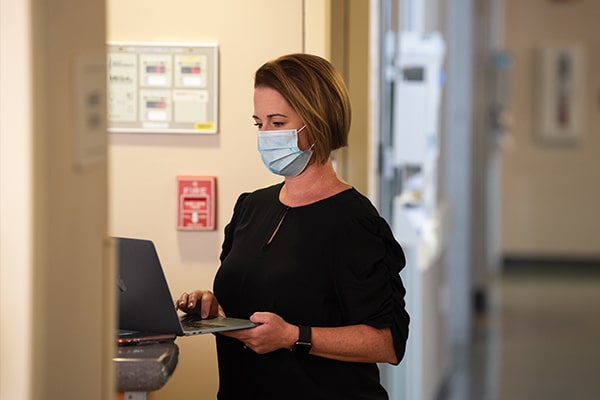 Before many people even realized the full, devastating effects of COVID-19, Amanda Binnix, BSN, RN, CEN, LSSYB, directory of quality at Methodist Charlton Medical Center, looked for ways to thwart it. As a trained nurse with a background working in an emergency setting, Binnix has demonstrated strong crisis management skills, ensured staff had the supplies and equipment they needed, and streamlined hospital processes. Because of Binnix, Methodist Charlton had a plan in place for handling the worst-case scenario.
---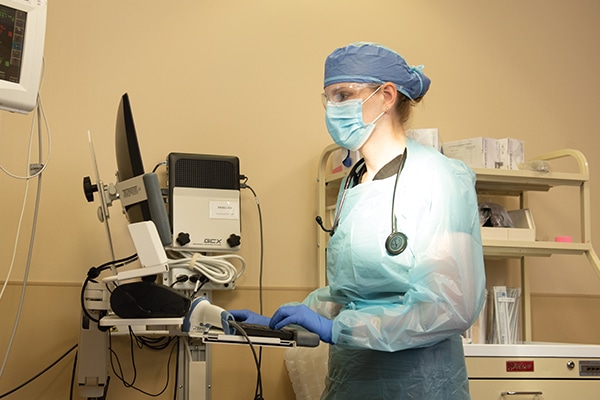 Dr. Coffman helped develop a rapid evaluation and treatment area in Methodist Mansfield's ED for stable patients with COVID-19 symptoms. That allowed staff to move potentially contagious patients through the ED with minimal exposure to others. She also helped implement a surge plan so the entire ED could serve COVID-19 patients and have a separate "micro ER" for other patients.
"ER staff have an inherent ability to be nimble, remain calm, and continue to focus on patient care,
but the staff have been truly amazing during this time."
— Dr. Coffman