Things went from bad to worse for Patrick Roberson last spring when he lost his job at a car rental agency and then got sick. 
Worried he'd been exposed to the coronavirus, Patrick checked himself into Methodist Charlton Medical Center. He didn't leave for two weeks.
Now, the 51-year-old deacon-in-training says if it weren't for Methodist's expert staff, he wouldn't have lived to attend another service at Community Missionary Baptist Church of DeSoto.
"I don't wish COVID-19 on anybody because it's serious," he says. "But with the help of God and the Methodist doctors, I was able to make it through."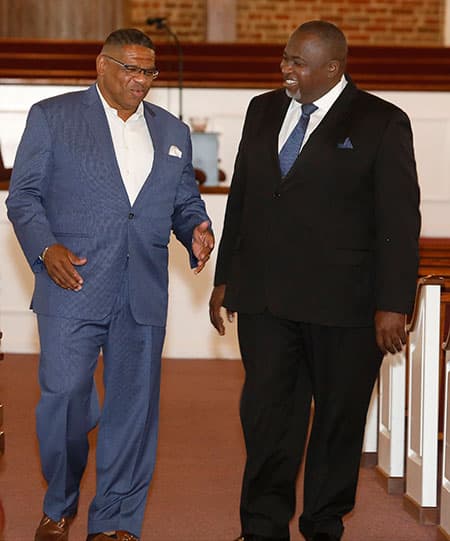 Patrick Roberson, alongside his pastor, Oscar D. Epps Sr.
Uphill battle
Because he suffers from asthma, diabetes, and hypertension, Patrick's chances of catching a bad infection were high. Similarly the chances he would make a full recovery were slim, research has shown.
But he beat the odds.
"Patrick's response was definitely better than what we've seen with the average patient," says Jose Basora, MD, medical director of the hospital's intensive care unit.
Dr. Basora says Patrick was one of the first COVID-19 patients admitted to Methodist Charlton.
After spending a few days in the COVID-19 unit, Patrick took a turn for the worse when his oxygen levels dropped dangerously low, Dr. Basora says. In the ICU, Patrick was immediately put on a ventilator, a machine that would do the breathing for him.
"Patrick was already in full-blown respiratory failure," Dr. Basora says. "At the time he was admitted, treatments like convalescent plasma and the experimental anti-viral drug Remdesivir were not yet widely available to treat COVID-19."
Instead, Patrick was treated with prone ventilation, a method where patients are laid on their stomachs to improve oxygen flow. Dr. Basora also closely monitored Patrick's fluid levels to prevent the disease from advancing.
"Most COVID-19 patients who are admitted to the ICU remain on a ventilator for nine or 10 days," Dr. Basora says. "Patrick was removed from mechanical ventilation in seven days."
Once he was off the ventilator, Patrick called his pastor, Oscar D. Epps Sr., to share the good news.
"Pastor, I've got a testimony: I'm cured of the coronavirus!" Patrick recalls exclaiming.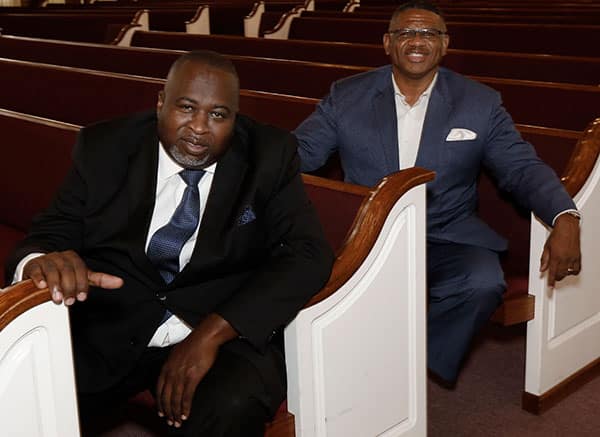 Patrick and his pastor celebrate in their sanctuary
Giving praise   
While he was under self-quarantine for 14 days, Patrick's family and friends picked up where the medical staff left off, tending to his needs and making sure he had food and other supplies.
Patrick also took multiple tests to ensure he was free of the virus. Thankfully, each one came back negative.
Although he lost a lot of weight, Patrick says he feels healthy and is working harder than ever. He's found a new job and sometimes works over 70 hours per week.
"I'm feeling fine!" Patrick says with a chuckle. "People say I'm one of the blessed ones."
After his recovery, Community Missionary Baptist Church wanted to give back to the hospital that saved Patrick's life. The congregation took a day to serve food to Methodist Charlton's 1,100 essential staff members – Dr. Basora included.
"Methodist Health employees were thankful for the meal," Patrick says, "but that pales in comparison to the gratitude I feel toward them."
It's because of their efforts that Patrick will soon become a deacon at his church, Patrick says.
"When you're almost looking at death, you give praise where praise needs to be given," he says. "My doctors and nurses, I take my hat off to them. They were tremendously wonderful."