There's an old saying that doctors make the worst patients. After all, they're used to giving the medical advice, not taking it.   
But when a physician on the medical staff at Methodist Charlton Medical Center grew severely ill last fall, he knew right where he needed to be. Now he says he owes his colleagues his life.
Cardiologist Viswanadham "Vishu" Lammata, MD, found the usual roles reversed last November when he fell ill with COVID-19.
"I've taken care of hundreds of COVID patients, but this was the first time the patient was a colleague," says Stephen Mueller, MD, pulmonologist on the medical staff of Methodist Charlton.
Dr. Lammata, 70, says he trusted his fellow doctors and nurses because he's seen firsthand how dedicated they are to each and every patient they treat.
"It's not very often that doctors take care of their own. From the moment I was admitted to Methodist Charlton, I had hope and never lost it." 
— Dr. Lammata


INFECTION GETS WORSE
It was early November when Dr. Lammata first got sick. The cardiologist struggled with a fever and shortness of breath before testing positive for COVID-19.
"My symptoms worsened substantially, so I knew I needed medical attention," Dr. Lammata says.
A hospital near the doctor's home treated him with remdesivir, convalescent plasma, and steroids, but his infection only intensified after he was discharged.
Dr. Lammata knew he wasn't improving the way he should be, so he sought treatment in more familiar surroundings, Methodist Charlton. He was taken to the intermediate care unit, just one step below the intensive care unit.
"When he came in he was very sick with extremely low oxygen saturation levels," Dr. Mueller says. "On his second night, the rapid response team was needed due to a drastic drop in his ability to breathe."
The staff discussed moving Dr. Lammata to the ICU and helping him breathe with a ventilator, but Dr. Lammata worked with his coworkers to come up with an alternative.
"One silver lining of being cared for by your colleagues is that you have a better understanding and insight into the treatment approaches," Dr. Lammata says. "My knowledge of my condition allowed us to come up with a path that worked for everyone."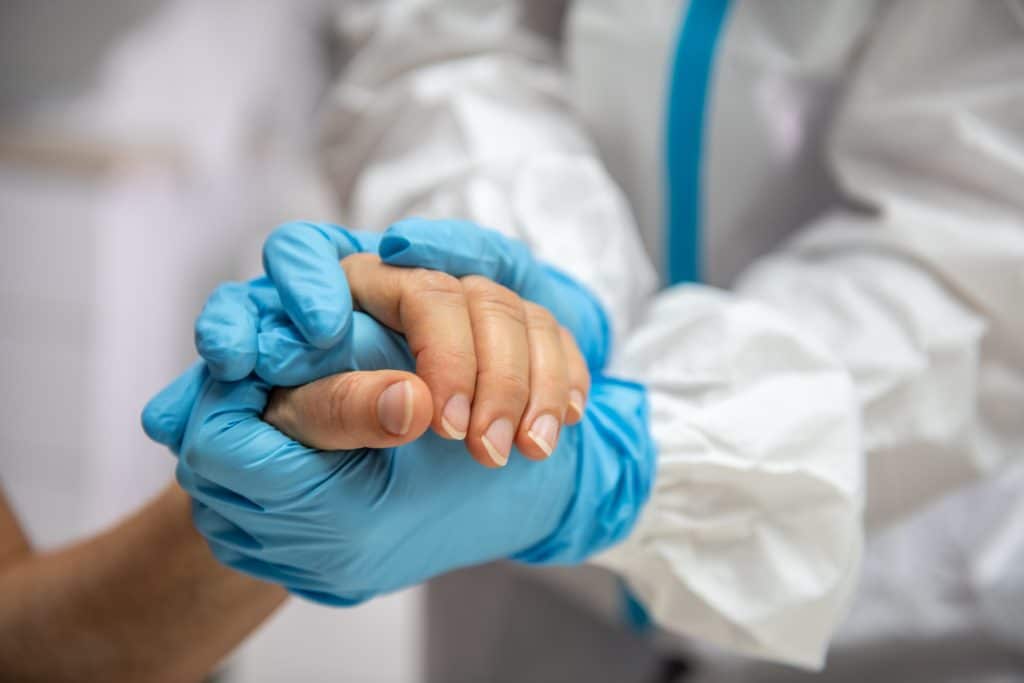 FIGHTING FOR HIS HEALTH
Dr. Mueller and the rest of the team caring for Dr. Lammata decided to try a nasal high-flow oxygen therapy, a less invasive type of ventilator. Dr. Lammata remained on the machine for several days. During this time, doctors also tried a technique known as "proning" to help him.
"Proning is thought to distribute oxygen more evenly throughout the lungs and improve overall oxygenation in patients in respiratory distress," Dr. Mueller explains.
This is done by placing the patients on their stomachs, or in a prone position, for 16 to 18 hours, after which they are turned onto their backs for six to 8 hours if their oxygen levels allow it.
"Dr. Lammata did an incredible job with this and worked very hard to tolerate all the treatments he knew were his best chances at regaining his health," Dr. Mueller says.
TURNING A CORNER
Nine days after being admitted in nearly critical condition, Dr. Lammata was able to go home where he has fully recovered.
Looking back on his journey, he says he is grateful to serve alongside the healthcare workers who saved him.
"I work with these people, I know the level of care they provide," Dr. Lammata says. "I know they will do everything they can to keep a patient alive and I am proud to have been taken care of by these doctors and nurses. I owe them my life."
For COVID-19 long-haulers, heart damage can last a lifetime.