When Stephanie Subia suffered a stroke while working from home last August, it was her 12-year-old son who came to her rescue. It was noon, and the two were the only ones home when Stephanie felt a strange sensation and suddenly fell in the kitchen.
"Isaiah saved me," the 48-year-old Grand Prairie woman recalls. She remembers reaching the couch in the living room but could not speak when her son asked if she was all right.
That's when her son knew something was wrong.
"She wasn't responding to me, but I could tell she was trying to," Isaiah says.
Stephanie had trouble moving her right side, and part of her face drooped. Isaiah called his grandmother with one phone while he alerted 911 on another.
He rode with his mother in the ambulance to the emergency department at Methodist Mansfield Medical Center — the only Advanced Primary Stroke Center in the Mansfield area with a team of specialists ready to help 24/7.
"Isaiah was so brave through this entire thing. He did a great job in clearly communicating the events that he witnessed in a very stressful situation."
—Rachel Cochran, BSN, RN, CCRN, nurse manager of Methodist Mansfield's neuro trauma ICU and the stroke program
SPEED IS EVERYTHING
Stephanie was seen by Brian Tulbert, DO, emergency medicine physician on the medical staff at Methodist Mansfield.
"The best thing was that her son noticed something was wrong and reacted quickly," Dr. Tulbert says. "The sooner you get to a hospital, the more we can do for you."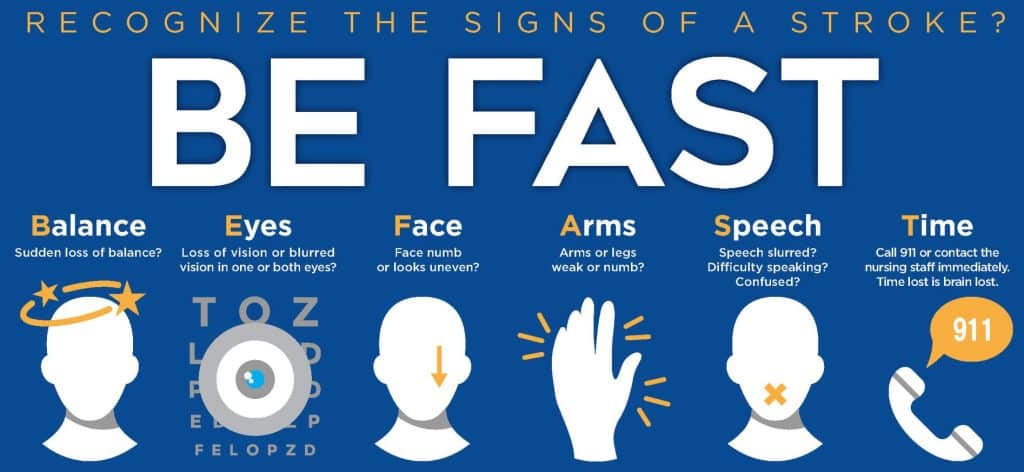 Because every minute passed means one minute the brain is deprived of oxygen, the hospital's stroke team wasted no time. The team assessed Stephanie, performed lab tests, stabilized her blood pressure, and administered a clot-busting drug, tissue plasminogen activator (tPA), 37 minutes after her arrival at the hospital — beating the national standard by 23 minutes. Within an hour, she was regaining strength on her weak side, Cochran says.
"The thing about tPA is it has a time limit," Dr. Tulbert explains. "The countdown begins as soon as the patient begins experiencing symptoms. It has to be given within 4 1/2 hours from the onset of symptoms."
Stephanie says she's grateful for her son's quick thinking and the care she received from the medical team.
"All of the nurses and doctors were so kind and helpful. I wanted to go back to them and the paramedics and thank them. If it weren't for them, I would have ended up with more damage."
—Stephanie Subia
COVID-19 A FACTOR
Stephanie and her primary care physician believe a previous bout of COVID-19 may have played a role in her stroke. She had no stroke-related issues in her medical history and is younger than most stroke patients, who tend to be 65 or older.
"One of the unfortunate things about COVID is that it does promote blood clots," Dr. Tulbert says. "We've seen an increased incidence of blood clots in the heart, brain, and lungs."
He cautions everyone to seek help immediately if they sense something is wrong.
"In so many cases, people make the mistake of waiting too long to get help," Dr. Tulbert says. "They don't realize that time lost is tissue lost. If you can't move an arm or leg or have vision issues or trouble speaking, you should call 911."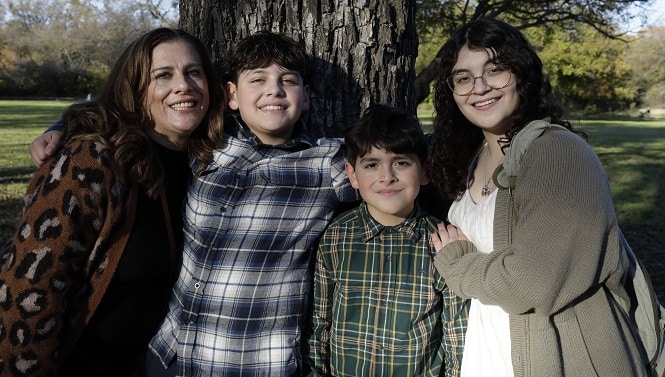 After a quick recovery, Stephanie is back to enjoying life with her children (from left) Isaiah, Christian, and Bella.
ROAD TO RECOVERY
Stephanie stayed in the hospital for 10 days before returning home to her family. She still has a long road ahead with physical, cognitive, and occupational therapies, but the mother of three says she's getting better every day and is already getting back to her job selling commercial furniture.
"I give all of the glory to God," she says. "I'm grateful that He used my son to save me."