Back-to-school time can be nerve-racking in the best of times, let alone during the third straight school year disrupted by the pandemic.
This fall, most schools have set aside virtual learning to open their doors for in-person classes, just as COVID-19 surges again and the highly contagious Delta variant infects more young patients than earlier strains.
Chances are you're looking for guidance, especially if your children are too young to be vaccinated against COVID-19 and they share a home with vulnerable family members.
So to help keep the kids happy and healthy this year, here are a few tips from Kyle Oholendt, MD, internal medicine physician and pediatrician on the medical staff at Methodist Charlton Medical Center.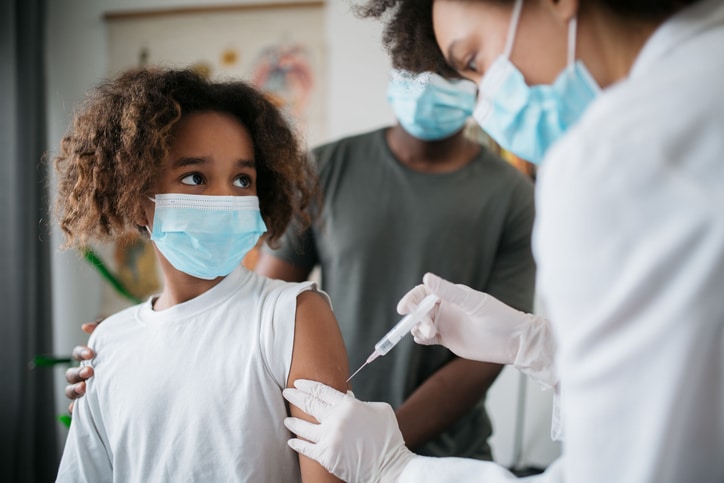 HOW CAN I BEST PROTECT MY CHILD?
The vaccines remain the best protection for you and your child, so long as they are 12 and up.
"I'm hoping to see all children who are eligible get vaccinated with the COVID-19 vaccine this year, Dr. Oholendt says. "It's the best way we can get them back into a school environment safely."
While it's true that children have been spared from the worst effects of the virus, the Delta strain is changing that. Pediatric wards across Texas have filled with young patients, many of them unvaccinated — whether by choice or because they're too young to get a vaccine.
Children now account for 14.3 percent of all COVID-19 cases reported in the U.S., according to the American Academy of Pediatrics. New cases involving children jumped from less than 9,000 during the final week of July to more than 90,000 in the first week of August.
All three vaccines are remarkably effective at preventing hospitalizations and death from COVID-19. Researchers have done their due diligence ensuring that they are safe for children, as well as adults.
But clinical studies are still underway to approve a vaccine for younger children. That work may continue deep into the school year.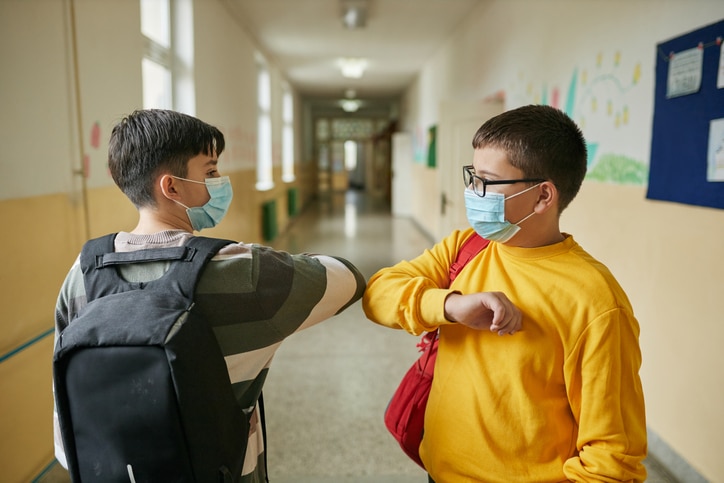 WHAT IF MY CHILD CAN'T GET VACCINATED?
This advice is fairly straightforward (and may sound familiar): Wear a mask, watch your distance, and wash your hands.
The absolute best way to protect your children from COVID-19, even those who are vaccinated, is for them to wear a face mask at all times while on campus, especially in classrooms and other crowded indoor settings.
"The CDC gives great recommendations for how to keep kids safe in schools, and it's tough to improve on the basic advice we've been giving since last year," Dr. Oholendt says. "Children should wear masks, practice social distancing, and wash their hands regularly."
Masks may not be required in schools, but consider making them a must for your child.
"Children are incredibly resilient and able to adapt to change easily," Dr. Oholendt says, "so when they are told to wear masks they just might start to enjoy wearing them."
Remind your kids how to wear their masks properly and not get too close to their friends. It might be challenging, especially for younger children, but keeping a 3-foot cushion from others as much as possible is recommended and the standard that many school districts follow.
Good hygiene starts at home, where children should learn the proper way to wash their hands with soap and water. Think about sending them to school with hand sanitizer when they can't visit the bathroom before meals.
Finally, a tip that Dr. Oholendt says is especially important to stop the spread:
"Keep your children home whenever they're not feeling well."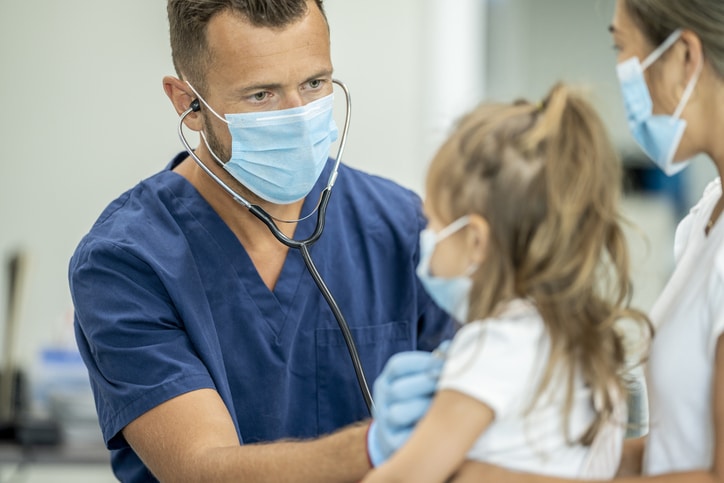 WHAT IF MY CHILD GETS EXPOSED?
When your child has been exposed to COVID-19, get them tested as soon as possible, whether at a doctor's office or the nearest pharmacy, and consider keeping them home until you can, even if they have no symptoms.
And if they do have symptoms — fever, runny nose, nasal congestion, cough, and sore throat — consider taking them to the doctor or setting up a virtual visit. There are some red flags that require immediate action.
"Make sure they are feeling OK," Dr. Oholendt says. "If they are experiencing shortness of breath, not eating or drinking, not going to the bathroom as much as they normally do, then you need to take them to your primary care doctor for assistance and testing."
If it's practical, keep your child away from vulnerable family members, especially seniors and those who are not vaccinated, until it's clear they aren't infected. Isolate in their room, if you can, and wear a mask when you visit them.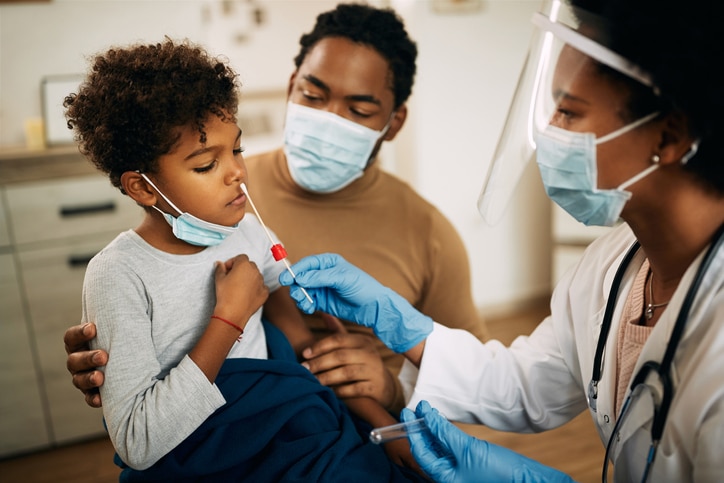 WHAT IF MY CHILD TESTS POSITIVE?
If your child tests positive for COVID-19, continue to isolate them in their own room. Make sure they understand they aren't being punished.
Also ensure your sick child is drinking plenty of water, eating well, and getting enough rest. At this point, the best we can do for a mild infection is to treat the symptoms. That means over-the-counter pain and fever reducers, decongestants, and cough suppressants.
And of course, if their symptoms become more severe, get them to a doctor.
Also, do what you can to reach out to anyone your child might have been in physical contact with in the last 48 hours to warn them that they may have been exposed.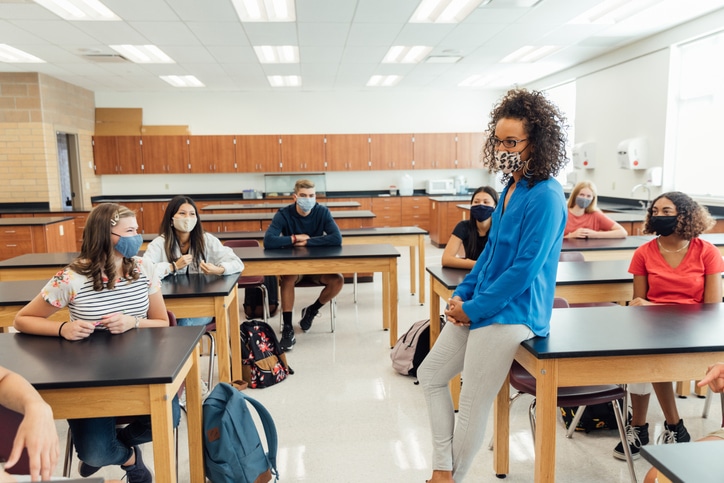 WHAT OTHER VACCINES DOES MY CHILD NEED?
Another way to protect your children is to make sure they're up to date on the vaccines they can receive.
The flu shot could prove especially useful during the pandemic. Not only can influenza mimic COVID-19 symptoms, but catching one virus can weaken your resistance to the other. So getting the flu vaccine can help rule out the likelihood of catching both viruses at the same time.
Also, make sure to keep your child's school updated on which vaccines they have received. That includes COVID-19, as well as the slate of other preventive shots.
"In Texas, pre-kindergartners get a round of vaccines that are booster shots for the vaccines they received when they were under 2 years old," Dr. Oholendt says. "That includes measles, mumps, rubella, tetanus, and a vaccine against chickenpox and polio.
At 11 years old, parents should start to think about a tetanus booster and a meningitis vaccine. And Dr. Oholendt also recommends the HPV vaccine.
"That stands for the human papillomavirus," he says. "HPV is the leading cause of cervical cancer in the world. It's also a large cause of throat cancer in men and women. So this vaccine is an important one to get to help prevent cancer."
Finally, be sure to stay up to date with the latest news from your child's school district. The guidance from the CDC and local officials seems certain to change as the pandemic drags on. Keeping up to date will help you keep your child safe.