These days, using a screen to keep tabs on each other is routine. Now, there's an app that lets families check in on their newest, and most vulnerable, additions in the NICU at Methodist Mansfield Medical Center.
The first day Charity Foreman arrived at Methodist Mansfield Medical Center was "kind of a blur" — hardly surprising since she delivered twins the day before they were placed in the neonatal intensive care unit (NICU).
On day two, everything came back into focus, thanks to a webcam in the NICU that allowed her to see her babies without leaving her hospital room.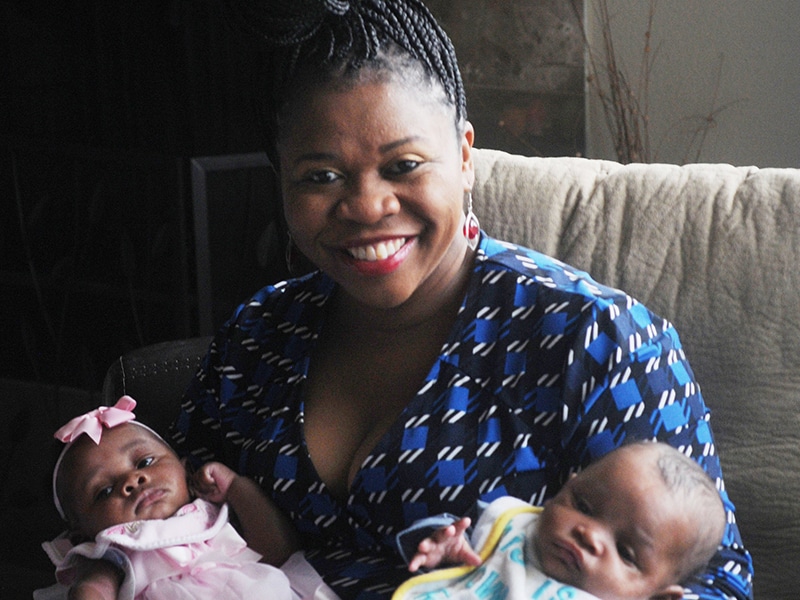 New mom Charity Foreman with her twins
"I had to remember I was recovering, too, but could still see them whenever I wanted," Charity says. "If I'd been discharged and they were still at the hospital, knowing I could log in any time I wanted would be really comforting."
That's why the 16-bed NICU at Methodist Mansfield Medical Center has installed its AngelEye Camera System, allowing parents to use an app to watch their newborns when they can't be by their sides
"Discharge day can be pretty hard when the moms leave and the babies are still here," says NICU nurse Jordyn Gary, BSN, RNS-NIC, a floor manager in the hospital's busy labor and delivery unit. "Moms go back to work or have to rest and take care of themselves."
And when families can't be with their babies all the time, it's a stressful situation.
"This just makes it easier and gives them peace of mind," Jordyn says. "They can open up the phone and take a peek at the baby really quickly."
What's more, faraway family members like Charity's parents and in-laws could see their new grandchildren.
New dad Brent Colvin checks up on daughter Emma using the AngelEye smartphone app.
"They live in Virginia," Charity says. "I sent them the link, they made a password and could watch immediately. They were so excited."
Fortunately for Charity, her twins Camille and Lindley Jr. got to go home when Charity did, but thousands of newborns need days of extra care in NICUs like Methodist Mansfield's.
And when visits to the NICU must be limited, whether in the thick of COVID-19 or during the height of flu season, the camera system becomes even more useful, especially for children eager to see the newest additions to their family.
"That service was awesome," says Charity, who has two older daughters with her husband, Lindley Foreman III. "When my girls would come in after school, I'd say, 'You can't hold them, but you can see them.'"
But the cameras aren't filming all the time. When babies are being cared for, the camera turns off and a Methodist logo pops up explaining why.
"As soon as we're done and step away," Jordyn says, "the parents can see their baby again."
But that's a minimal addition to the nurses' workload — "just flipping a switch," Jordyn says — a small price to pay for the benefits the camera system provides parents.
"They see babies cry and pacifiers fall out, and they see someone come over and love on their baby," she says. "It's all-around a wonderful thing for our unit."
Take a virtual tour of the labor and delivery suites at Methodist Mansfield.