Don't abandon everything you learned at home during COVID-19 shutdowns.
Do you remember when all of the stay-at-home orders started and you set up a routine that would keep you focused and organized while you worked from home? Well, just because your office is allowing you to return to work and businesses are open again, don't abandon all your progress. Here are six healthy home habits that might be worth continuing:

1. Remember the routine
Set your alarm clock to an appropriate time that allows you to make your morning coffee just like you would back when your local coffee shop wasn't open. Use this time to set your intentions for the day. Prioritize the most important tasks and check off each item until it's complete.
"Many people adopted a number of healthy practices while staying home," says Carey Shore, MS, RD, LD, wellness coach at Methodist Dallas and Methodist Richardson Medical Centers. "It takes approximately three weeks of consistent practice for something to become a habit."

2. Keep working out in the great outdoors
Now that many of us can return to our gyms, let's not forget about how nice it is to enjoy nature while jogging and walking at a local park and trails. It's free, and you can invite a friend or your family members to join you.
"Not being able to go the gym forced many to seek activities outdoors," Carey says.  "Walking, biking, and spending more time being active as a family are great habits to instill in children."
Since summer is upon us, we realize exercising in the Texas heat isn't for everyone. So here are some good ideas for setting up that home gym, if you haven't already.

3. Keep cooking meals at home
When restaurants were temporarily closed, we were forced to dig out the pots and pans. Nutritionists say eating at home saves most of us a lot of money and maybe even more calories.
"We tend to eat more nutritiously when we cook it ourselves. This means more fruits, vegetables, and whole grains," Carey explains. "Also, we set a great example for children by teaching them how and what to cook."
Try to limit how often you eat out per week. You can also create a game, where you imitate a meal that you loved at a restaurant by researching recipes to remake it at home. Your bank account will thank you and if you're successful, you'll impress your family and friends with your creative cooking skills.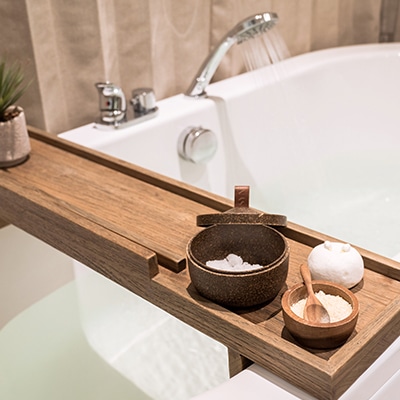 4. Keep making time for yourself
This is still a stressful time for many of us, and too much news and social media isn't helping.
"Minimizing your exposure to all media, in addition to adopting healthy practices such as daily gratitude journaling and/or meditation, are great examples of how to adopt a healthy mindset," Carey says.
You can also use this time to read. It doesn't hurt to get lost in a book to distract you from reality.

5. Keep doing those DIY projects
While we spent so much time indoors, some of us were forced to notice the ugly truths in our homes: we needed to make some serious upgrades. We also had plenty of time to improve those things ourselves!
From creating homemade bookshelves, updating our patio furniture, and making our front porches easier on the eyes for our neighbors, do-it-yourself projects kept a lot of us busy.
Now that some of us aren't spending as much time at home, it doesn't mean we can't make space for special projects during our downtime.

6. Make sleep a priority
If you are called back into the office, you don't have to say goodbye to sleeping in. Getting adequate sleep is important for you to function at your best. Taking a little time to decompress is more important during this stressful time. Work to fit in an hour of wrapping up the day before bed to help you slow down.
"Spending time doing relaxing activities will help calm your mind and body," Carey says. "Taking a bath, reading a book, or listening to soft music are just a few healthy examples."