As a cop, Plano police Lt. Earnest Oldham has responded to emergencies for more than 30 years, and last fall, he was the one who needed saving after a stroke.
"I'm used to worrying about the dangers of my job, not my health," Earnest says. "Finding out that I have a hole in my heart that was only detected because of a mini-stroke was never on my radar."
Looking back, Earnest believes suffering a mini-stroke saved his life.
On Nov. 10, 2019, after working his usual third shift, Earnest had just gotten to sleep when he woke up with a high-pitched ringing in his ears and was unable to speak clearly.
His wife, Kelli, a nurse at Methodist Richardson Medical Center, recognized the warning signs of a stroke and immediately dialed 911.
"When the paramedics arrived, I had regained my ability to talk and just wanted Kelli to drive me to the hospital," Earnest says. "I realized when the EMTs turned on the lights and sirens en route to the hospital that this was serious."
Surprising news
Upon arriving at the emergency department, Earnest immediately underwent an MRI, CT scans, and other diagnostic exams.
"When the doctor came in to discuss the test results and told me that I had suffered a mini-stroke, I wasn't too surprised," Earnest says. "But when he asked me if I realized that this same thing had happened a few months before, I was shocked."
The tests had detected fluid in his lungs, suggesting that Earnest had suffered a mini-stroke before, that time without waking up. But the news didn't stop there.
"The doctor asked me if I knew about the hole in my heart," Earnest says. "I thought he had made a mistake and was talking to the wrong patient, because how could I go 55 years without knowing I had a hole in my heart?"
"I'm used to worrying about the dangers of my job, not my health."

— Lt. Earnest Oldham
There since birth
When Earnest was discharged and told to see a cardiologist immediately, Kelli suggested Nhan Nguyen, MD, interventional cardiologist on the medical staff at Methodist Richardson.
"When I met with Earnest, I explained to him that he had a congenital heart disease called a patent foramen ovale," Dr. Nguyen says.
Earnest had a hole between the two upper chambers of his heart, a hole that should have sealed at birth.
"His was like a nest where blood clots could form and eventually break free," Dr. Nguyen says, "which is what caused his strokes."
The doctor urged Earnest to consider immediate cardiac catheterization surgery to close the hole before a bigger, and potentially deadly, blood clot broke free.
"In the past, closing these big holes meant open-heart surgery," Dr. Nguyen says. "Now, we can close them with a minimally invasive procedure."
This procedure consists of inserting a catheter into a blood vessel in the groin and passing it through the vessels into the heart's chambers. A device can be implanted in the heart through the catheters to seal the hole.
"The septal repair device consists of two connected patches that are placed in the hole to cover both the right and left sides of the atrial wall," Dr. Nguyen says. "After a few months, the lining of the heart wall grows over the patch and completely seals the hole."
Earnest agreed to the procedure and had the hole in his heart closed just before Christmas. He went home the same day and returned to work five days later.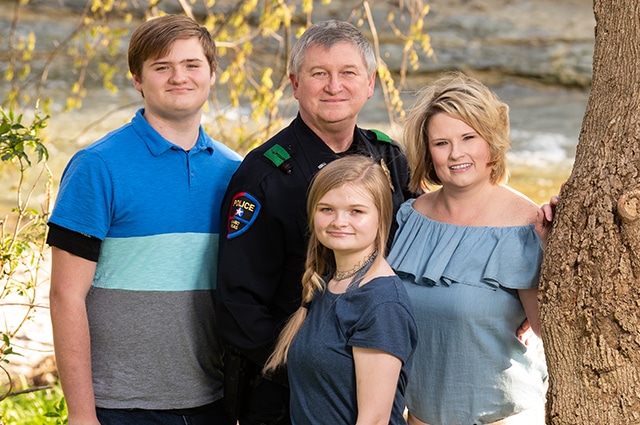 Plano police Lt. Earnest Oldham, along with his wife and children, celebrate every day after his recovery. 
Enjoying today
While the operation was quick, it's had a lasting impact on Earnest's state of mind.
"This kind of experience changes a person," Earnest says. "It gives you a true understanding of what's important in life. I tell my wife and children every day that I love them and to have a great day."
In law enforcement, officers write letters to their loved ones just in case they don't make it back home. Earnest used to keep his tucked away in his locker. These days, he has it on his desk so he can look at it and know that each day he does is a gift.